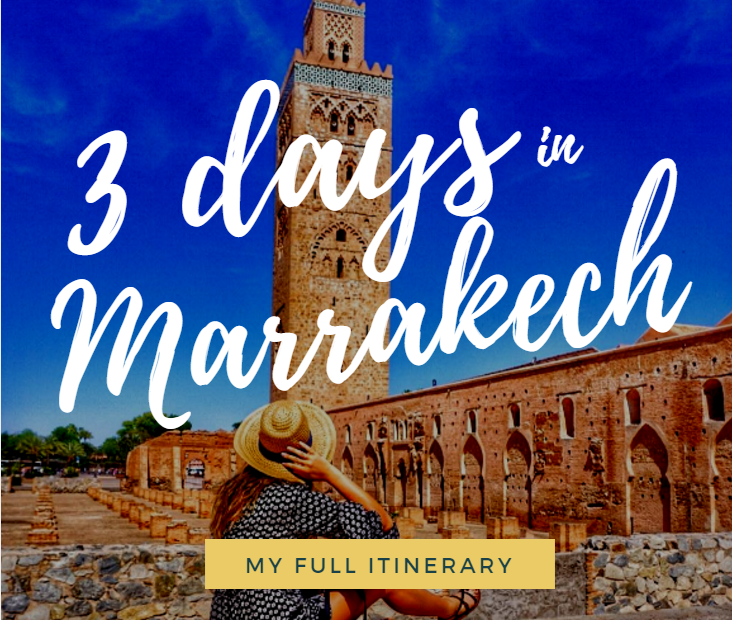 3 days in Marrakech isn't a lot of time for a city so densely packed with enchanting mosques and palaces, strange spices, exotic food, extravagant decor, and the list goes on. How do you keep your head on straight with Marrakech's mazelike alleys pulling you in every which direction? Be prepared for your senses to be slapped right in the face. If you need some help, follow my itinerary for 3 days in Marrakech:
Day 1: Bahia Palace,  Majorelle Garden, Koutuobia
Start off your 3 days in Marrakech by checking into your riad and eating a quick breakfast. A riad is a traditional Moroccan style house with an open air courtyard. Most of them are covered in colorful mosaic tiles, traditional lanterns, and colorful furniture. Riad's provide a perfect oasis away from the busy Marrakesh city center. I stayed at Riadbamileke and was completely in love with the place. If you're looking for other options, my friend Lauren stayed at Riad Lakhdar (as seen in this article) and had great things to say about that riad as well. You can book riads on airbnb.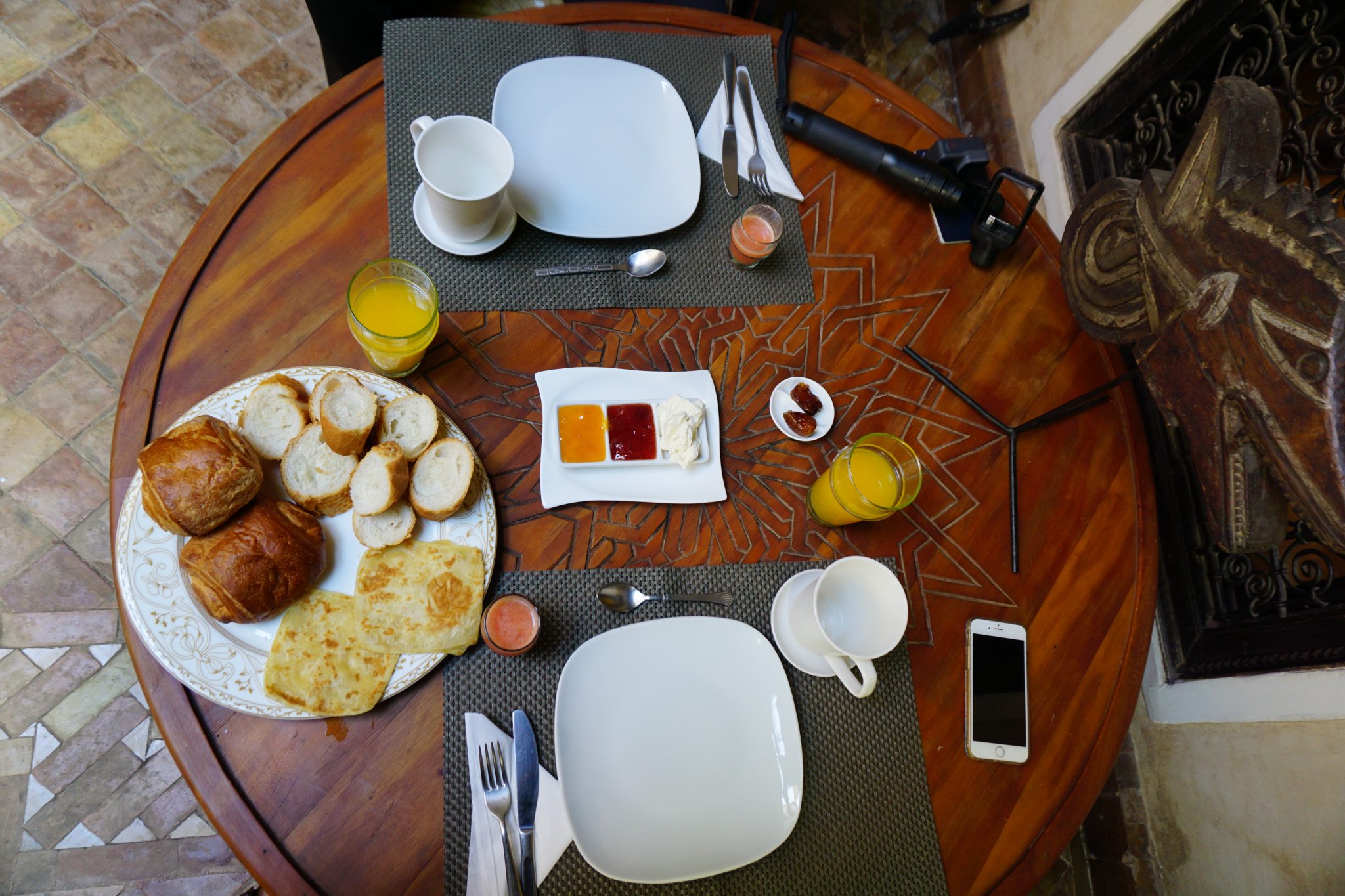 Most of the sights worth seeing will be within walking distance (with minor detours through the maze of souks). Try your best not to buy one of everything, as you only have so much suitcase space. I ended up buying a lantern and a mirror which aren't the easiest things to travel with. Maybe I should take some of my own advice.
Your first stop will be the Bahia Palace.  Bahia is an intricately designed palace covered in mosaic patterns from floor to ceiling. Bahia's colorful gardens. painted exteriors, and tiled floors will give you tons of photos to muse over.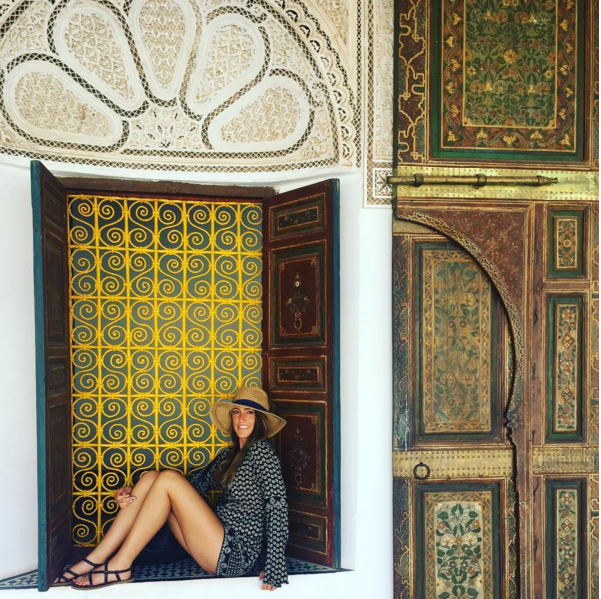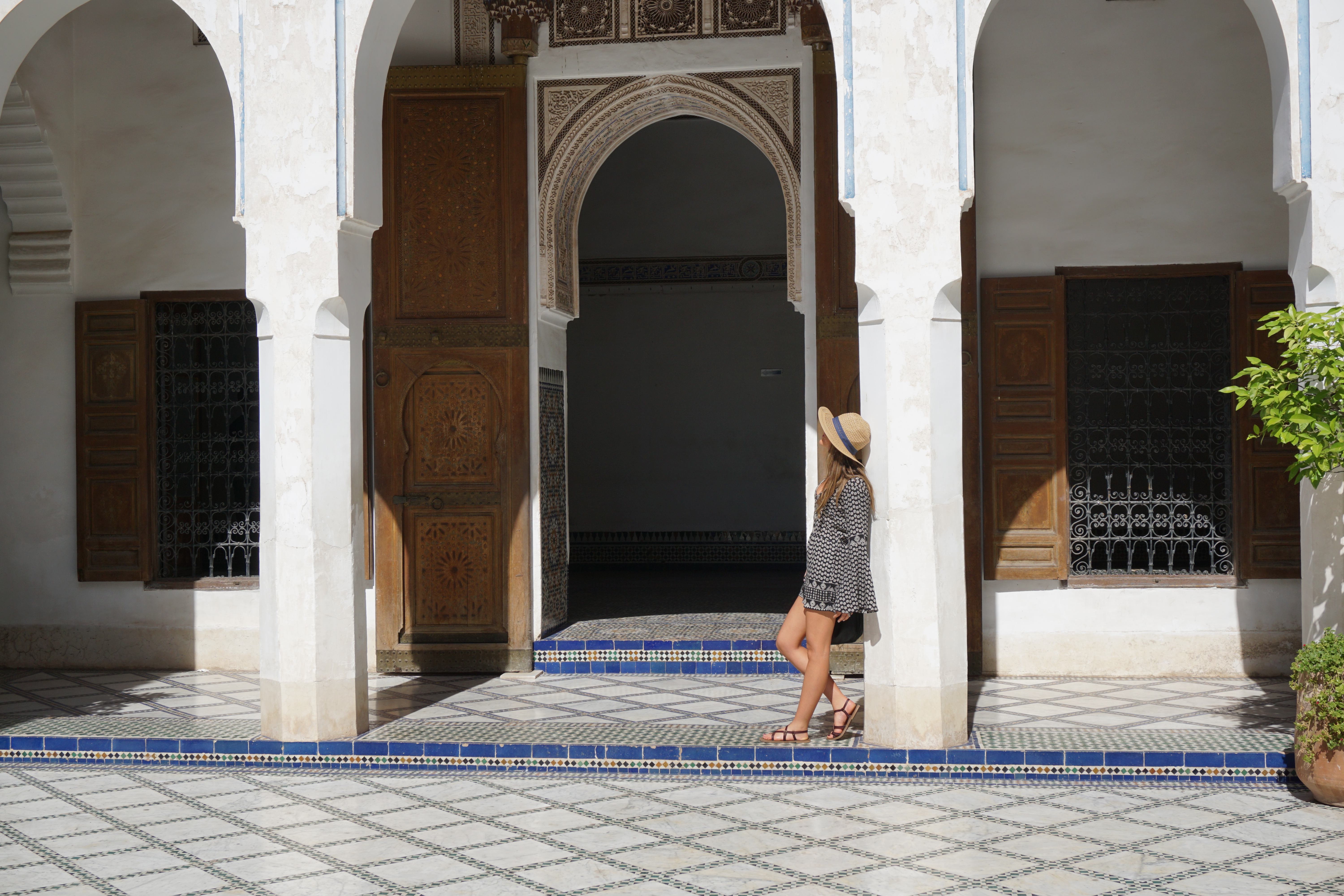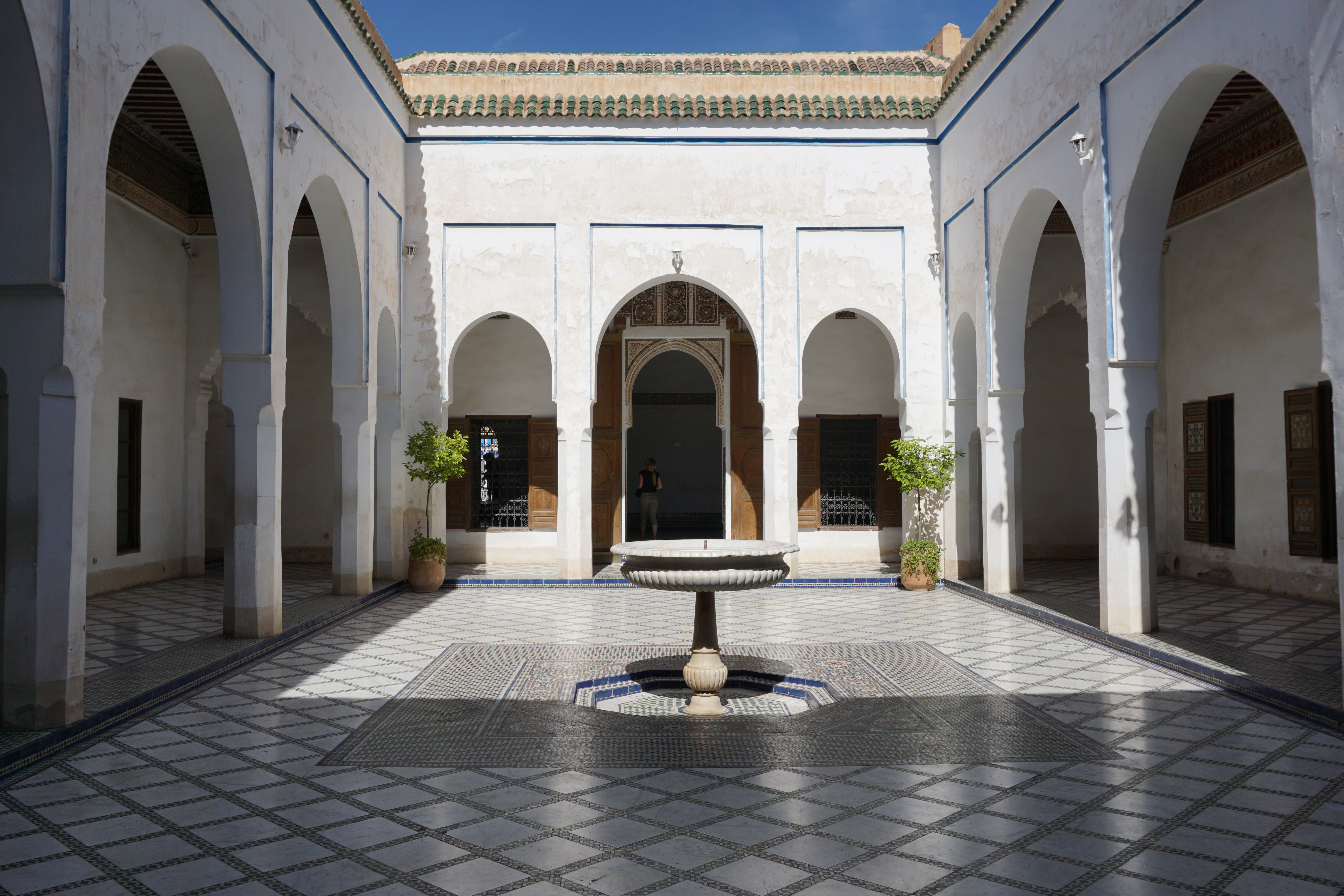 When you're done at the Bahia Palace, head to Majorelle Garden. The Majorelle Garden is a little more than a mile away so you may want to grab a cab. You'll almost forget that you were visiting hectic Marrakesh in this tranquil French designed garden. It's winding paths through exotic flowers and trees will treat you to a brief afternoon escape.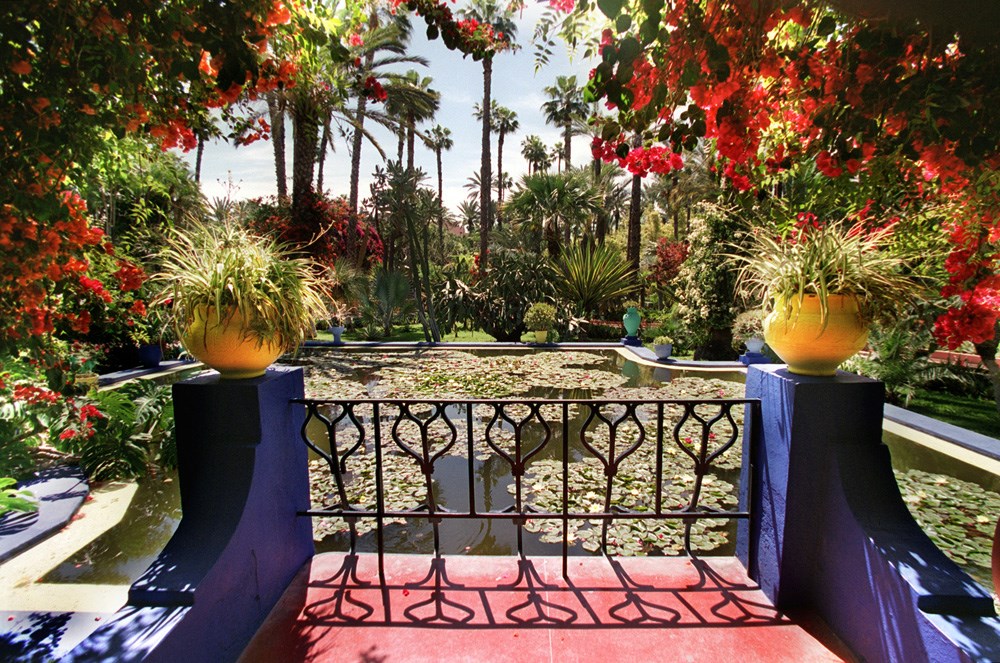 Head back towards the main square afterwards, where you will find the Koutuobia Mosque towering above the city. Koutuobia is the city's oldest and largest Mosque.  Non-muslims aren't allowed to enter the mosque, but you can appreciate the Mosque from the outside and hear it's call to prayer  5 times throughout the day.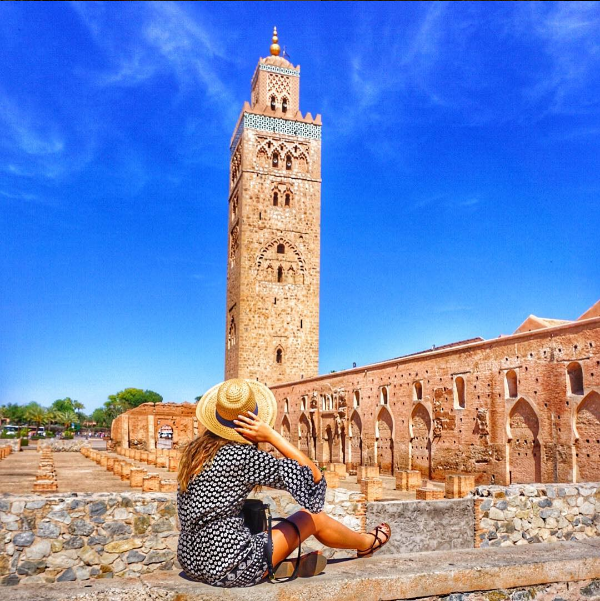 After a fair amount of sight seeing, you've probably worked up quite an appetite. While we were checking in, a woman graciously handed over her to do list while in Marrakesh, which recommended Restaurant Lotus Privilège.
We headed there and quickly realized that 1.) the place was absolutely gorgeous and 2.) there were no prices on the menu. Although pricey, the food was the best I tasted during my 3 days Marrakech, and possibly the best food I've tasted in my life.  There were flavors going on in mouth that I've never experienced. The tasting menu is around $55 per person, and I probably wouldn't have spent so much money if I didn't like to drink 🙂 They also have belly dancers and live music.
If you're looking for a cheaper place to eat, you can grab food in the souks or eat the the Nomad which has a nice rooftop deck. My friend Lauren also recommended Café Clock (where you can grab a camel burger and listen to live Berber music).
Walk off the 18 different o'dourves and the five different courses of food by winding through the maze of souks on the way back to your riad.
Day 2: Atlas Mountains & Zagora Dunes
Wake up early for the desert tour, where a van or a 4×4 will pick you up at your hotel or in the Jamaa el Fna.   Spend the day zig-zagging through the High Atlas mountains and Berber villages.  The tour stops at Ait Benhaddou village, an ancient village made of clay architecture, kasbahs and merchant housing. Ait Benhaddou is a UNESCO world heritage sight, and several movies have been shot here (the most popular being Gladiator).
Disclaimer on the desert tour: This tour is about 5-6 hours in the car both ways, so if you're not comfortable in a car for that long, you can try doing another day tour. Some other tours you can try during your 3 days in Marrakech include: the Atlas Mountains, Ourika Valley, Ait Benhaddou, Ouzoud Waterfalls, Essaouira
End your day by camel trekking through the desert at sunset, which is easier said than done. Props to the people that actually had to ride on camels to get around, it's not for the faint of heart. It's fair to say I hope I never find myself riding a camel again. The tour includes a tent in the desert, dinner, and live music from the Berbers.
I actually don't have good pictures from the camel trek, considering I flung my Go Pro off the camel (the Berber was not pleased). I don't think I was the group favorite.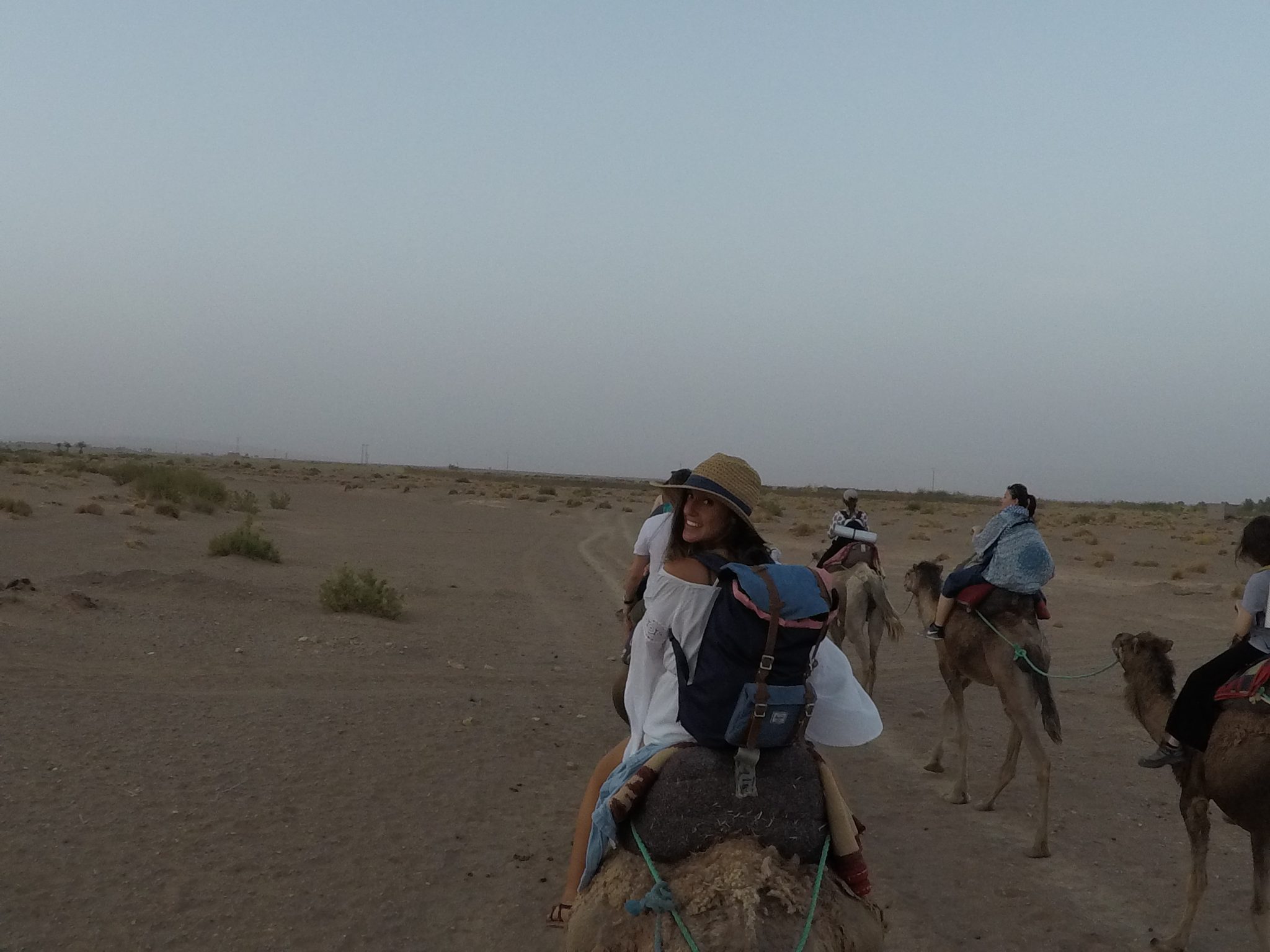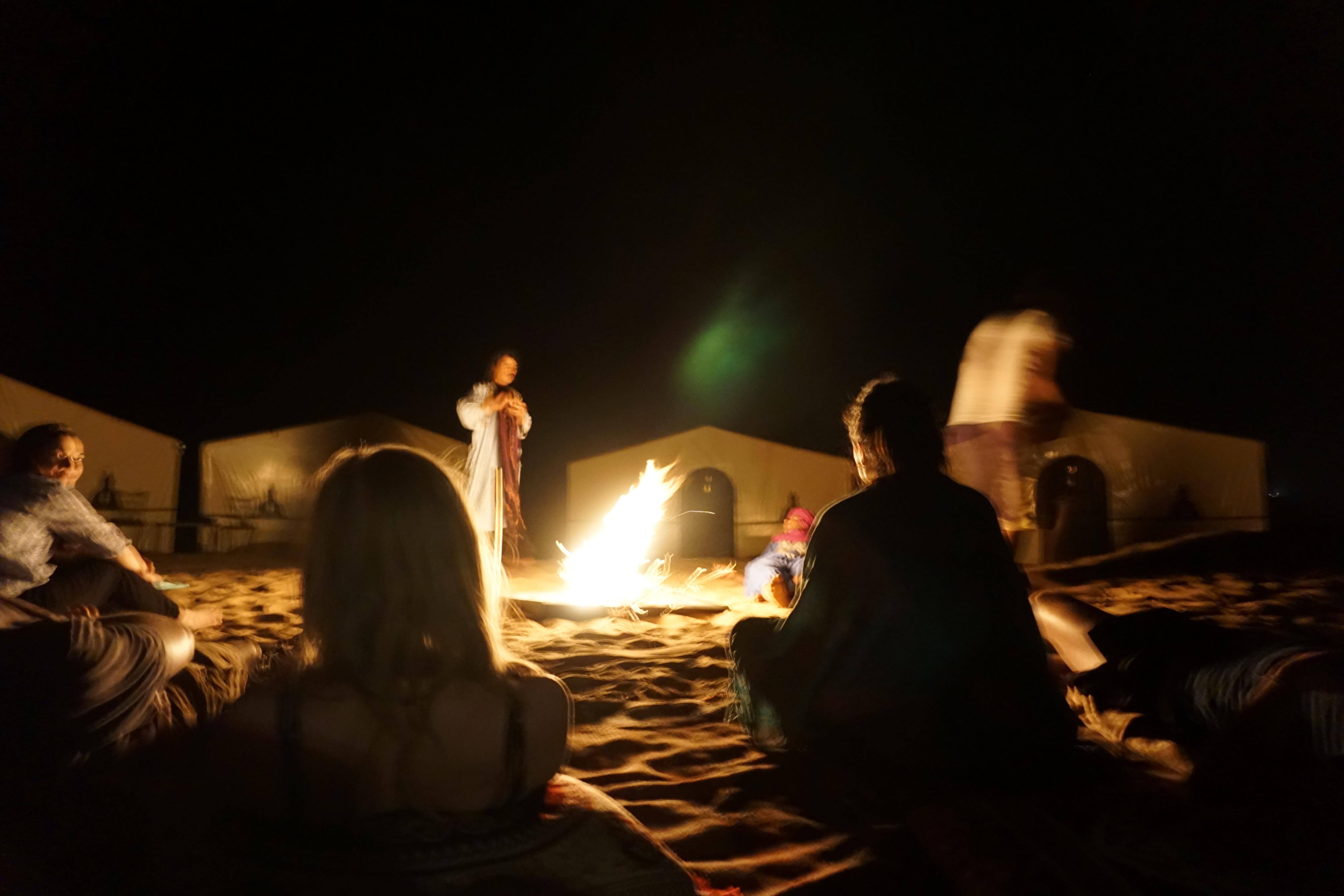 Day 3: Desert Sunrise, Ouarzazate, Jemaa el-Fnaa
Sink into the sand and watch the sun rise over the Zagora dunes while you sip on mint tea. Then start your journey back to Marrakesh, with stops for lunch and the Ouarzazate.  Once you get back, spend some time at the main square of Marrakech.
Get dropped off in the Jamaa el Fna, and spend the end of your 3 days in Marrakech's main square. As the day progresses, the entertainment grows on the Jamaa el Fna. Crowds gather to watch dancing, story-telling, magicians, medicine peddlers, etc. Food stalls line the square, along with fair like games and performances. Be prepared to be shaken down for a few dirhams if you want any photos.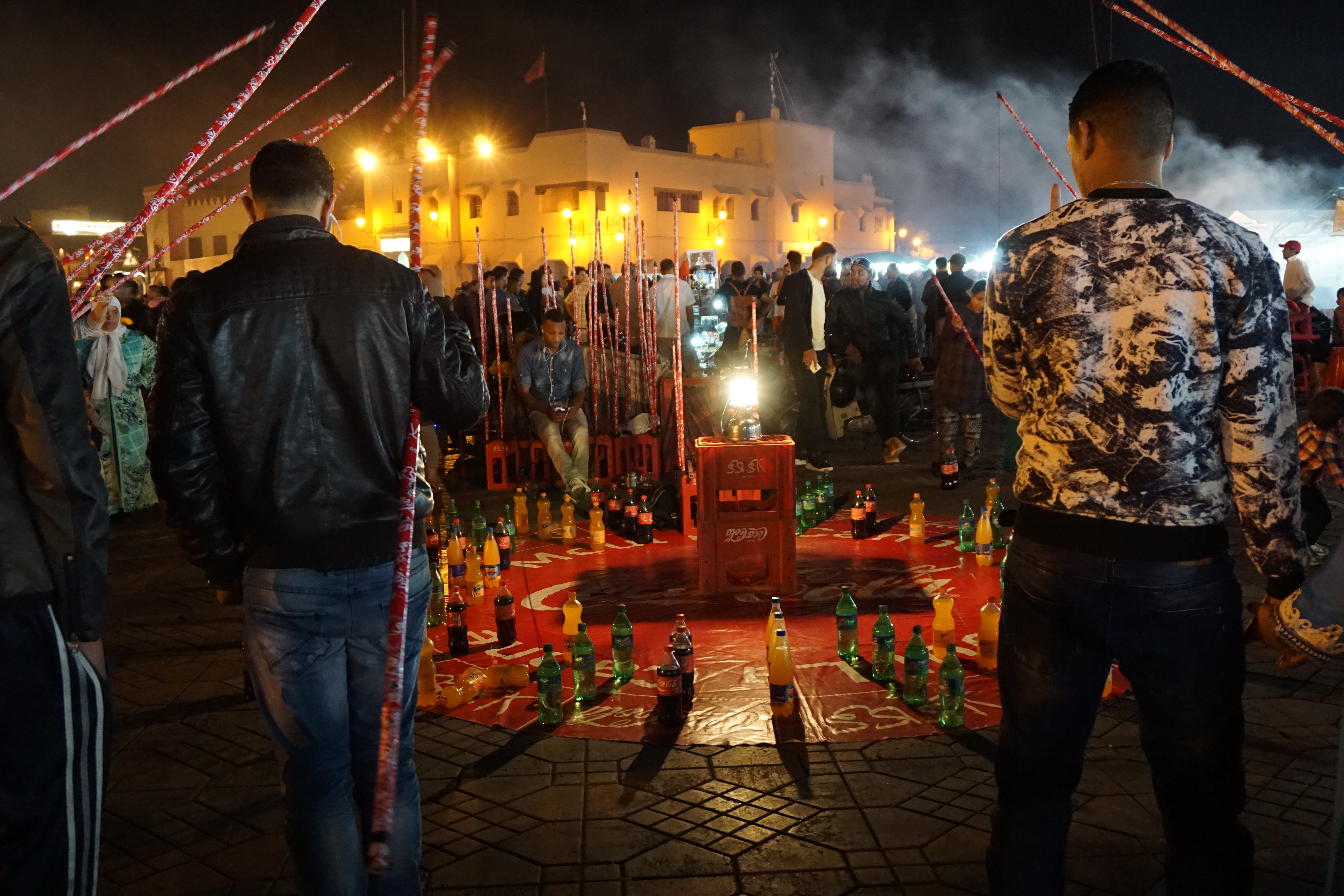 Enjoy lamb tagine on your last night in Marrakech at the rooftop deck of The Nomad. If you're looking for a real sendoff, you can grab drinks (yes there are a few bars in Marrakech!) at Le Salama. The bar is all the way upstairs, past the restaurant. They have hookah AND a 2 for 1 cocktail deal.
The Nomad: 1 DERB AARJAN,RAHBA LAKDIMA، Marrakesh 40000, Morocco
Le Salama: 40 Rue de Banques | just off Djema el Fnaa, Marrakech, Morocco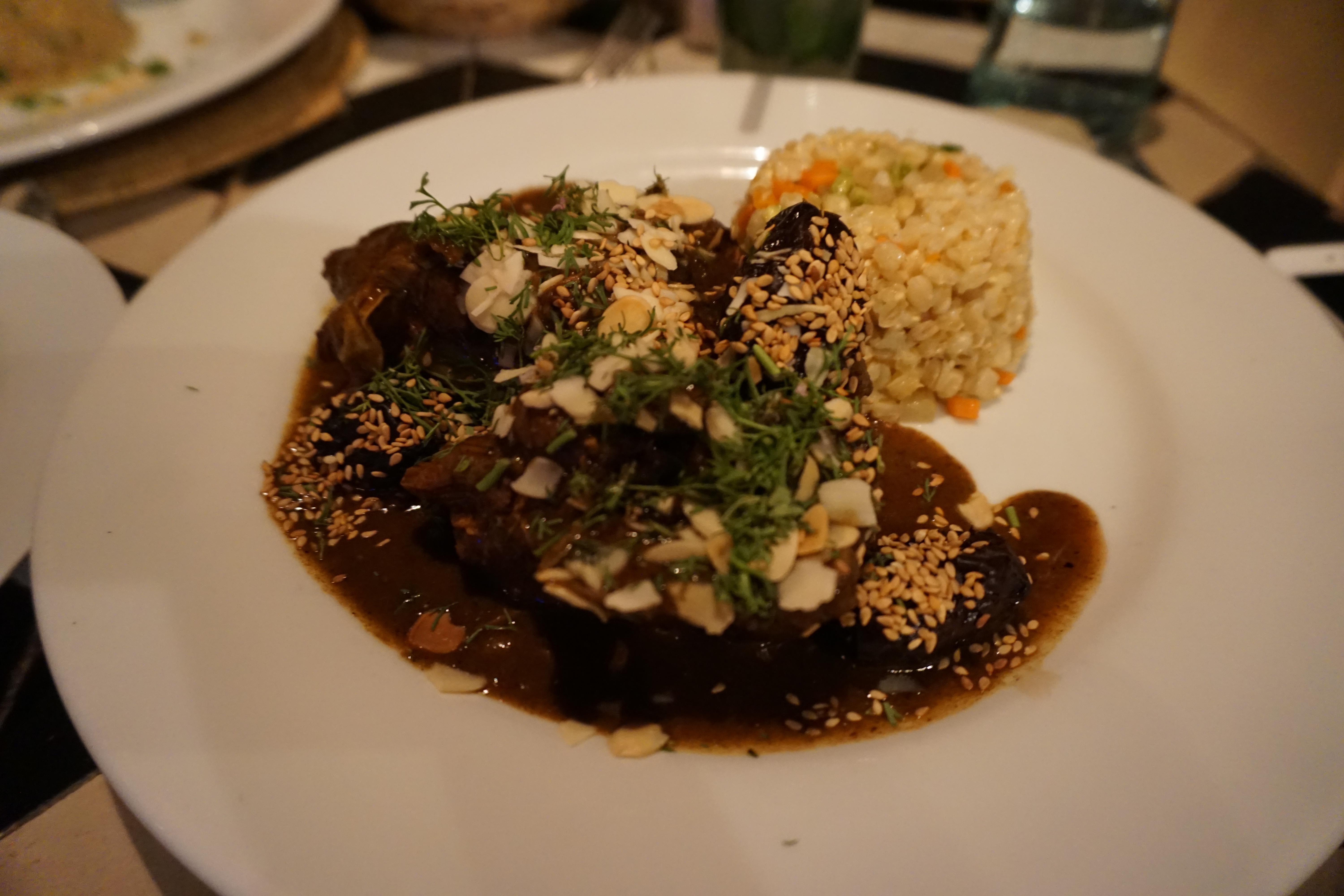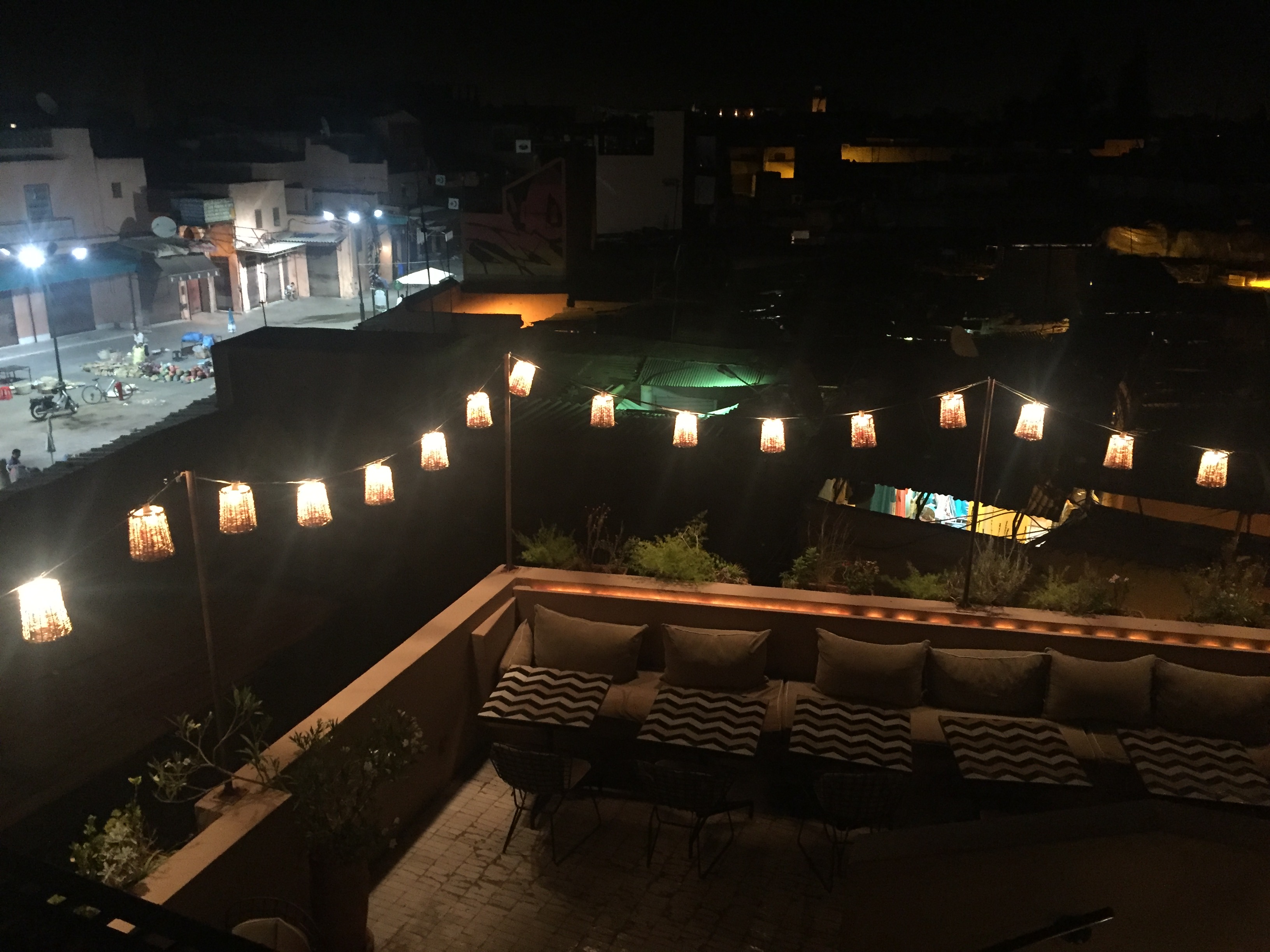 Have any questions about my 3 days in Marrakech itinerary? Feel free to comment below!
& here's a pin to share: