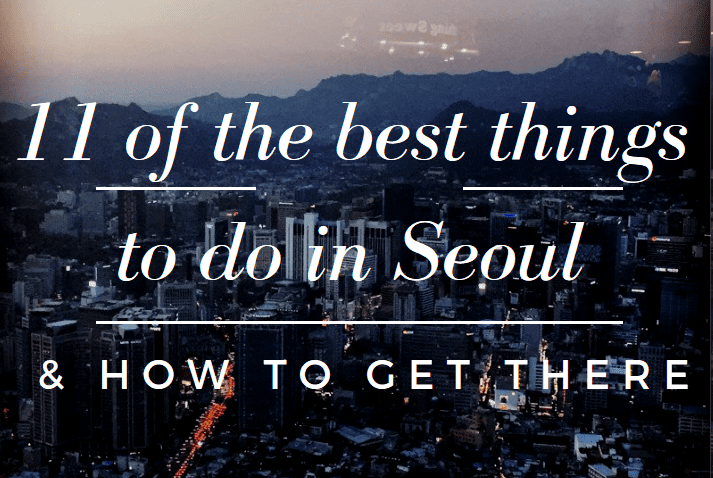 Seoul, a mega city  where sky scrapers collide with ancient palaces and Buddhist Temples. A city where tiny teahouses and narrow alleyways make you forget that you're right in the middle of the action. Seoul has some of the best nightclubs and the best food around. With so much going on, how do you narrow down what things to do in Seoul while you are here? Let me help.
1. Climb the SEOUL TOWER
I know they have these touristy look out points from almost every city, but Seoul might really be the best one yet. Seoul is unique in that it's a mega city surrounded by high mountains.
Insider Tip:  Go at sunset and you will be able to see the illuminated buildings surrounded by shadowy hills. It is something you do not want to miss out on.
Getting There: Hop on the Namsan Sunhwan Shuttle Bus (2, 3 or 5). Find more info on the bus routes here.
2. Grab KOREAN BBQ
Korean BBQ usually includes beef, pork, or chicken along with different vegetables and appetizers that are thrown together on a table burner. It is a meal fit for a king, and you CANNOT go to South Korea without at least getting it once. The most popular item is bulgogi which made from thinly sliced marinated beef and is absolutely delicious.
Insider Tip: If you're looking for more delicious foods to try in Seoul, check out this post.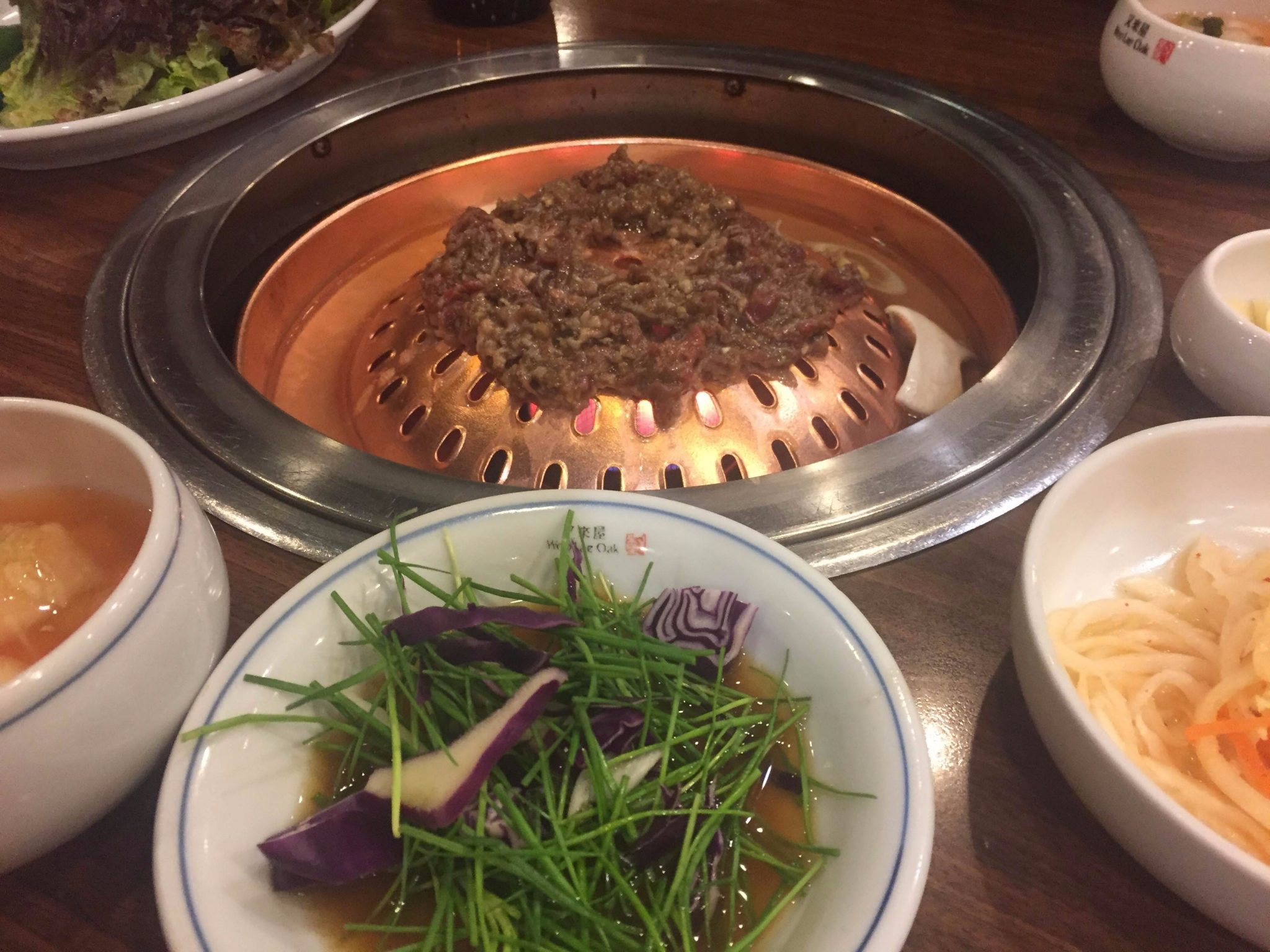 3. Have a Night Out In HONGDAE
Hongdae is the center of Korea's indie culture and the streets are lined with cheap bars and clubs, and street art. Almost always packed with people, it's where local Koreans and expats meet up and party together. Hongdae has a very friendly vibe and it was my favorite place to go out when I was in Seoul.
Start out your night with perhaps getting lost in the cab, drinking Soju along the crowded street with your new friends, dancing the night away with locals and travelers alike to Beyoncé, and somehow making your way home after all of that.
Insider Tip: Visit Prince Edward Noraebang, a popular karaoke place with an incredible rooftop view.
Getting There: Take subway line 2 to Hongik University and walk out exit 9. Walk ~150 meters and turn left up the street. At the end of the street is Hongik University. From there you can turn right and Hongdae is all the little side streets on both sides of the main street.
4. See GYEONGBOKGUNG PALACE
Korea's most famous palace is hard to miss, sitting at the beginning of Seoul's main boulevard. It's only open until 5, but if you visit at night the palace has some incredible lights. It was the first and largest royal palace of the Joseon dynasty.
Getting There: Take the Subway Line 3 to Gyeongbokgung station.
5. Get Lost in INSADONG
Walk through crowded Insadong-gil and turn down some of the narrow back alleyways to find a network of art galleries, wooden tea houses, restaurants and cafes. If you're shopping for souvineers, there are a lot of great small shops selling arts and crafts. Hanbok (traditional clothing), hanji (traditional paper), traditional teas, and pottery can be found here.
Insider Tip: I stumbled upon a very expensive, yet unbelievably beautiful restaurant here called Min's Club. Go if you have money to blow. If not, check out these other amazing food options.
Getting There: Take subway line 1 to jongno 3 ga, or to Anguk.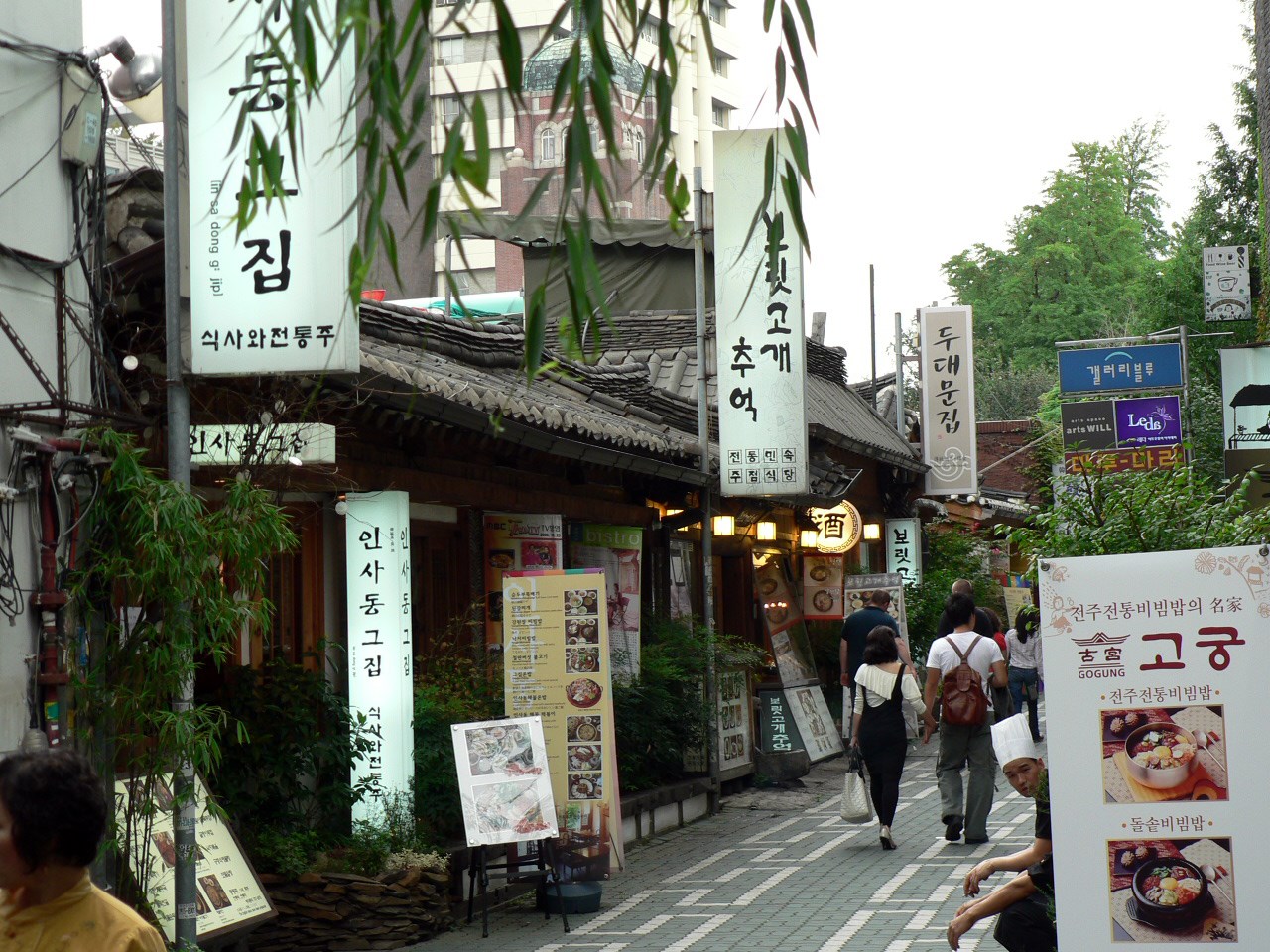 6. Dance the Night Away in GANGNAM
Gangnam sounds familiar right? That's because you've heard it a bajillion times in the song "Gangnam Style". For a even more Korean nightclub experience than Hongdae, go to Gangnam, where the venues are classier, the people are more plastic, and the drinks are more expensive.
Getting There: Take the subway line 2 to Gangnam Station, then take exit 10 or exit 11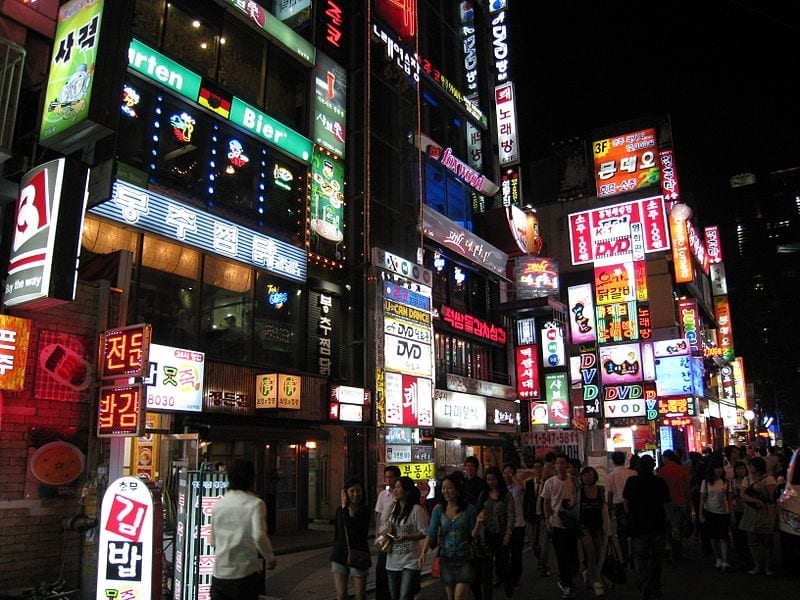 7. Take A Break Along CHEONGGYECHEON STREAM
Cheonggyecheon Stream is a man made stream right in the middle of the city. It runs for about 3-4 miles and can really give you the impression of a peaceful getaway since it is about 15 feet under street level. It's a great place to get some exercise or chill out for an afternoon.
Getting There: The stream is pretty long so there are multiple entrances:
Subway Line 1: City Hall Station, Jonggak Station, Jongno 3-ga Station, Jongno 5-ga Station, Dongdaemun Station, Sinseoldong Station
Line 2: Euljiro 1-ga Station, Euljiro 3-ga Station, Euljiro 4-ga Station, Sindang Station, Sangwangsibni Station
Line 3: Jongno 3-ga Station
Line 4: Dongdaemun History & Culture Park Station
Line 5: Gwanghwamun Station <- main starting point
8. Stroll Through The Gardens of CHANGDEOKGUNG PALACE
Changdeokgung Palace was the second palace to be built and it's gardens feature lotus ponds, pavilions, landscaped lawns, trees, and flowers. Other than the Cheonggyecheon Stream, these gardens offer a second peaceful break from the busy streets of Seoul.
Getting There: Take subway line 3 to Anguk Station and exit #3 or take Subway lines 1, 3, and 5 to Jongno and take exit #6
9. Experience KOREAN STREET FOOD in MYEONGDONG
Myeongdong is mostly known for being a shopping mecca filled with all of the popular international stores and high end beauty shops. However, I liked Myeongdong more for the street vendors. You can find egg bread, bulgogi pizza wraps, crazy looking hot dogs, and even snails (ew). You can view more of the street food options here.
Insider Tip: Skip dinner one night and head to Myeongdong to get stuffed on samples of street food instead.
Getting There: Take subway line 4 to Myeongdong Station and exit 6.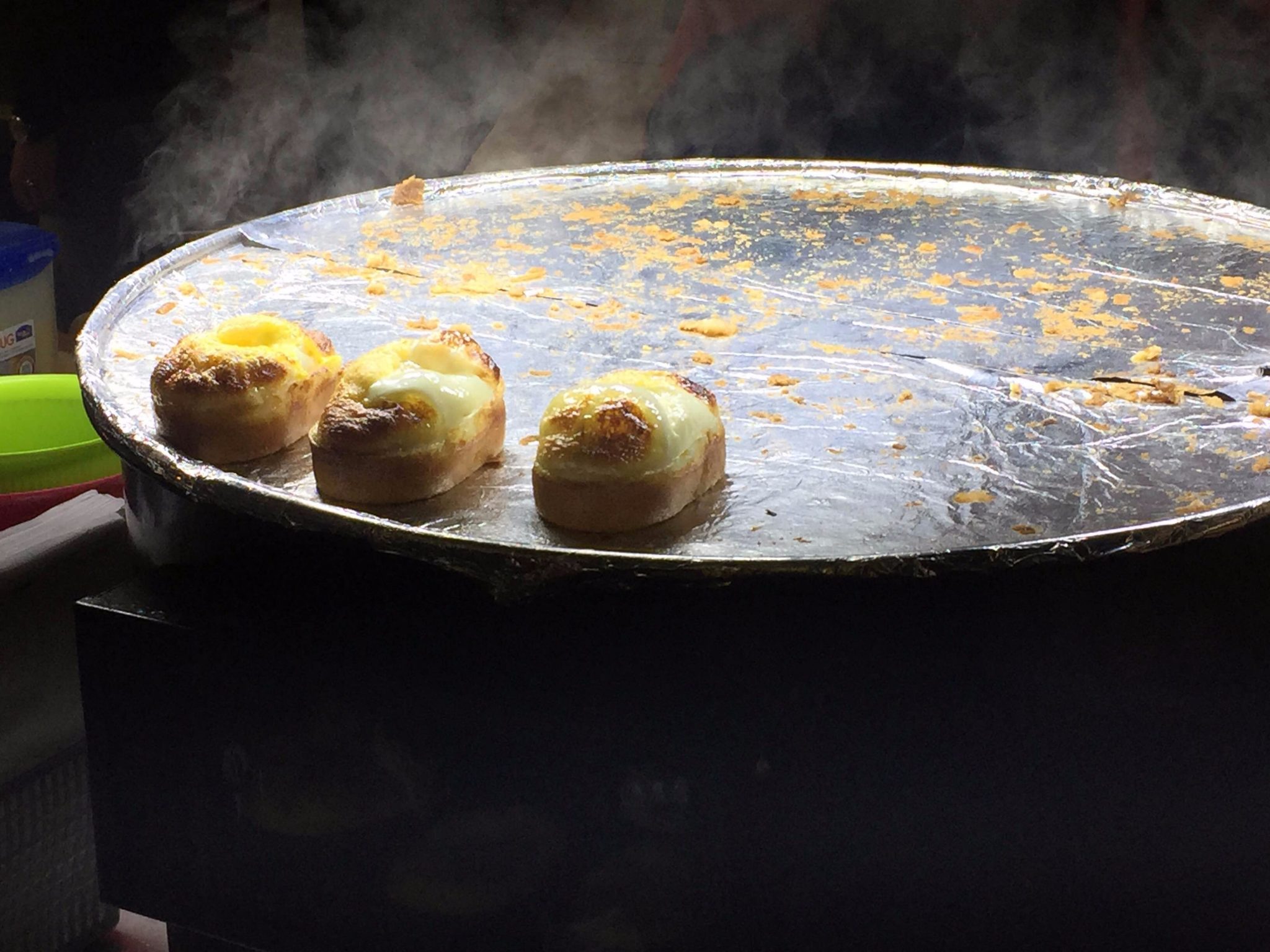 10. Go Back in Time at BUKCHON
Get a look at old Seoul while walking up the hills of Bukchon, lined with wooden houses and stone allyways. You'll stumble upon quaint art galleries, cafes, and tons of hidden residential properties.
Insiders Tip: Once I reached the top of the hill, I found a private residence that allows people to come and see the view from the top level of their house. They will make you coffee and snacks for a small fee while you sit in their living room and take in the view. Find this place, it's amazing!
Getting There: Take subway line 3 to Anguk Station and take Exit 3.
11. Fit In With The Other Expats in ITAEWON
Every expat gravitates towards Itaewon, where bars, clubs, restaurants and shops line the street. If it's your first night in Seoul, go to Itaewon to ease into the Korean nightlife scene.
Insiders Tip: One of the best clubs in the city, Club Volume, is located here. It recruits some of the best DJs in the world.
Getting There: Itaewon Station is on Line 6 (Brown). All exits empty out onto the main drag.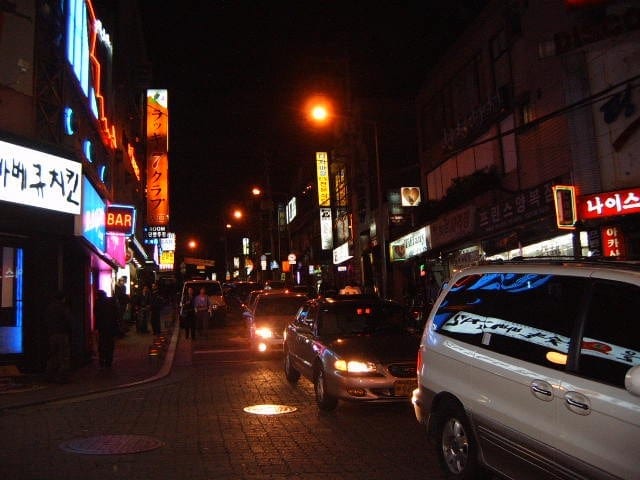 What would you add to our list of things to do in Seoul?
Media Credits: Insadong, Gangnam, Itaewon