Budapest is famous for it's thermal baths. What most people don't know about is, their famous bath parties.
The most popular Budapest bath parties are hosted at the Szechenyi Baths in the summer and the Lukacs baths in the spring, fall and winter.
I visited Budapest in late September, which is still considered "summer" so I attended the Szechenyi Bath party (also known as Sparty).
Why You Need To Go
One look at the beautiful and enormous neo-baroque Szechenyi Bath house, and you would want to spend a night there even without a party. Now, add in a laser bath party complete with it's own dj, a fully stocked bar and hundreds of twenty somethings having the time of their life-that's a Budapest bath party.
 How To Get Tickets
Tickets for the Szechenyi Bath Party are 25 euro (and well worth it).You can sign up ahead of time online or you can buy tickets through your hostel.
What To Do With Your Belongings
When you check in, you will put money onto an electronic card that you will wear around your neck. Through out the party, you can pay with this electronic card so you won't have to worry about soggy money or losing any belongings at the pool. If you don't spend all the money on the card, no worries, you can exchange it at the end of the night. You are also given a changing room with your ticket, where you can keep any clothes that you wear in.
I wouldn't bring a camera, unless you have a water proof phone (although I found my friends floating in the pool halfway through the party).
 What To Expect Once Your Inside:
Expect to…
drink way too many Borsodis (inevitably contaminated with a little bit of bath water)
lose whatever headband you walked in with
get stuck in the hectic never ending whirl pool that one drunk guy started (this is still the highlight of our night)
to have all of your makeup running down your face because you've been dunked about 17 times in the first two minutes (why did I wear make up?)
be freezing when you realized you forgot to bring a towel (TIP: bring a towel)
Have one of the most memorable nights of your life!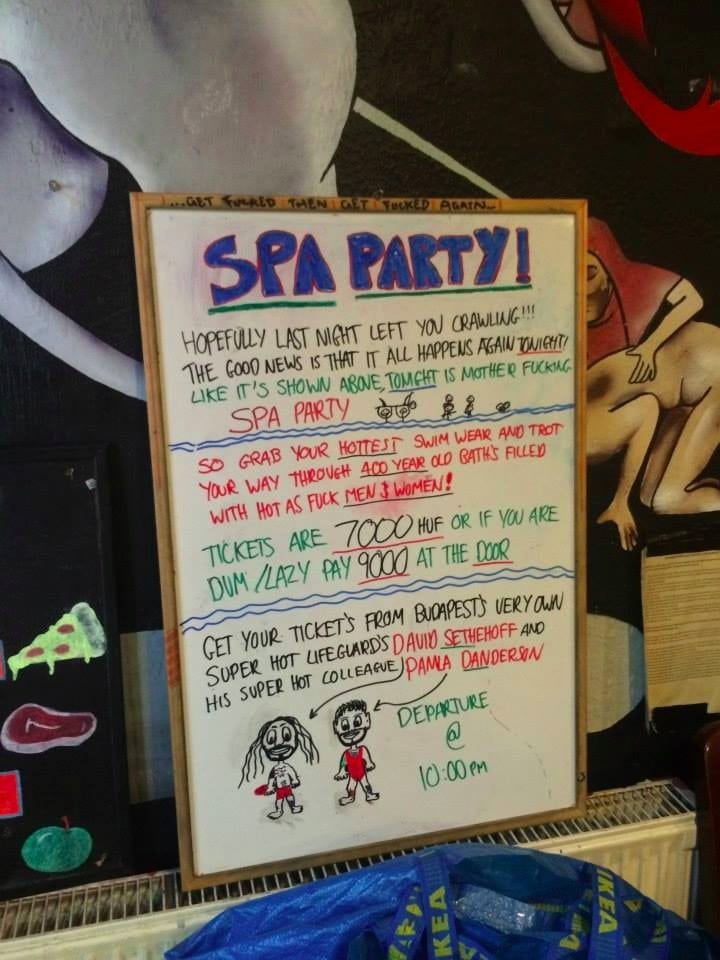 Thinking about attending a Budapest bath party? Leave your questions below!