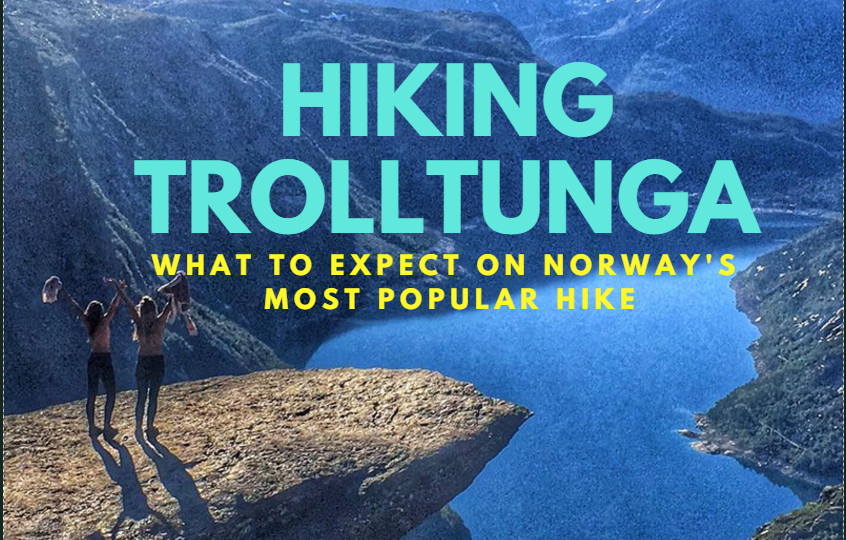 "And at the end of the day, your feet should be dirty, your hair messy and your eyes sparkling."
My obsession with hiking Trolltunga began a few years ago, when I came across a picture on Pinterest and thought it was possibly the most beautiful spot I'd ever seen.
A few months later, I would meet a Norwegian girl in Key West and inform her that I wanted to go to Norway to see "the really high rock above the lake". She had no idea what I was talking about, apparently Norway had a lot of really high rocks, and plenty of really beautiful lakes.
Flash forward to me realizing that rock was only reached by a 23 km hike named Trolltunga. Trolltunga is situated ~1100 meters above sea level, hovering 700 metres above Lake Ringedalsvatnet. Hiking Trolltunga takes about 10-12 hours to complete.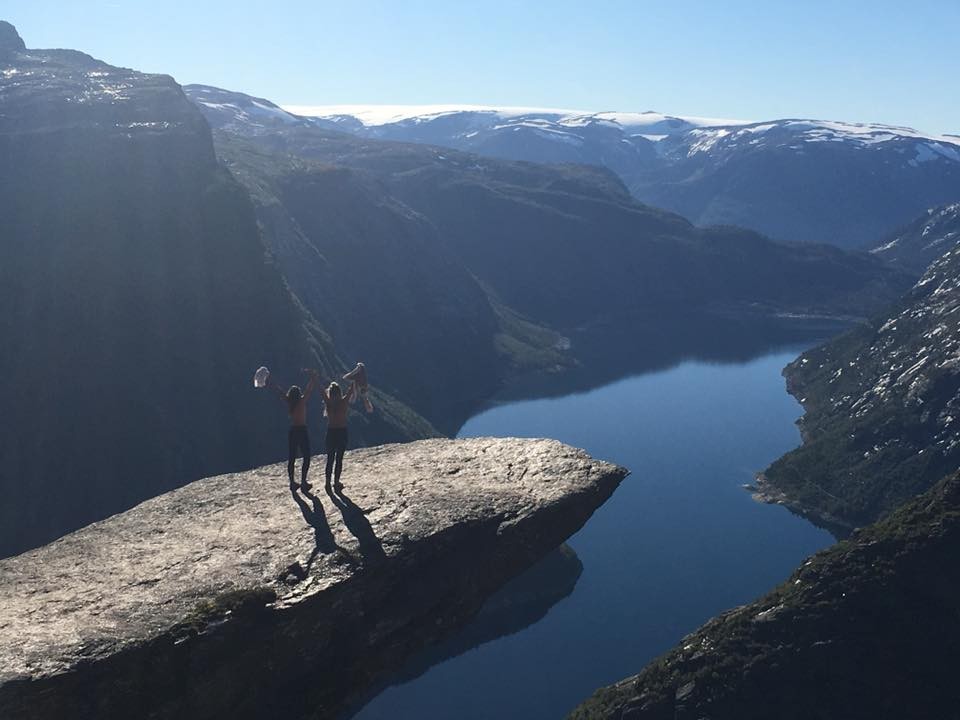 Getting to TROLLTUNGA
Set your GPS to Tyssedal (about 6 km from Odda) on route 13.  From there, follow signs to Skjeggedal and Trolltunga. After about 7 km you reach the parking place in Skjeggedal.
It is recommended to start hiking Trolltunga around 8am since it takes most people about 12 hours to complete. I would actually recommend starting the hike a little sooner. The main parking lot gets full early on and if that's the case you will have to park in a different parking lot and take a shuttle. It doesn't sound like a big deal, but having to take a shuttle to your car after hiking for an entire day isn't exactly ideal (and it costs money). You should also account for the line at the top to take pictures, which will be longer on nice days and weekends.
The TROLLTUNGA HIKE
The first 2 kilometers of Trolltunga are steep and muddy switchbacks made up of stone steps.  Once in a while, there will be a slick rock face with a dirty rope to help you climb. This is followed by a waterfall, several wooden planks and a steep rock face. After that, you will go through a series of grass fields, boulder fields, and lots and lots of mud.
MAKE SURE TO KEEP YOUR EYES ON THE "T's": The small stone piles or red "T"s on stones mark the trail and sometimes they aren't as visible as you would like them to be. People can get off track relatively easily, especially if they are distracted by the stunning views on the top of the mountain.
For example, Trolltunga is supposed to be 23km (or 16 miles). I clocked in at 20 miles.
The Summit
There was plenty of people at the summit when we got there, since it was a Saturday and perfect weather. The line to get a picture on the rock was around 1-1.5 hours long. Everyone in line is relatively friendly and open to taking pictures of one another. Try to make friends with other people in line so you can get each others pictures on the rock.
And then the Come Down
Honestly, the way down from Trolltunga is the worst part, which is weird because usually that is the easiest part. By this point, your feet will be sore, you will be tired and want to just get off of the mountain. My tips for making this easier are bringing an extra pair of socks and making sure your hiking shoes are a size larger than your regular shoes. The decline is steep and if your toenails are hitting the tops of your shoes for 23 kms, it will be painful. The last 2 kilometers are tough because it's a steep rock staircase that can become slippery and muddy. It's easy to roll your ankle or slip on the rock so be careful.
And in the end you will probably be covered in mud, your feet will be rubbed raw, and if you're careful you won't have any injuries. A shower and an endless supply of water will seem like the best luxury in the world. Another tip? Leave some food in your car for after the hike. You will be starving.
Tips for Hiking Trolltunga
Bring plenty of protein, granola bars, or nuts for the hike. You will need this to fuel you. Remember this is 12 hours.
Bring a water bottle, you can refill it in the stream so there is no need to pack tons of water (which will just add weight)
Wear good hiking shoes – I have these ones and they work great. There will be plenty of mud that is just too deep for normal sneakers. Not to mention, it is important to have more ankle support on this hike.
Dress in layers. You will be really hot while hiking, but when you're at the top waiting for pictures, you will start to cool off again. I wore
Most of the time I wore the long sleeve, but at the top I did put my jacket on.
Bring sunglasses – the sun can be quite bright on the way down from the mountain. My neck started to hurt from constantly looking down.
A good backpack. Make sure your backpack has padding on the straps to help out your back and shoulders. A small day pack like this one would work.
Hat/Gloves – I didn't use these since I had great weather but they may be necessary if you're going on a colder day.
Toilet Paper – I don't mean to state the obvious, but you're hiking for 12 hours.
Remember to keep an eye out for the red "T"s or piles of stones to mark the trails instead of just following the people in front of you.
Try preparing for the hike by hiking mountains near your home or using the stair master at the gym. This will make it a lot easier on your body.
If you don't want to hike 23 km's, you could also do this route which involves climbing up a ladder…. But that's sort of cheating…
Have any questions about hiking Trolltunga? Please comment below!