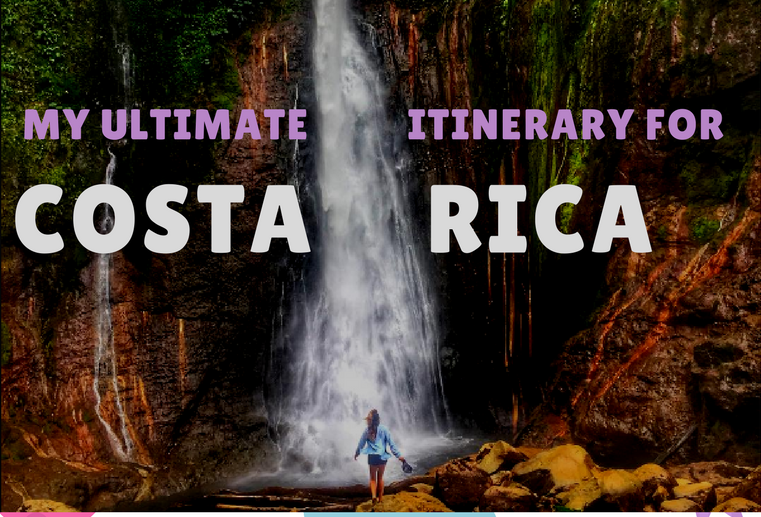 From plunging into gorgeous green jungles and natural hot springs to sipping a cocktail on the beach as the surfers stroll by, Costa Rica really does have it all. Hike a volcano, rappel down a waterfall, take on some class 5 rapids, or hop on an ATV. In fact, there is so much to do here, it makes putting together any sort of Costa Rica itinerary pretty difficult.  How do you fit everything in?
Congratulations on finding my 10 day Costa Rica Itinerary:
This Costa Rica itinerary includes: La Fortuna, Monteverde, Bajas del Toro Waterfall, Rio Celeste Waterfall, Playa Negra, Playa Samara, Playa Nosara, Playa Tamarindo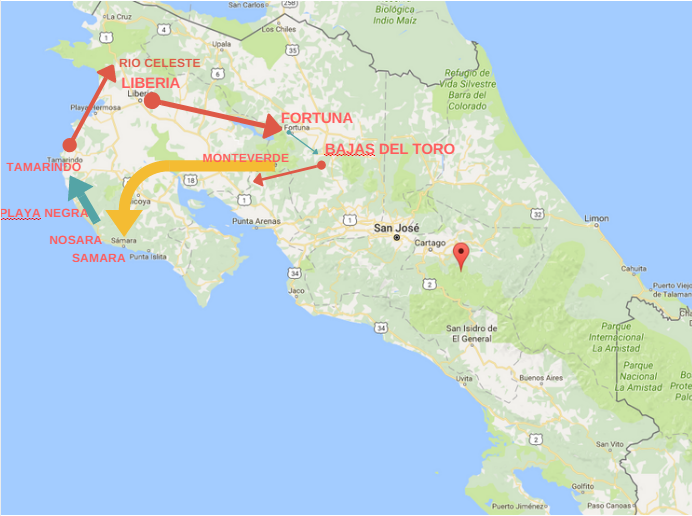 Day 1: Drive to La Fortuna (2.5 hours)
I'll start this Costa Rica Itinerary off by letting you know you can fly into Liberia or San Jose. Although San Jose is cheaper, Liberia was closer to the rest of our destinations so that's where we landed. Once you reach the airport, pick up a rental car and head to La Fortuna. I highly recommend renting an SUV, a lot of the roads in this itinerary are dirt with plenty of potholes (unless you plan on taking tours instead of driving yourself). There are a few different hotels/hostels in the area. I chose to stay at an Airbnb.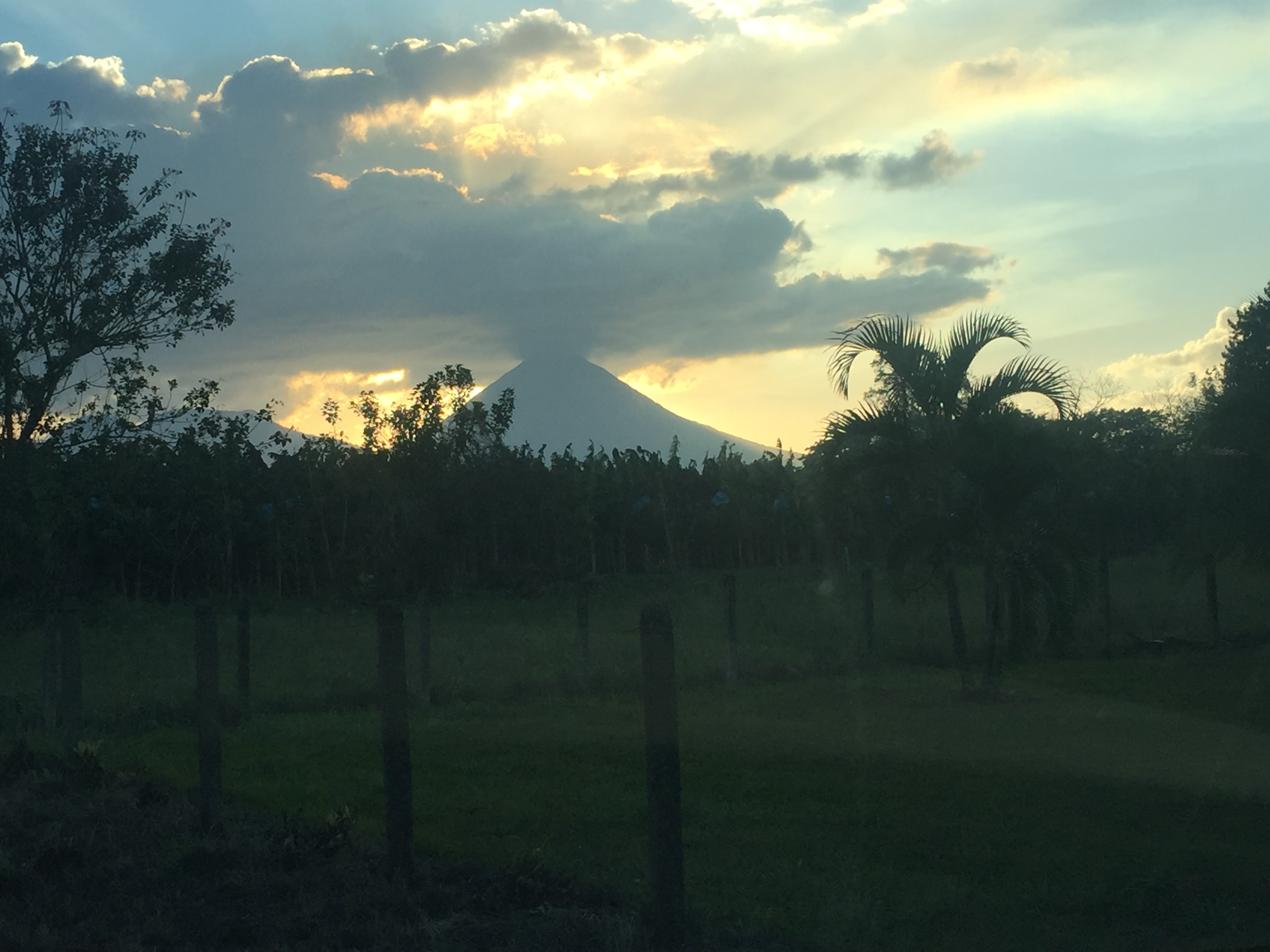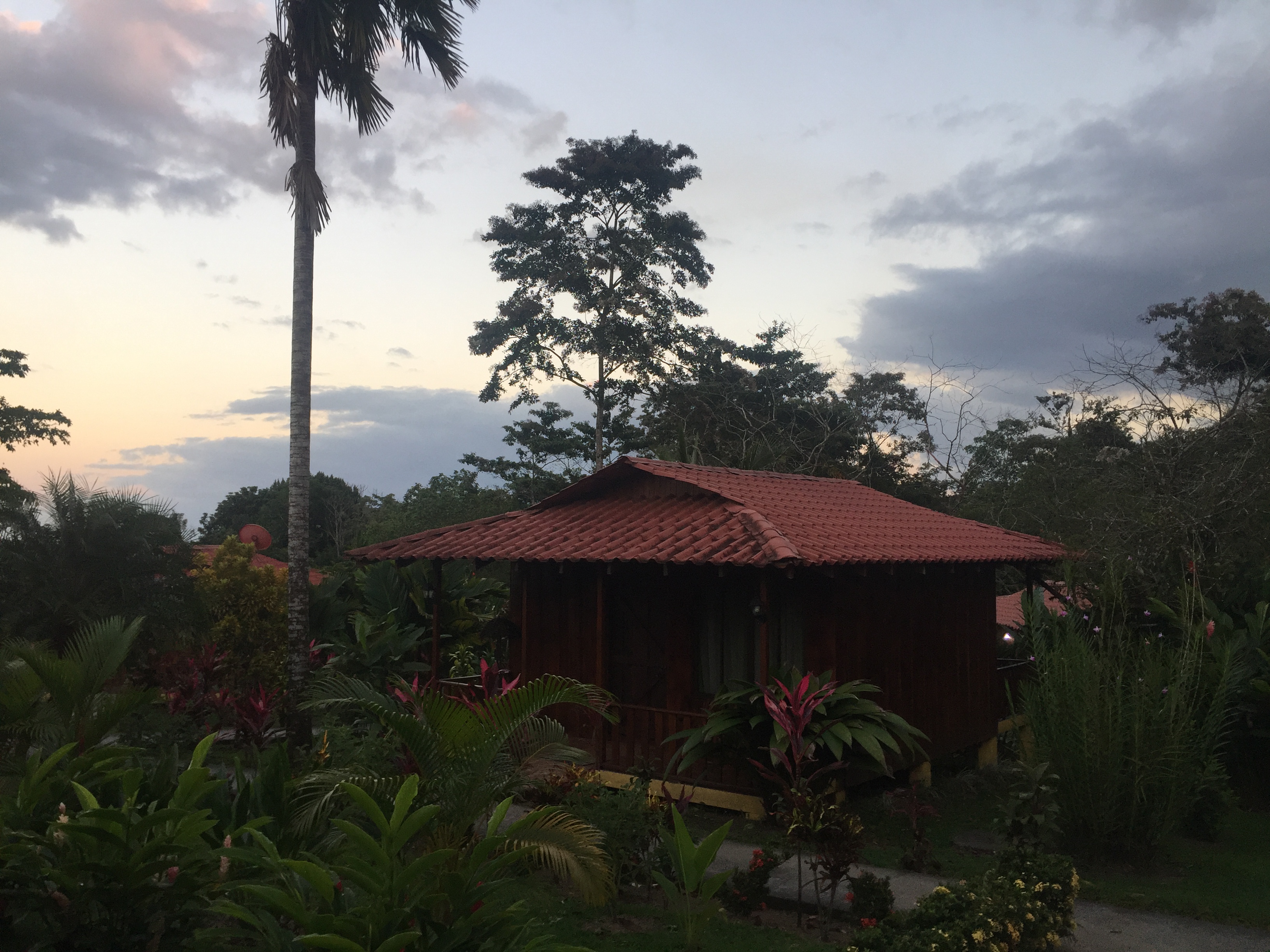 Day 2: La Fortuna Waterfall, Arenal Volcano Hike, Hot Springs
Head to La Fortuna Waterfall, the entrance fee is 15 dollars. From here, it is 500 stairs to go down to the waterfall (and of course 500 back up 🙁 ). Pack your bathing suit, there is a swimming hole at the bottom of the waterfall.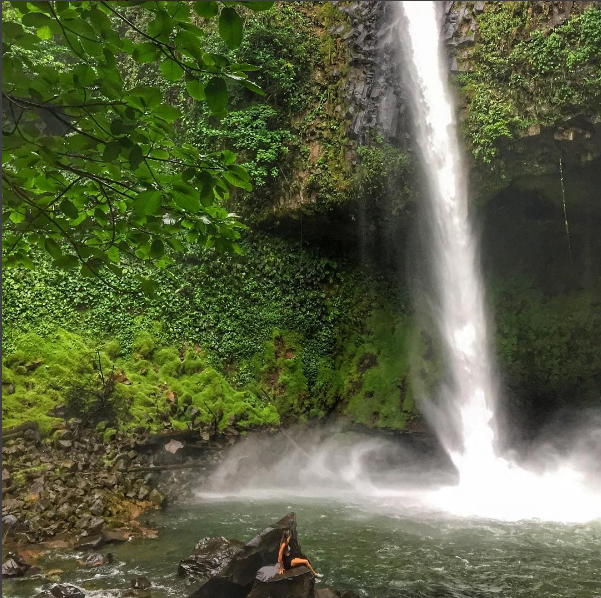 After you're done with all 500 stairs, drive over to Arenal Volcano National Park where you can hike through the jungle and end up in a dried up lava field. The entire hike is only about two miles round trip but includes some amazing scenery. Unfortunately on the day we did this, it was raining and we couldn't even see the volcano. Make sure to check the weather when you are planning your schedule. It rains a lot in La Fortuna (this is actually the second time I was visiting the Arenal Volcano and the second time it was raining!) I still got to see it the day before when we were driving in (at least).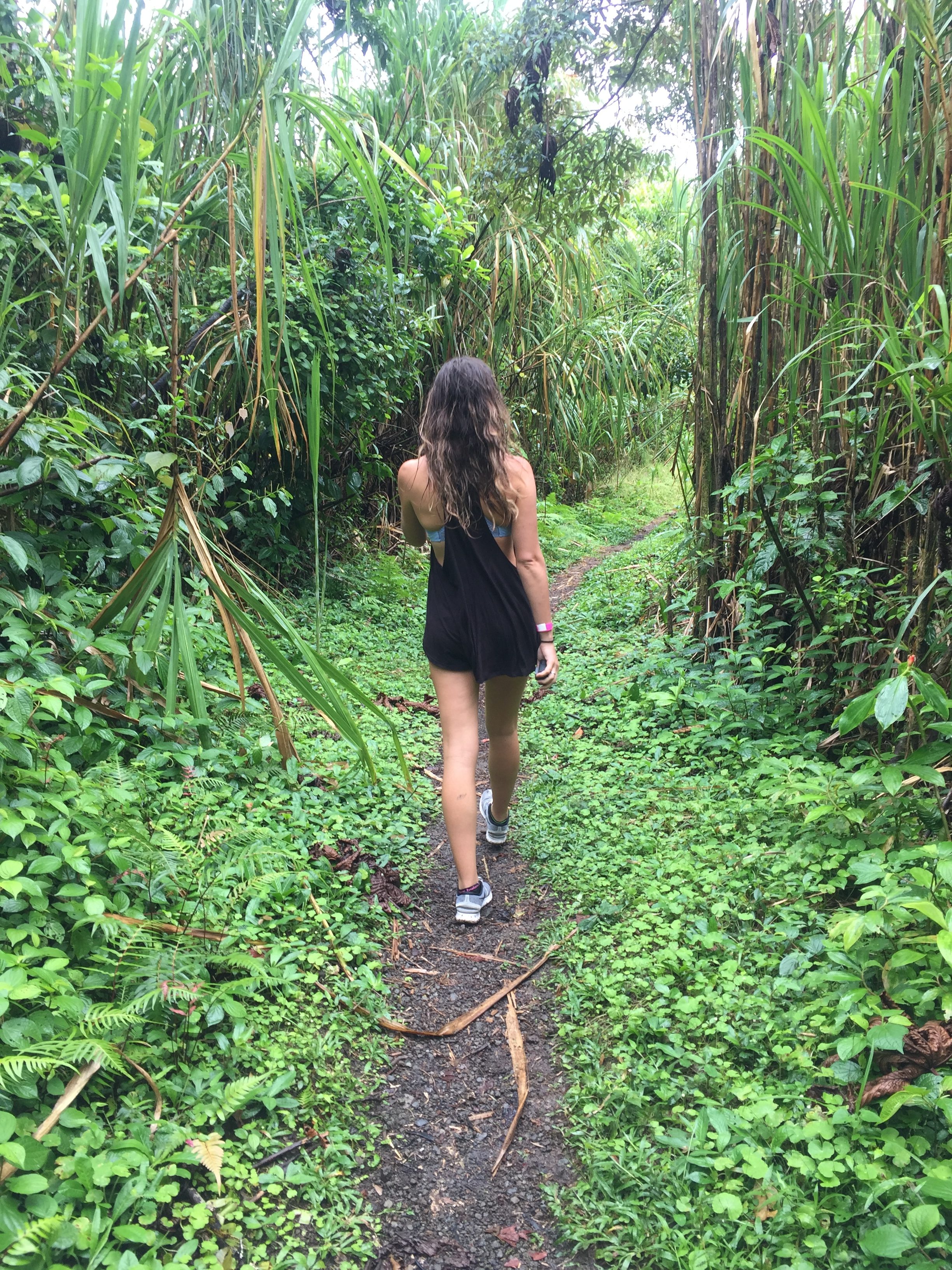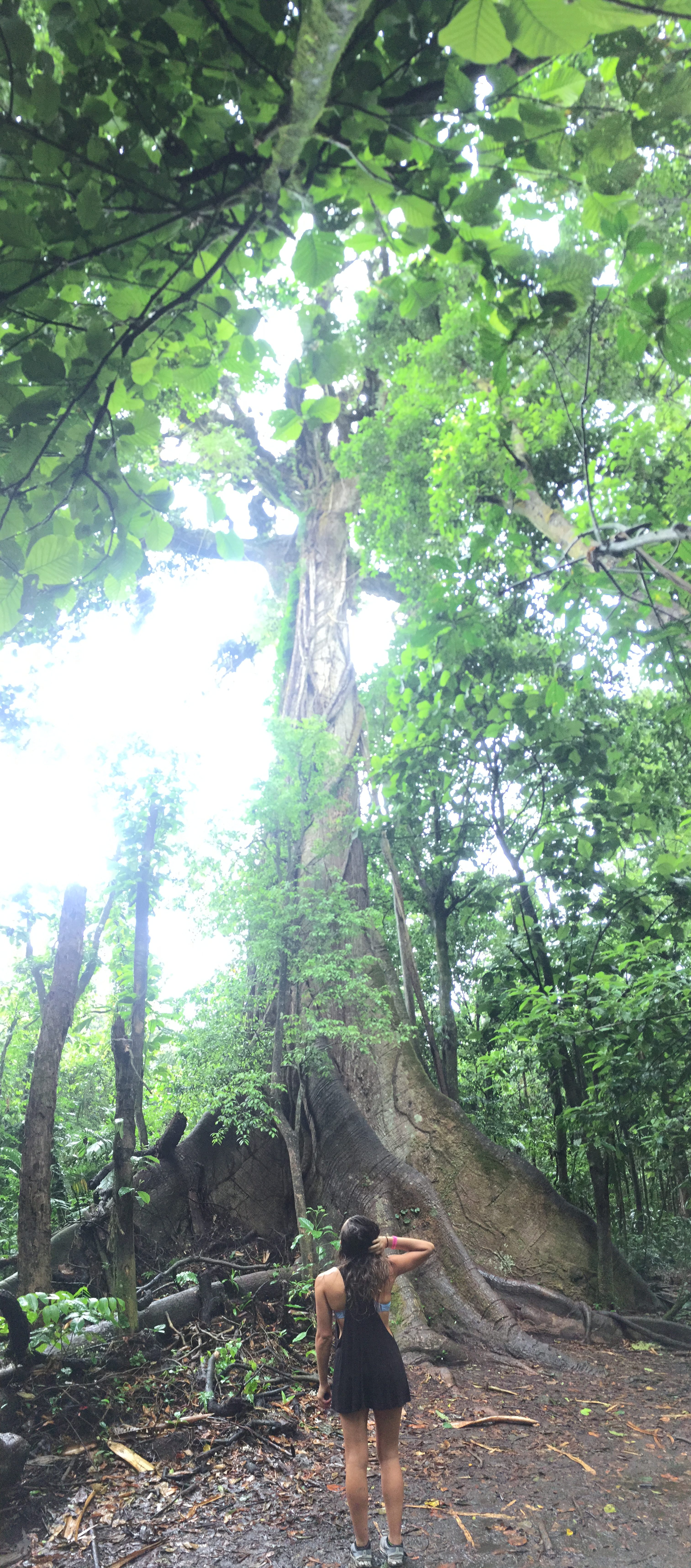 When you're done hiking for the day, check out one of the hot springs in the area. We chose Baldi which is one of the more expensive ones, but we liked the thought of alcohol and water slides. A pass to Baldi should be around $40.
Side Note: Be careful on this water slide, it is seriously dangerous. I thought I had a concussion afterwards, and after doing some digging on Google, it seems as though a lot of people were hurt after using this slide.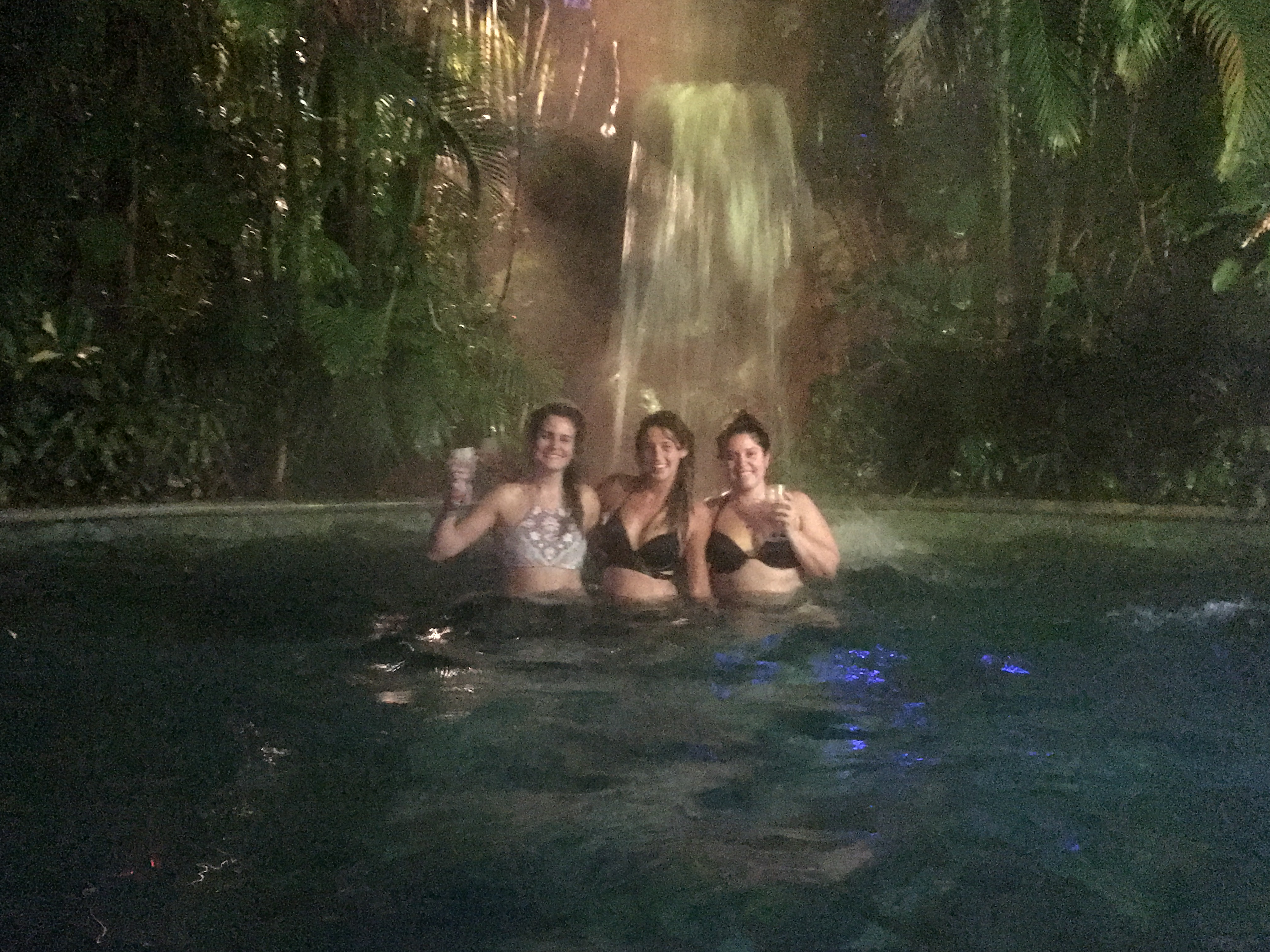 If you have more time than we did, other activities in La Fortuna include: Canyoning, hiking Cerro Chato, and white water rafting.
Day 3: CATARATA DEL TORO WATERFALL & Monteverde
Prior to my trip, I did some research on lesser known waterfalls in Costa Rica and found this beauty. It was the highlight of my trip (and hence the highlight of this Costa Rica itinerary). If you go early in the morning, you can have the waterfall all to yourself like we did. You do have to hike down (and up) a ton of stairs… but it's so worth it. Be sure to visit Monday through Saturday (it's closed on Sundays. Hours: 7:00 a.m. to 5:00 p.m.)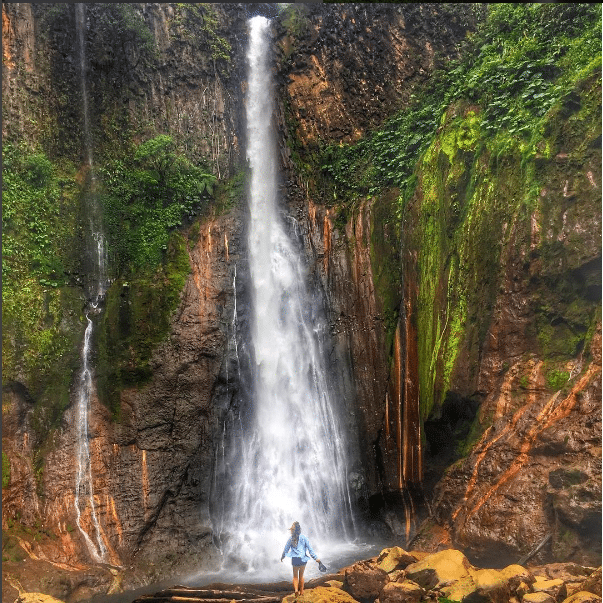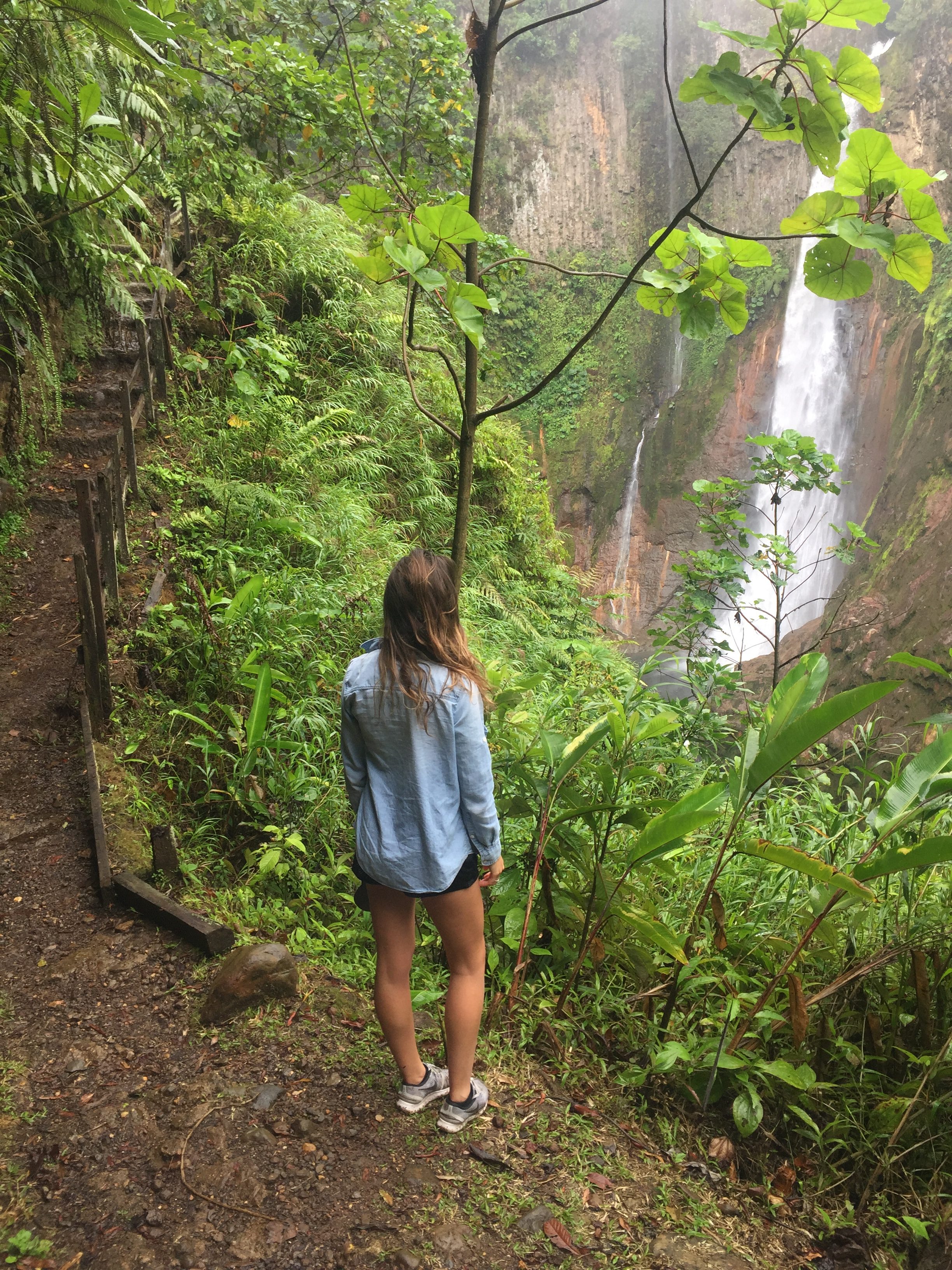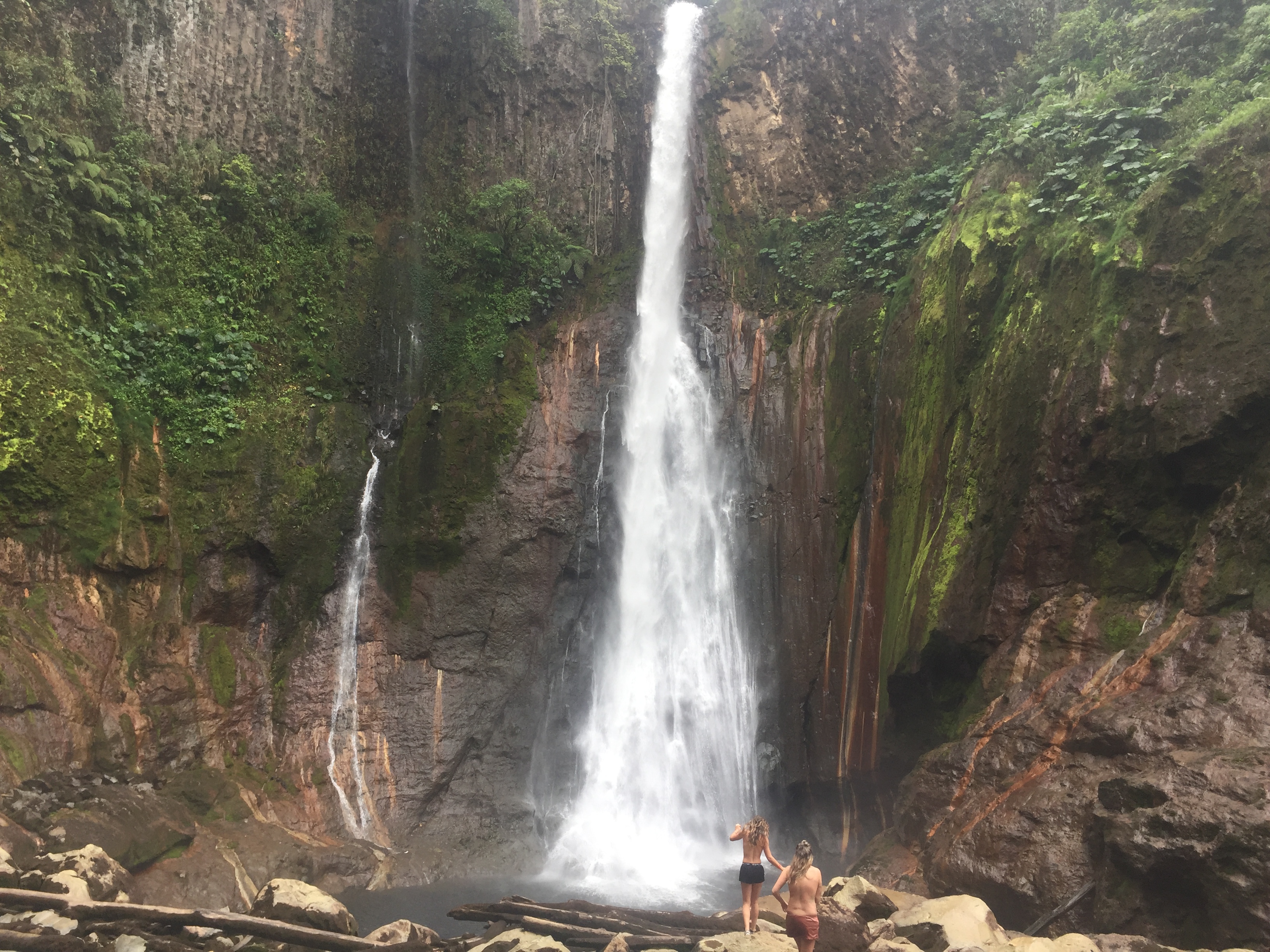 Afterwards, head to Monteverde where you can eat dinner and get a good night sleep before your next day of adventure. We stayed at Manakin Lodge & Forest Dreams Hotel and I would recommend it. Our room was really cute and breakfast was included. Also, I know when you're in Costa Rica you want Costa Rican cuisine, but this Italian place was sooo good (especially after a day of hiking). You're in Costa Rica for 10 days, so you can break the pattern.
Day 4: Monteverde Ziplining & Suspension Bridges
Sign up for ziplining and the hanging bridges in Selvatura Park (in Monteverde's cloud forest). It was my second time ziplining in Selvatura and it was more fun than I even remembered. There's a dual zipline, a superman zipline, a kilometer long zipline (that I ended up getting stuck on) and a tarzan swing.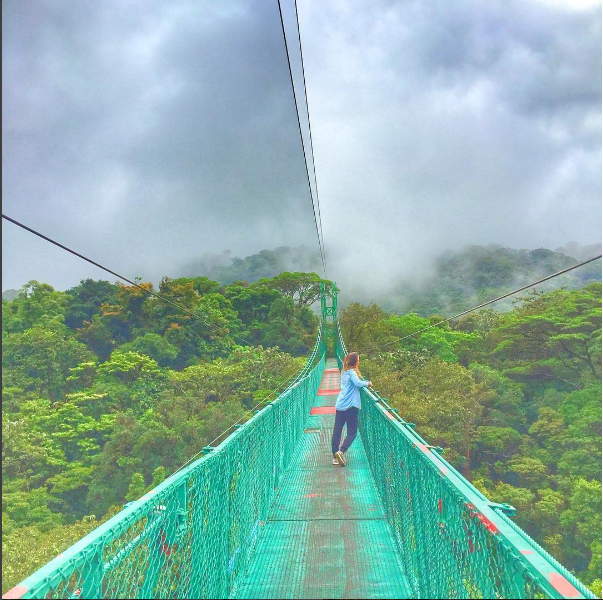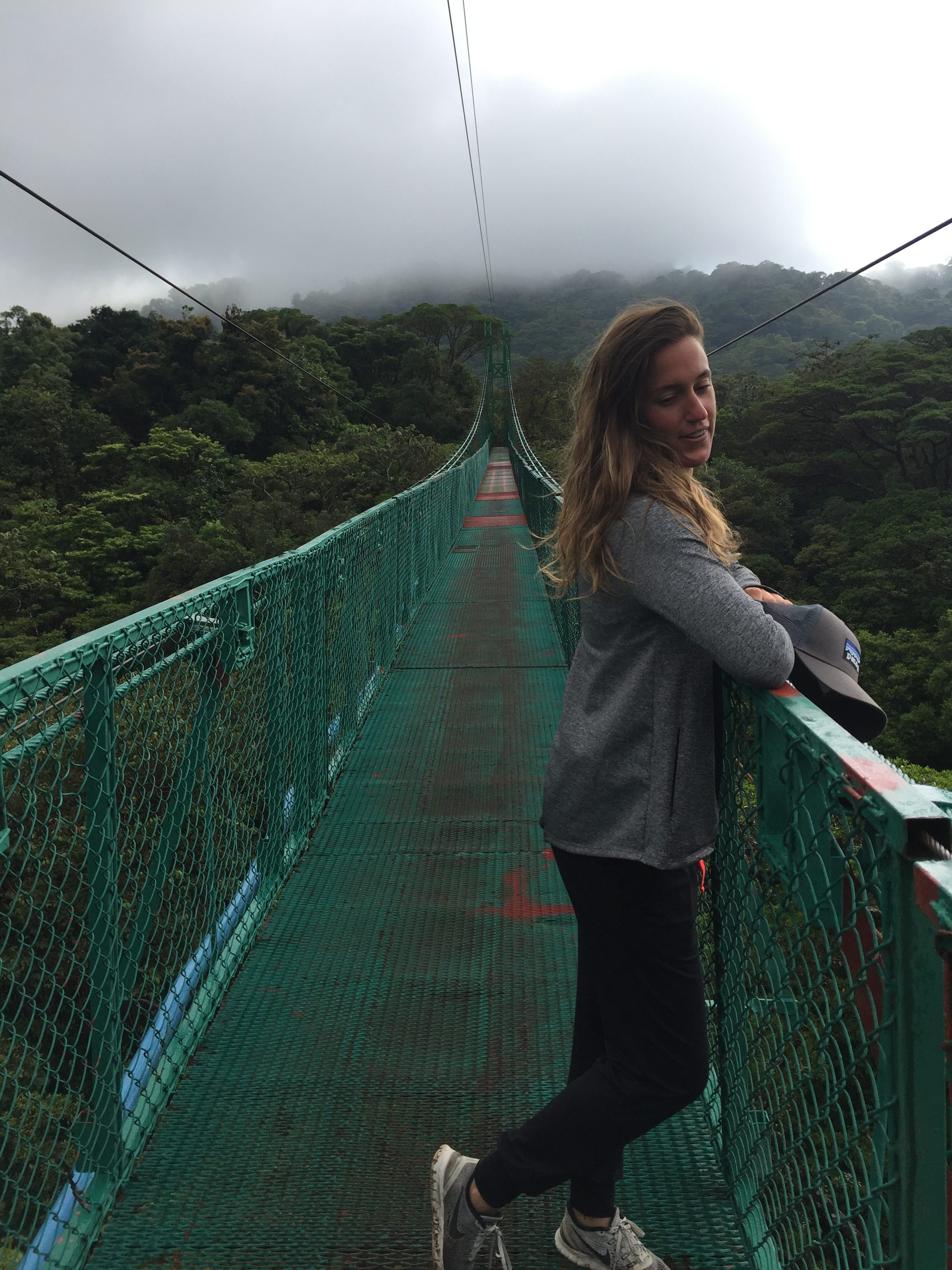 Tip: Dress warm. It's often cooler and misty/rainy in Monteverde. I definitely under dressed this time around, and had to buy a really interesting Selvatura long sleeve shirt..
I would plan the tour as early as possible, so you can leave Monteverde before sunset. Just look at these pictures we got while heading out: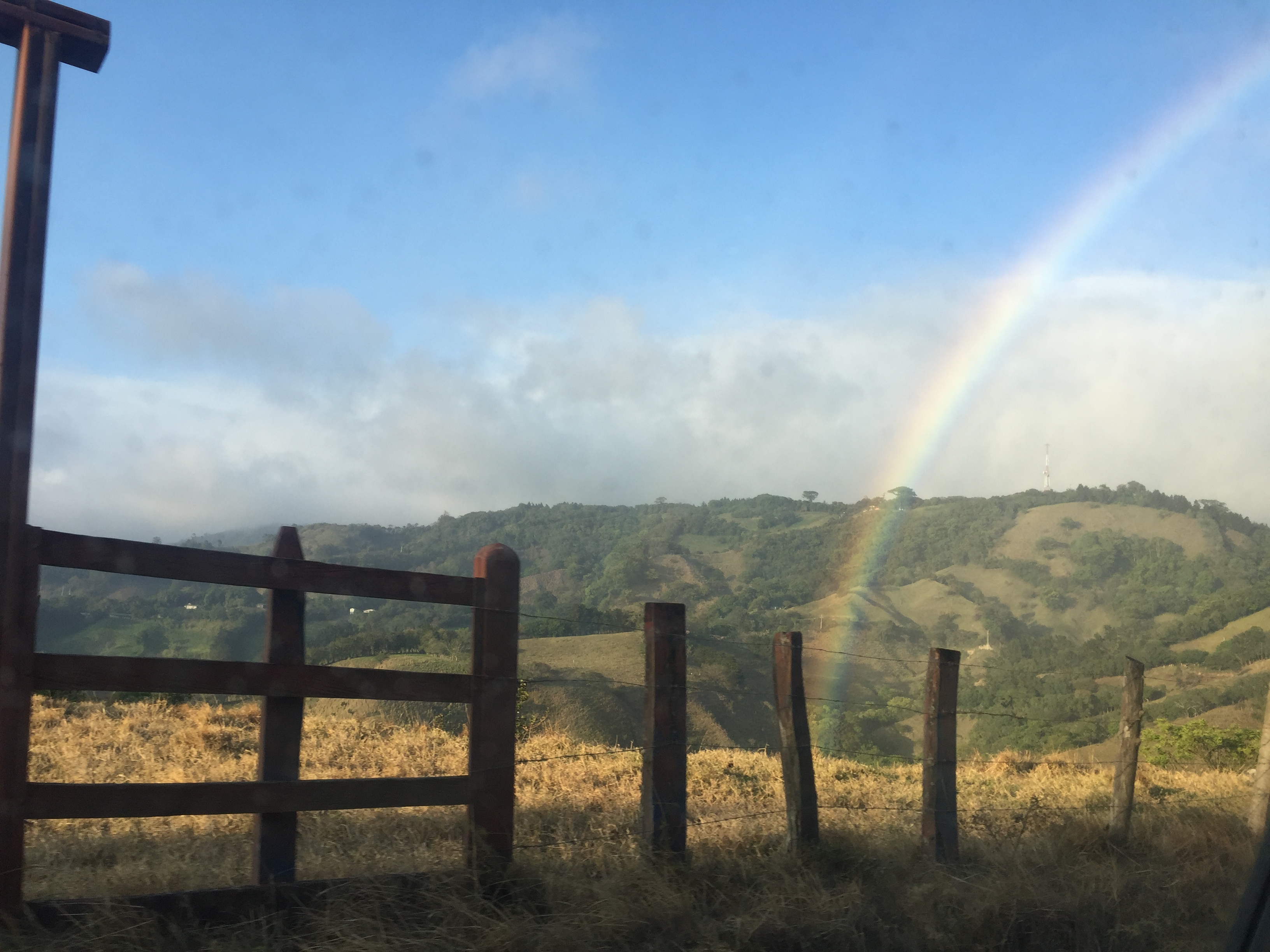 Day 5: Playa Samara
On day 5 of your 10 day Costa Rica trip, head to Playa Samara for some much needed R&R. Spend the day sun bathing, hitting the beach bars, or kayaking to the island that's slightly off coast.  I love how remote and non commercialized the beaches in Costa Rica are, with subtle beach bars lining the sand rather than large overbearing hotels.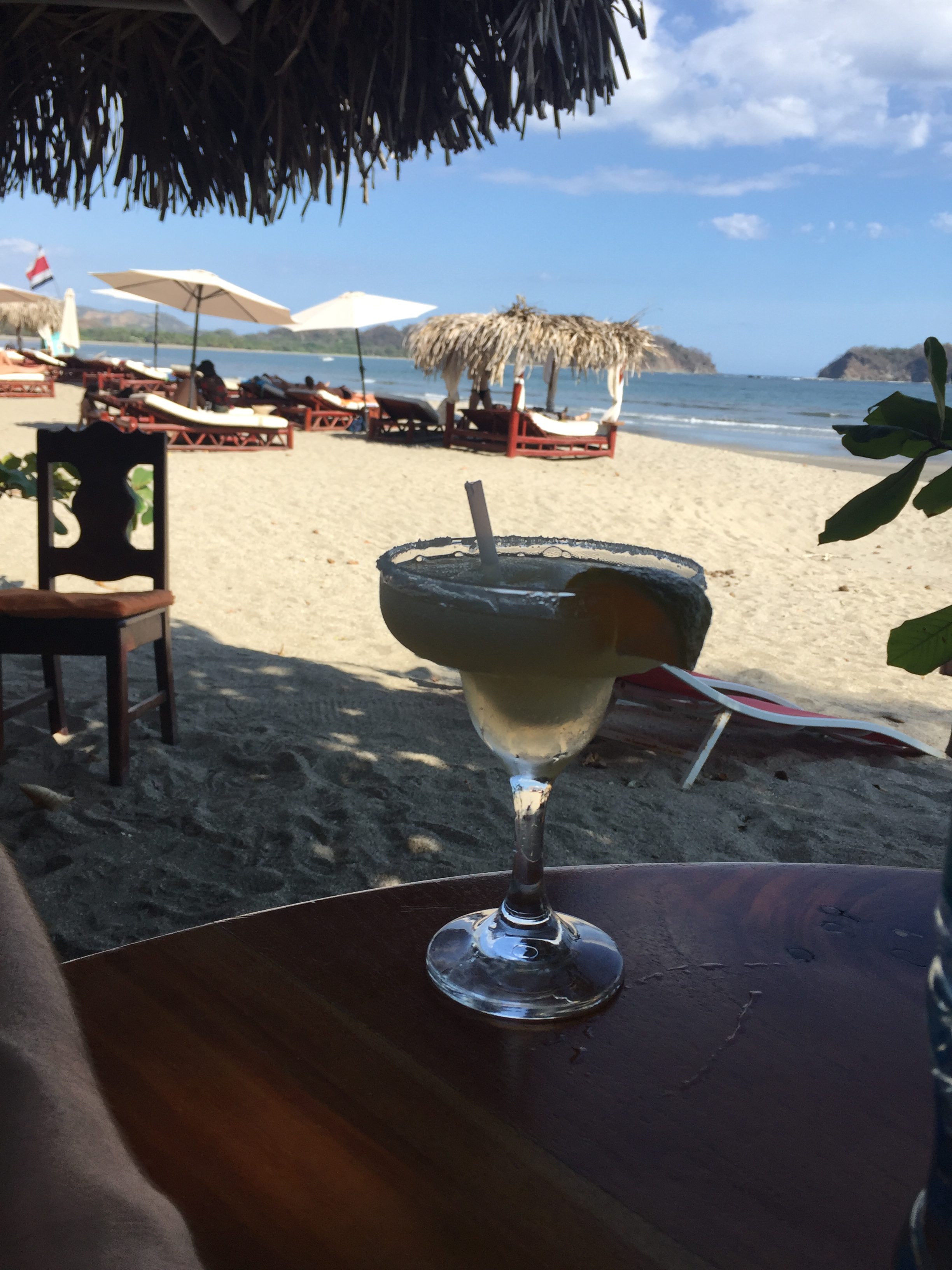 Day 6: Head to Playa Negra
There are plenty of beaches to hit in the Nicoya Peninsula. Playa Negra and Nosara are worth a stop to take a surfing lesson. It will be less crowded in these areas than in places like Tamarindo and Jaco. You can rent a board for $15-20 a day, not to mention you'll feel like one of the locals in these small towns.
Side Note: We stayed at an Airbnb in Playa Negra, and there were tons of monkeys in our yard 🙂
Day 7-8: TAMARINDO!
After leaving Playa Negra for Tamarindo, I felt a little crazy. It seemed slightly crowded and hectic compared to the relaxed atmosphere we had just left behind, but it's just what we needed. If you're looking for a place where you can lay on the beach and watch the sunset with a cocktail in hand while listening to free live music, head to Tamarindo. Come here for bars, shops, yoga, surfing, fire dancers, drinking, musicians, horseback riding, ATVing, and whatever else you may desire. I have a special place in my heart for Tamarindo. We also stayed at this awesome place for only $80/night ($40 each):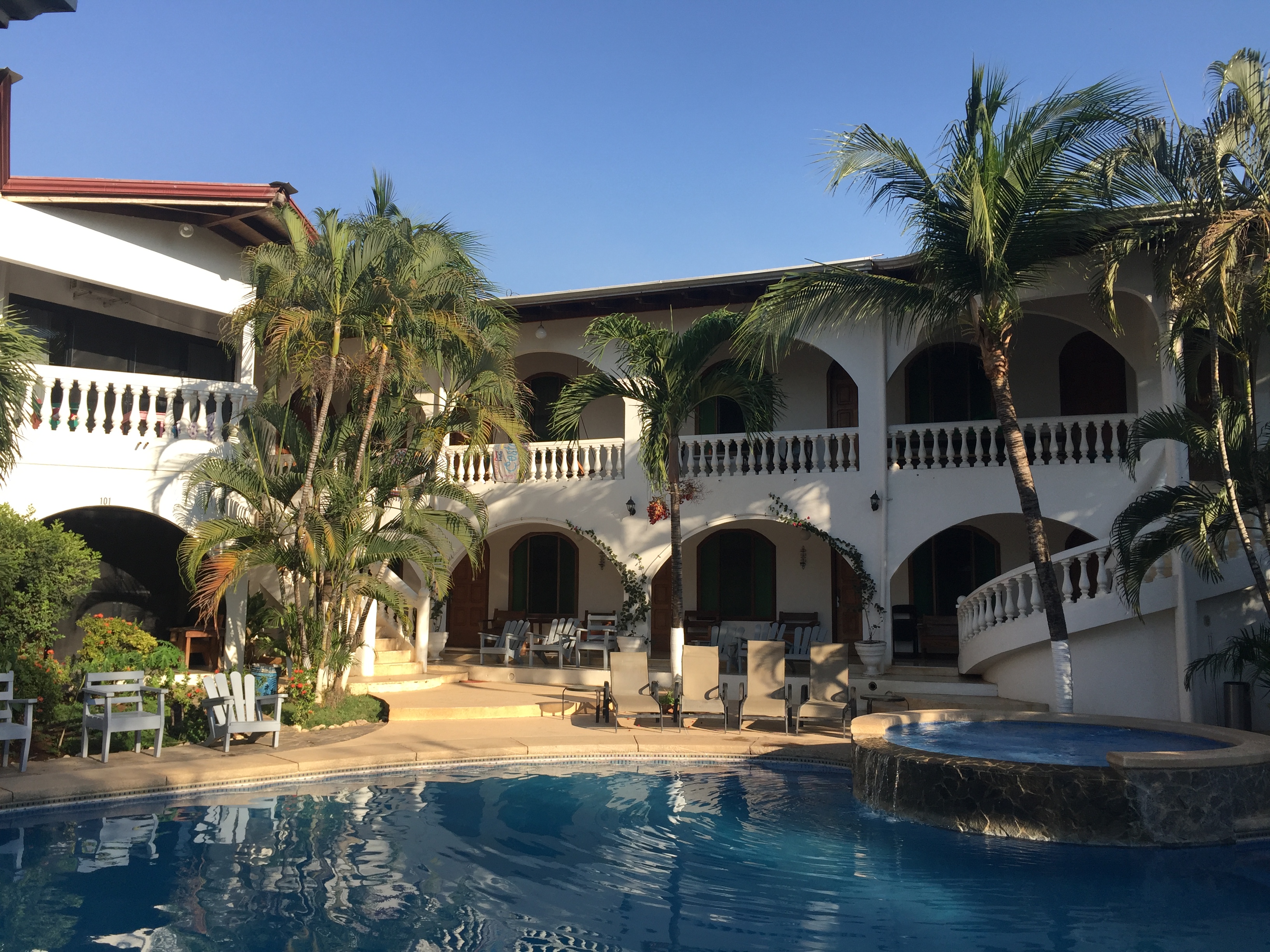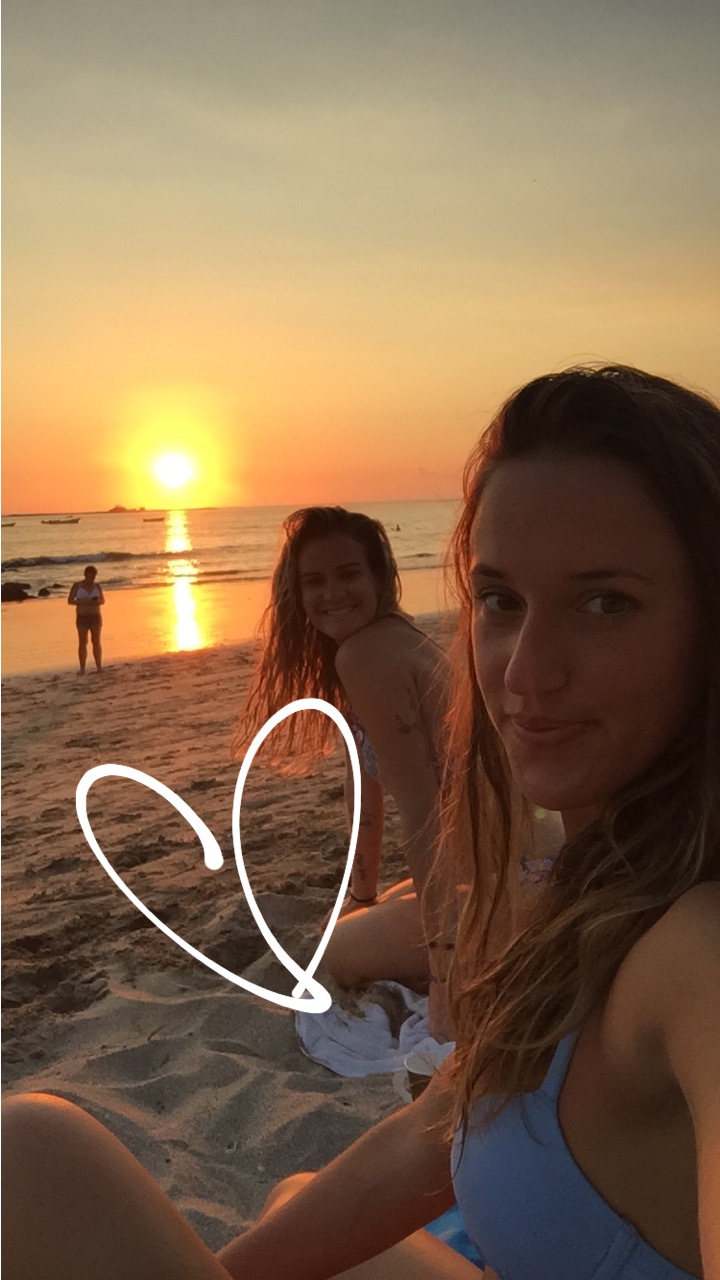 If you tell me you've seen a better sunset than this, you're a liar.


Day 9: Hike to the Rio Celeste Waterfall
On the last day of our Costa Rica Itinerary, we're convincing you to wake up early and drive to Tenorio Volcano National Park. If there's any reason to wake up early, hiking to the Rio Celeste waterfall is it.  When I first saw pictures of the Rio Celeste, I thought they all had a blue filter. I was wrong. The Rio Celeste actually looks like this: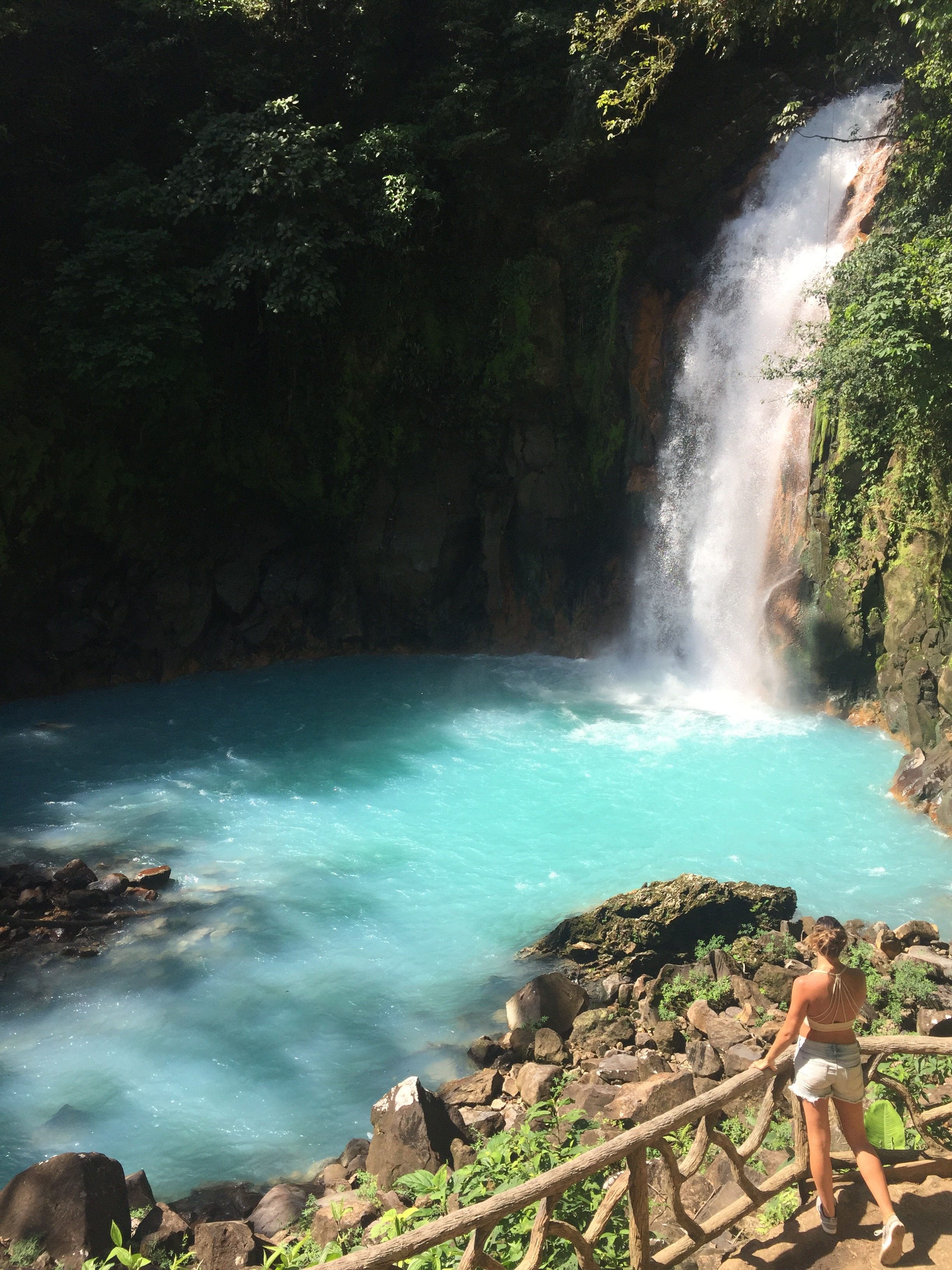 The hike to the waterfall is only around 30 minutes. You can also continue to venture past the waterfall uphill towards a few hanging bridges and the spot where the two rivers meet. Even though the park is open until 4 p.m., the last admission is at 2 p.m., so show up early if you want to see the waterfall. If you have more time, there are a few other trails to enjoy in Tenorio. Admission is around $12.
Afterwards, head to Liberia to fly out the next day 🙁
Food to try during your trip:
Ceviche: You'll find ceviche in almost all Latin american countries, but it's usually prepared differently depending on the destination. In Costa Rica, it's often prepared with tilapia, cilantro, lime juice, and finely chopped vegetables
Garlic Shrimp: Pretty self explanatory, but so good, especially at the beach
Casado: A typical Costa Rican lunch, including rice, beans, plantains, tortillas,  cheese, and your choice of meat
Have any questions about our 10 day Costa Rica itinerary? Feel free to comment below!