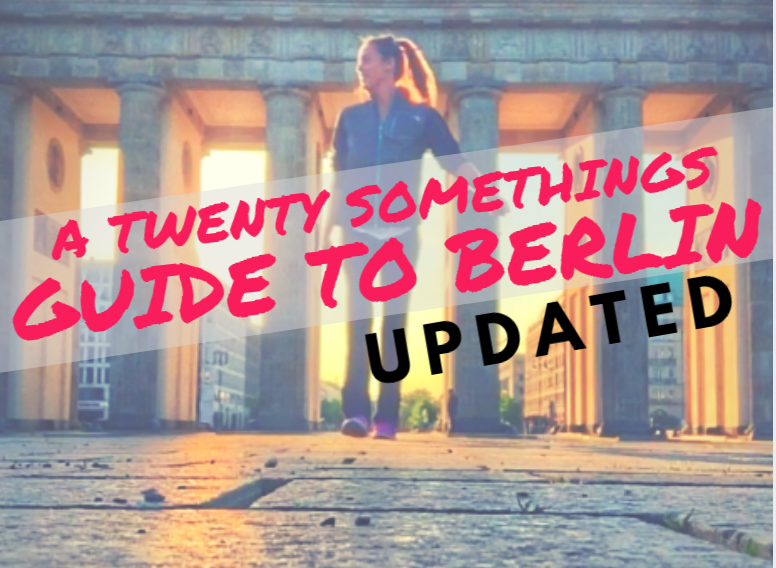 I'm going to admit that when I first wrote this "Things to do in Berlin" post 3 years ago, I half assed it (for lack of a better phrase).
But, after visiting Berlin again this past May, I have the urge to revamp this post into everything that it should have been. So here is my list of things to do in Berlin, a twenty something's guide to cheap food, must see attractions and of course, nightlife:
Food You Must Try in Berlin
Currywurst:  One of the first things to do in Berlin once you hop off your flight and are starving.  Currywurst is the most famous street foods in Berlin, and Curry 36 is the most famous place to get it. You can find Curry 36 in Kreuzberg, it's a little street side shop with standing tables and probably a long line. If you don't know what currywurst is, it's just what it sounds like –  a huge german wurst covered with a curry/ketchuppy mixture. There is no looking cute while eating it. It's perfect for the twenty something traveler because 1.) it's cheap and 2.) it's a great hangover food.
Find it: Mehringdamm 36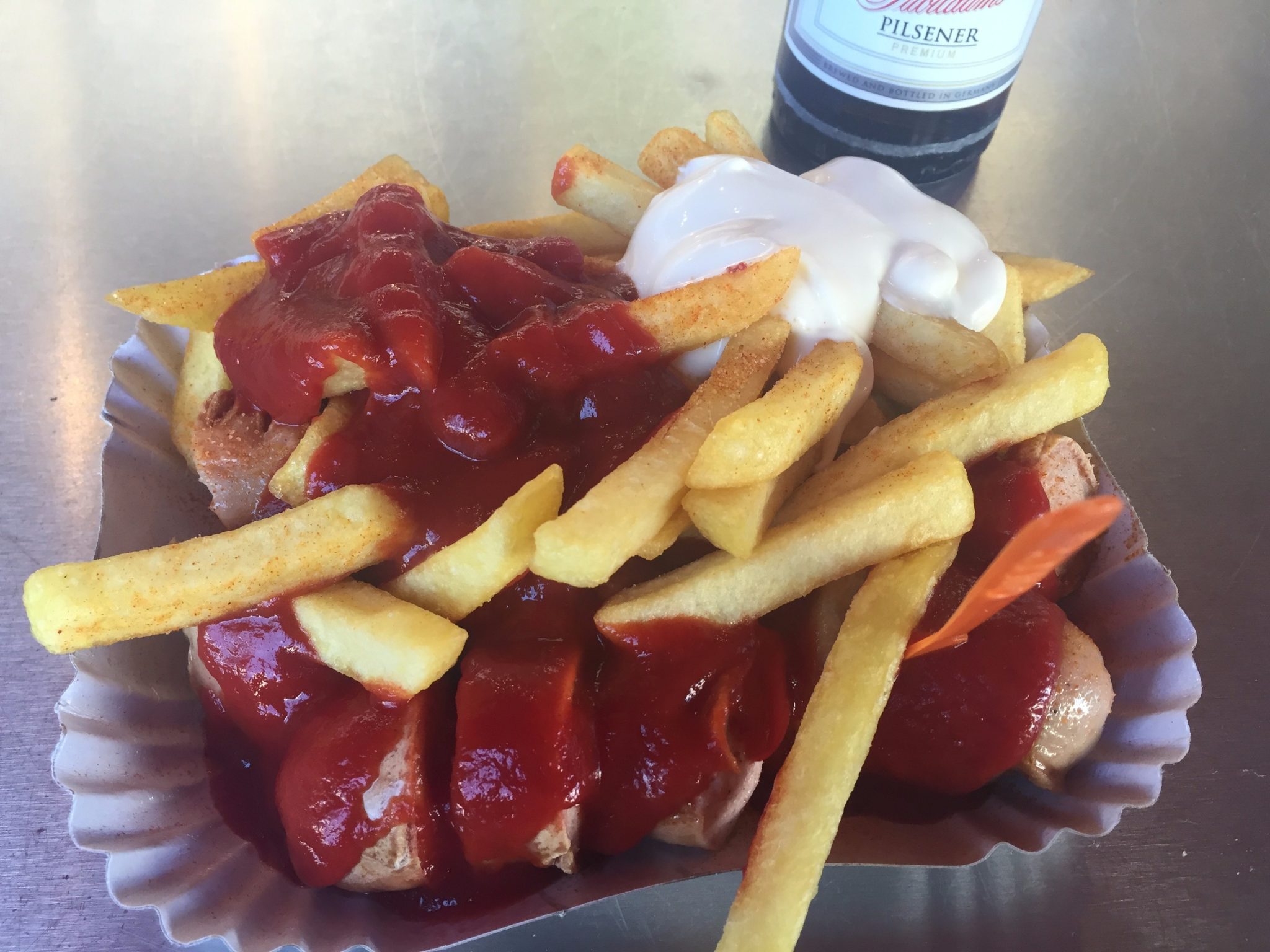 Mustafas Gemüsedöner:  Berlin has a massive Turkish population, which means they have a great selection of kebabs. People will wait over an hour in line for a chance to bite into one of Mustafa's doners AND it's right next door to Curry 36, so you can choose the one with the smallest line.
Find it: Mehringdamm 32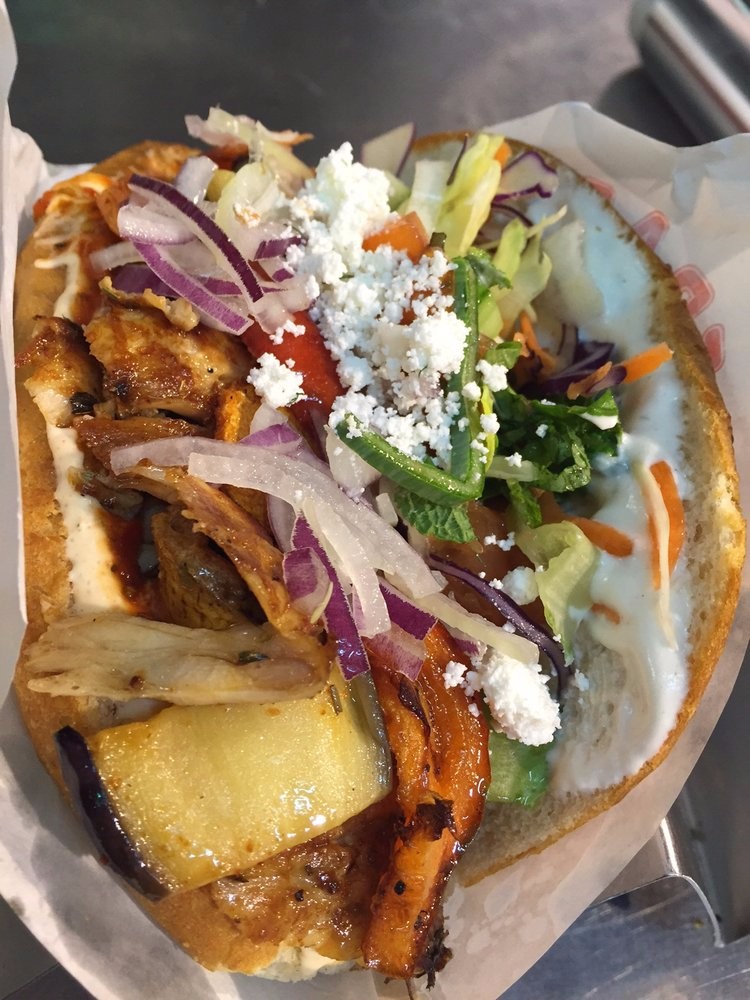 Wiener Schnitzel: Considering you're visiting Germany, you're going to have to try some schnitzel. For some reason a lot of Americans (including myself at first) think wiener schnitzels are a sort of hot dog. Well, they're not. They're actually very thin, breaded and fried veal cutlets. Although you will find this menu item all over the city, I heard really great things about the wiener schnitzels at KaDeWe.

Places You Should Go in Berlin
1. East Side Gallery
The East Side Gallery is the remaining part of the Berlin Wall along the River Spree that has been transformed into a gigantic (and free) wall of art. The paintings stretch for over a mile and feature more than 100 artists. This part of the wall now stands as an international memorial for freedom and you can't visit Berlin without walking along this masterpiece. Plus, coming here leads to my favorite thing to do in Berlin(skip to point 3).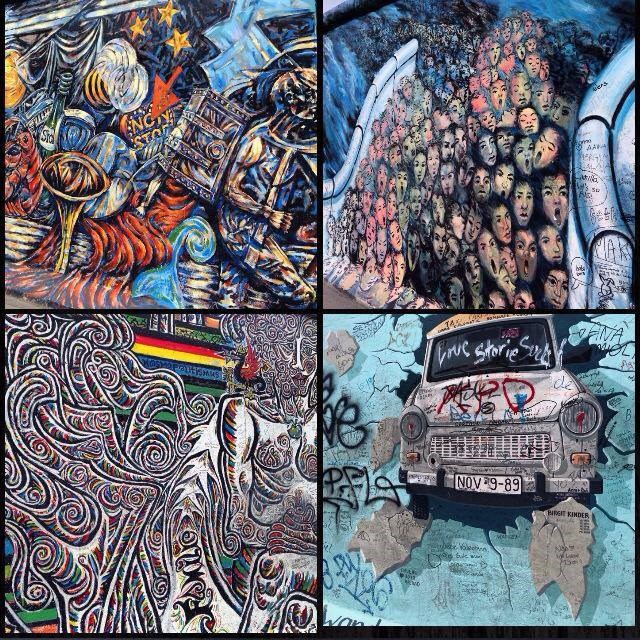 2. Oberbaum Bridge
Oberbaum is a red brick bridge crossing Berlin's River Spree, linking Friedrichshain and Kreuzberg (former neighborhoods that were divided by the Berlin Wall). This bridge has become an important symbol of Berlin's unity.  There used to be (and maybe still is?) an annual food fight, where people from both areas pelt each other with rotten vegetables, jello, eggs, flour and water. I love a good food fight and I would return to Berlin for this if it's still on.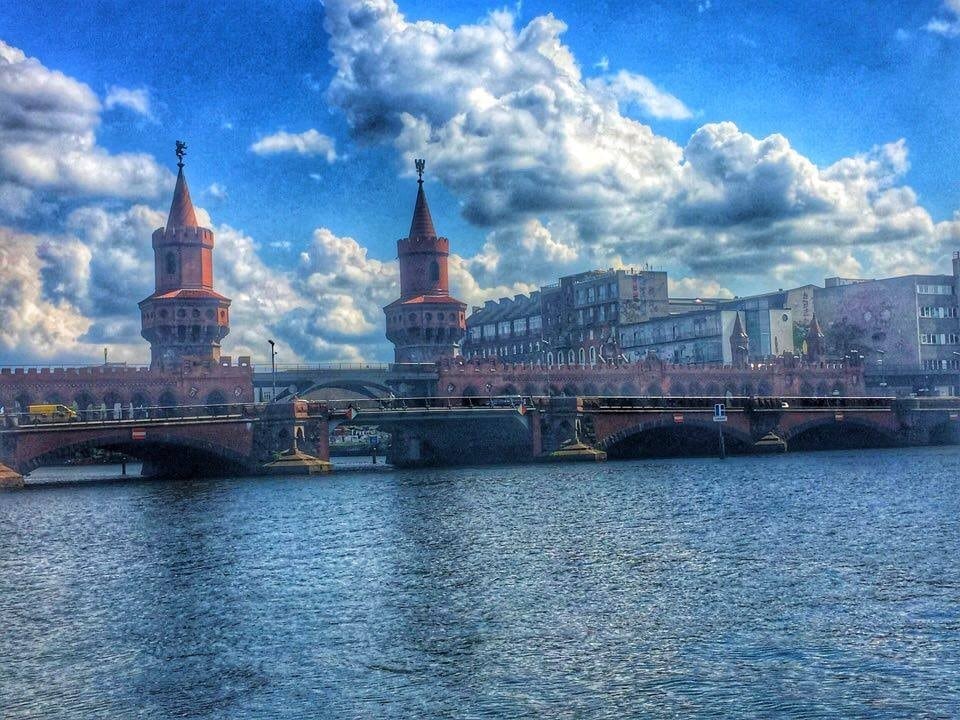 3. Kreuzberg
First of all, my old post on Berlin didn't even include Kreuzberg (which is part of the reason why it sucked). Out of all the things to do in Berlin, please visit Kreuzberg. If the Berlin Wall did any good at all, it was forcing  a melting pot of immigrants and artists into one spot, creating one of Berlin's hippest communities. Kreuzberg's streets are lined with art galleries, street vendors, nightclubs, graffiti, and Berlin's young and trendy generation. Stroll the streets in search of street art (you know I did), or stop in the Turkish Market (every Tuesday and Friday along the canal).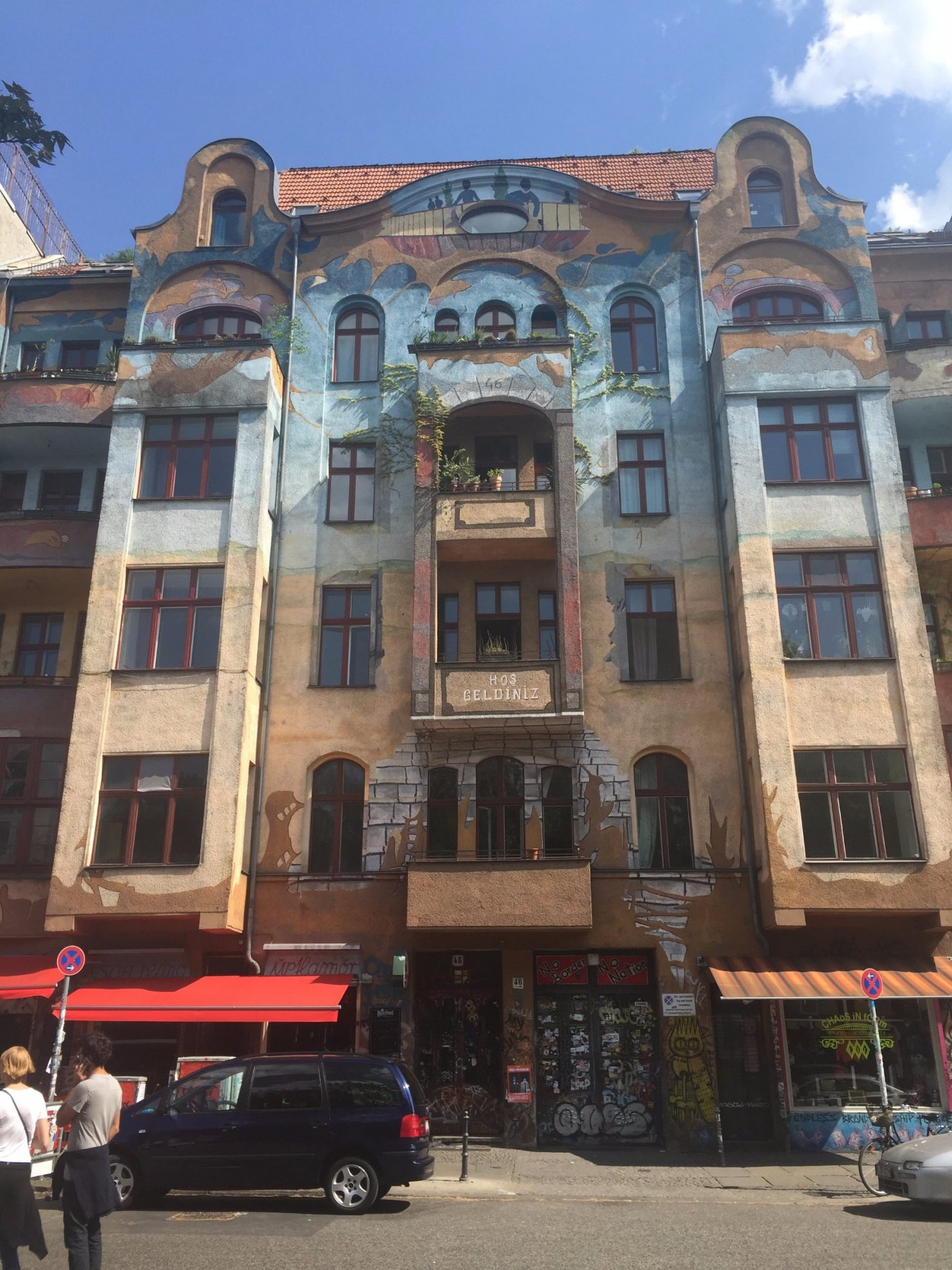 4. Checkpoint Charlie
Okay, Checkpoint Charlie is sort of a tourist trap.  BUT,  it was the best-known crossing point of the Berlin Wall between East Berlin and West Berlin during the Cold War and if you care about history at all, you should still go see it.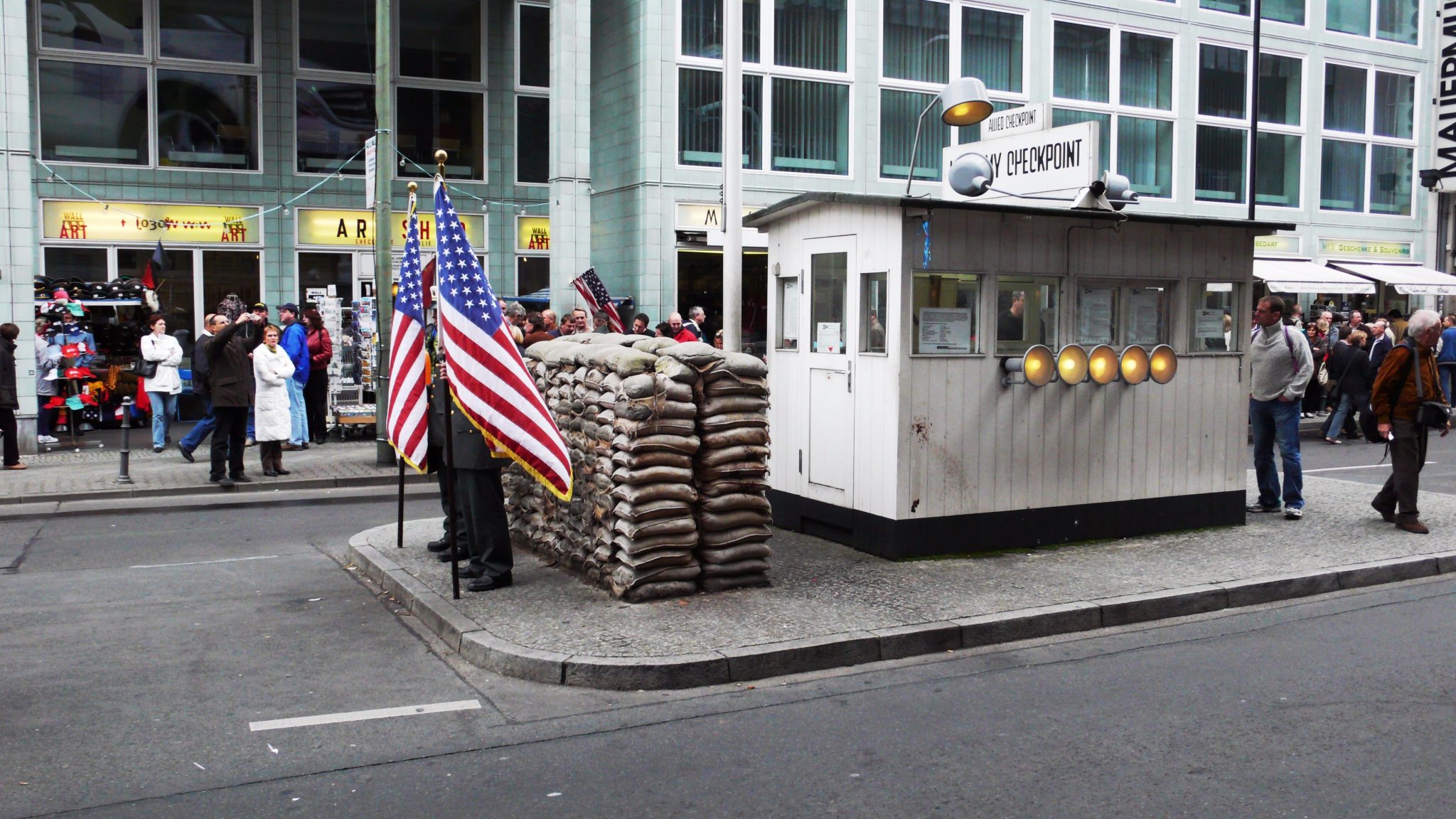 5. Gendarmenmarkt
Gendarmenmarkt is a beautiful square with two churches at either end and a concert hall in the middle. It's a great place to sit down for lunch and unwind/watch the world go by. But, if you don't have time to see it, it's not the end of the world.


6. Berliner Dom
Some of my favorite days in Berlin were spent lounging in the grass of Lustgarten in front of Berliner Dom and listening to the street performers. Berliner Dom (or Berlin Cathedral) is a church and you can climb to the top of the dome and look out over the city.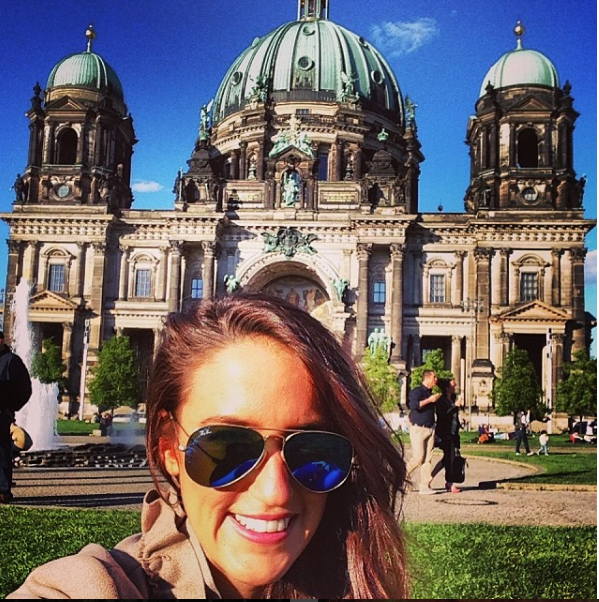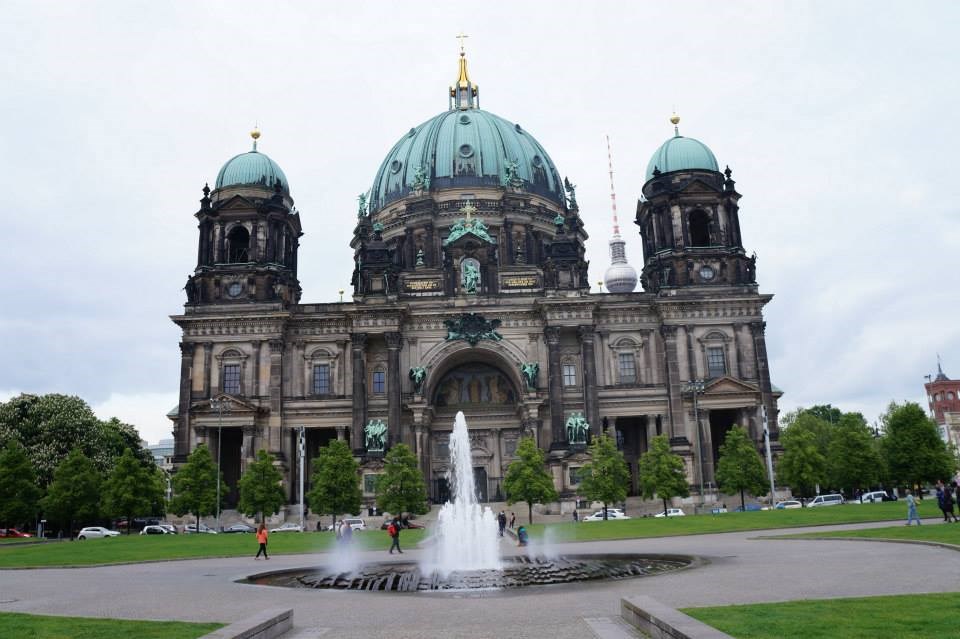 7. Museum Island (excuse the crane)
If you like museums, Berlin's world class history and art museums are lumped together on Museum island. If not, the buildings are still fun to awe over and  you can stroll down the Spreepromenade, a riverwalk on the right bank of the river Spree with terraces and restaurants.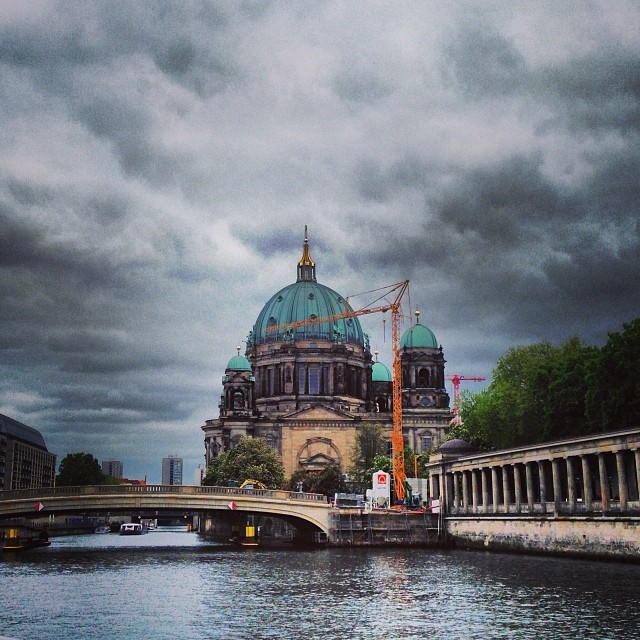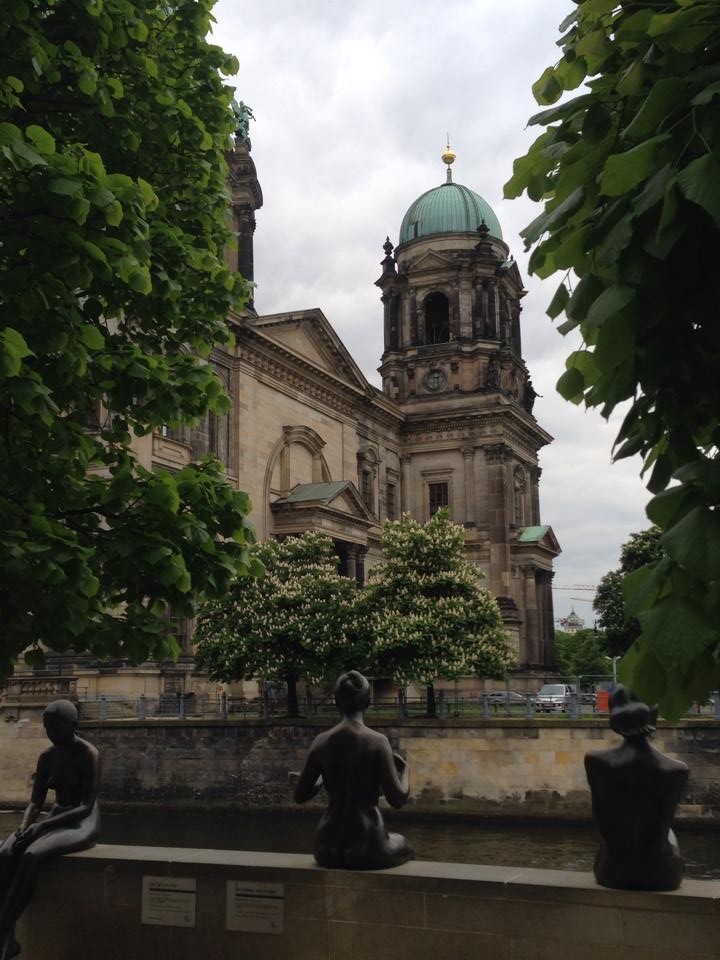 8. The TV Tower
The Berlin TV Tower is the tallest building in Germany and the best place to get a good view of the city (and to get that Instagram photo you've been waiting to post).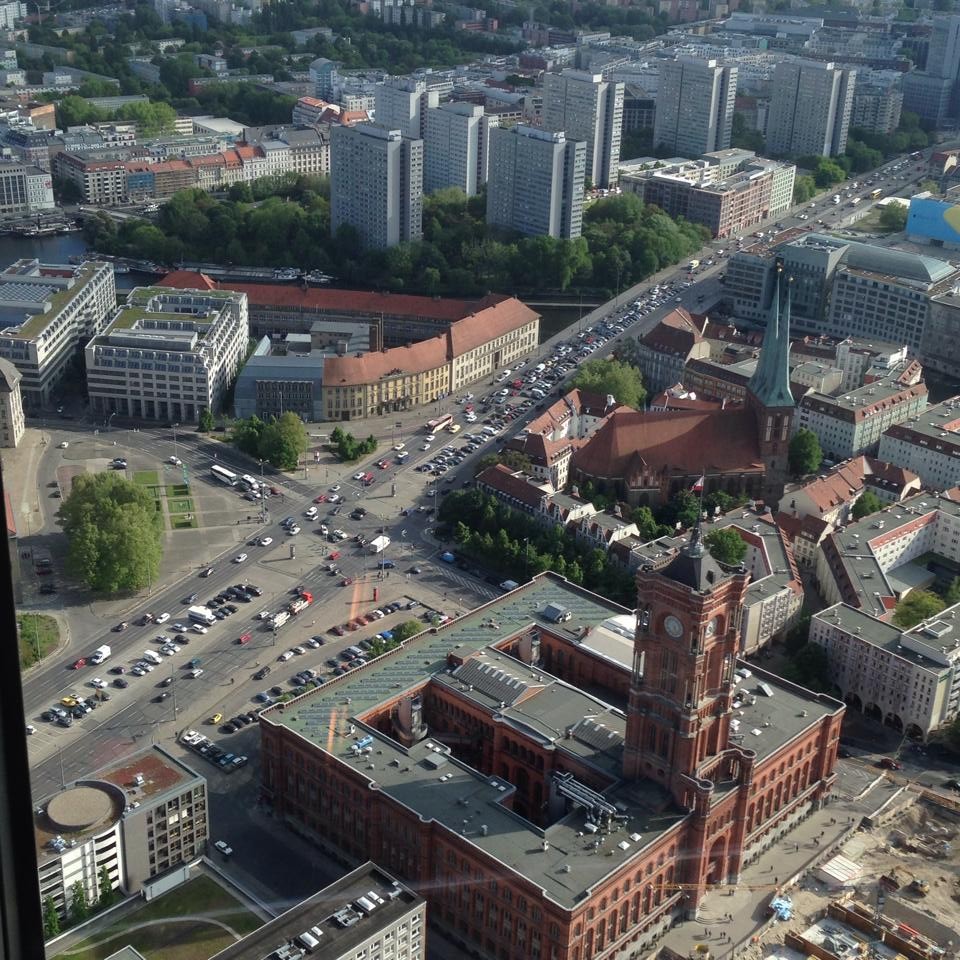 9. Brandenburger Tor
One of the best-known landmarks in Germany, Brandenburger Tor, has been a site for tons of major historical events. Today it is considered a symbol of Germany's turbulent history with Europe, but it also represents European unity and peace. Visit in the early morning or at night when it lights up, or else there will be crowds.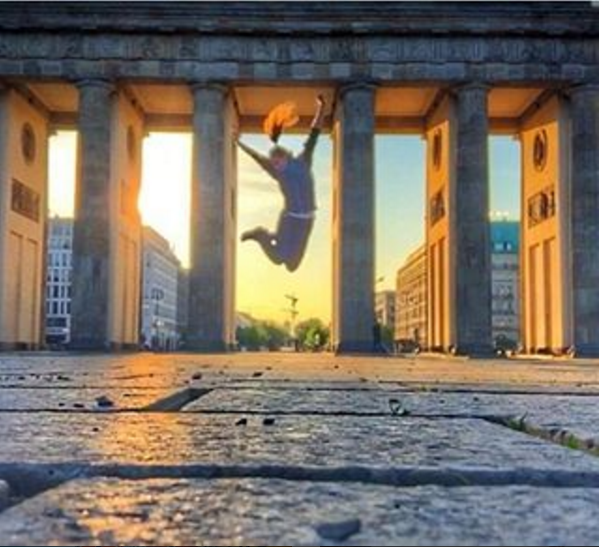 10. The Reichstag
The Reichstag is the seat of the German parliament and is one of Berlin's most historic landmarks. But, the best part about the Reichstag is you can walk to the roof where there is a massive glass dome and get a great view over Berlin.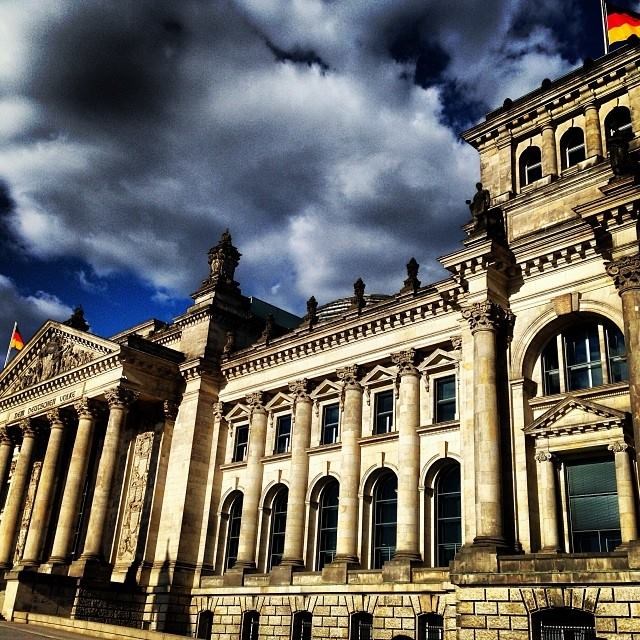 11. Charlottenburg Palace
The Charlottenburg Palace is largest royal palace still standing in Berlin. I didn't take a tour of the inside, but the outside gardens are free and perfect for a photo opt. If you have more time, there is an even better palace (Schloss Sanssouci) located in Potsdam (about 40 minutes away).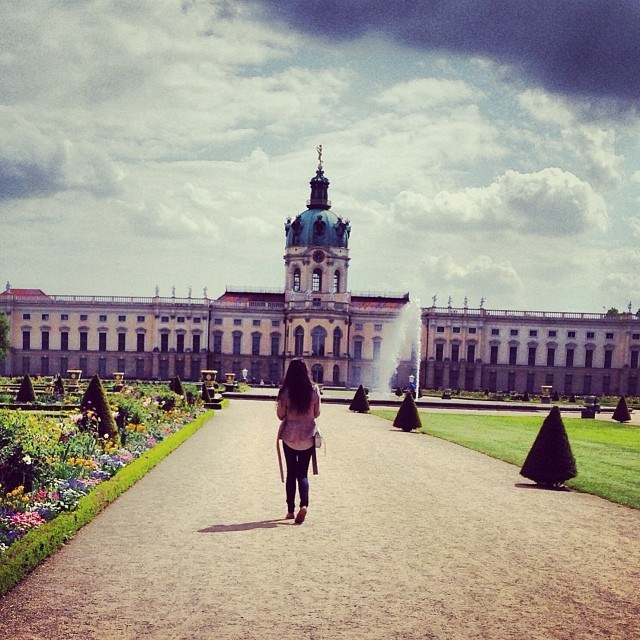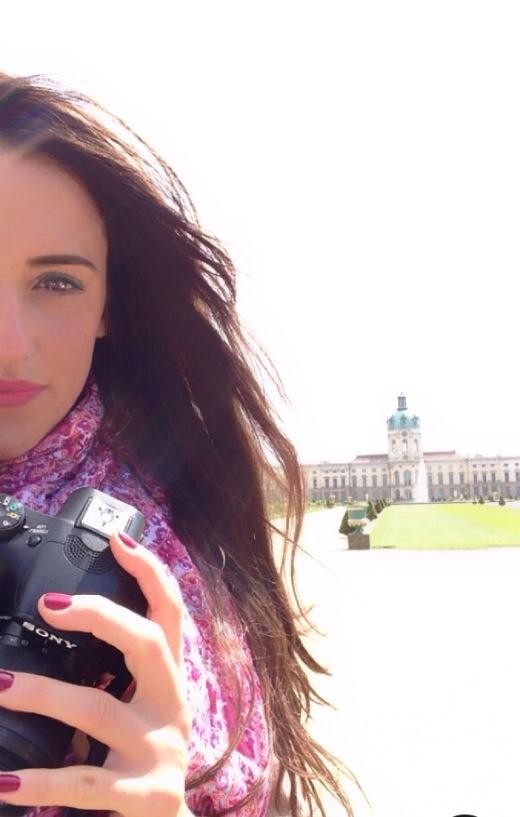 The Party
Day Parties
For day parties (especially in the summer), Badeschiff is a floating public swimming pool on the Spree river. More importantly, there's a DJ and a bar.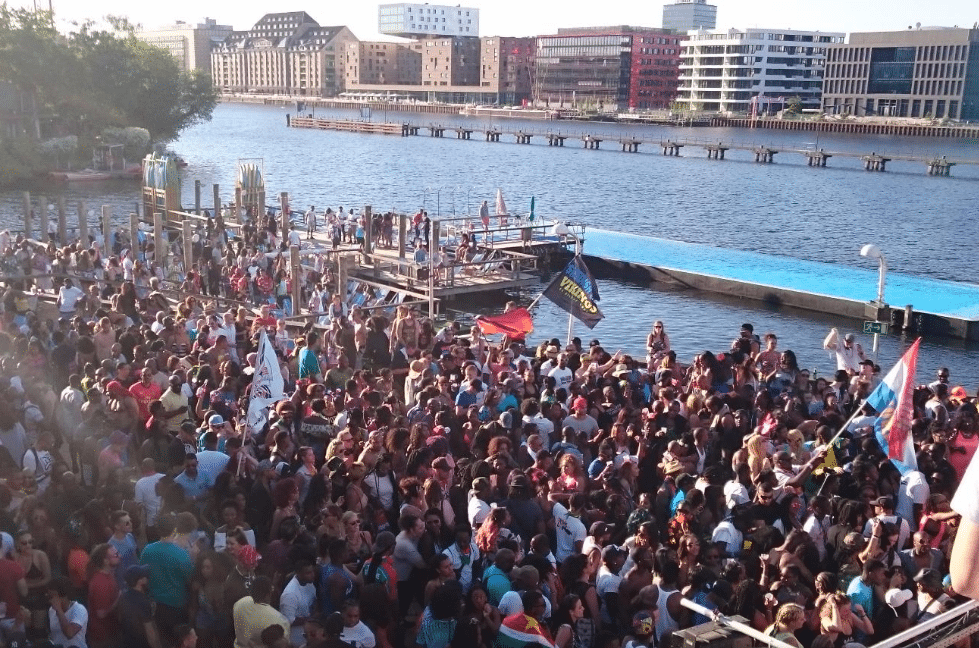 Nightlife
Berlin may as well be the nightlife capital of Europe. So, of course there are tons of bars and clubs you should visit. However, if you are limited on time, money and dignity, here are some places that you shouldn't miss:
Berghain (Friedrichshain) : pretty much "the club" in Berlin. It's on top of every top 10 clubbing list and it's home to some of the best techno in the world. That's not why I'm in love with it though. I love it because it's located inside an old power plant which is creepy and intimidating at the same time.
Club der Visionaere (Kreuzberg):  A row of riverside shacks with music and a sun terrace
Weekend Club (Mitte): Located on roof terraces in the city, overlooking the TV tower at Alexanderplatz.
Salon zur Wilden Renate (Friedrichshain): Circus-like decor and mazelike with multiple dance floors. Parties go on until morning or even the entire next day.
Club Gretchen (Kreuzberg): located in a 19th century building that used to serve as the imperial stables. You can hear electro, house, dubstep, and hip-hop here.
Strattbad (Wedding):  located in an old industrial building….where underground tunnels lead to an empty Olympic-sized swimming pool with the DJ at the deep end. What?
White Trash Fast Food (Prenzlauer Berg): gritty atmosphere with decor from an old Chinese restaurant that it used to be. Your place for burgers, beer, and live music.
SO36 (Kreuzberg):  largely focused on punk music and was frequented by musicians like Iggy Pop and Davie Bowie in the 70's. Today it remains as an important part of the Berlin music scene featuring new artists, but still stays true to it's original punk roots.
Tip: Don't expect to go out before midnight, that is when many of these places just start picking up speed. A lot of clubs don't even close until 10am.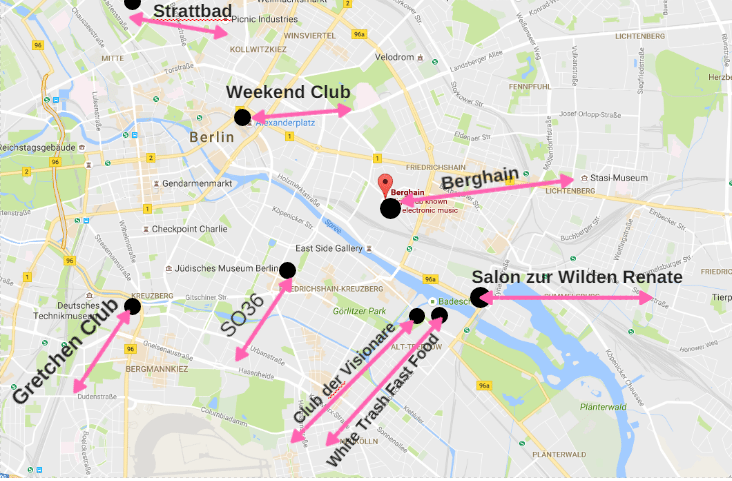 Transport
Public Transportation Berlin is covered when it comes to public transportation, so don't waste your money on expensive cabs (unless your on your way home from the bar at 6am). You can find a bus, a subway and a train system that all run throughout the city. A day pass will give you a ride on any of these until 3:00 the following day.
S  Bahn (above ground) and U Bahn (underground) Network Map: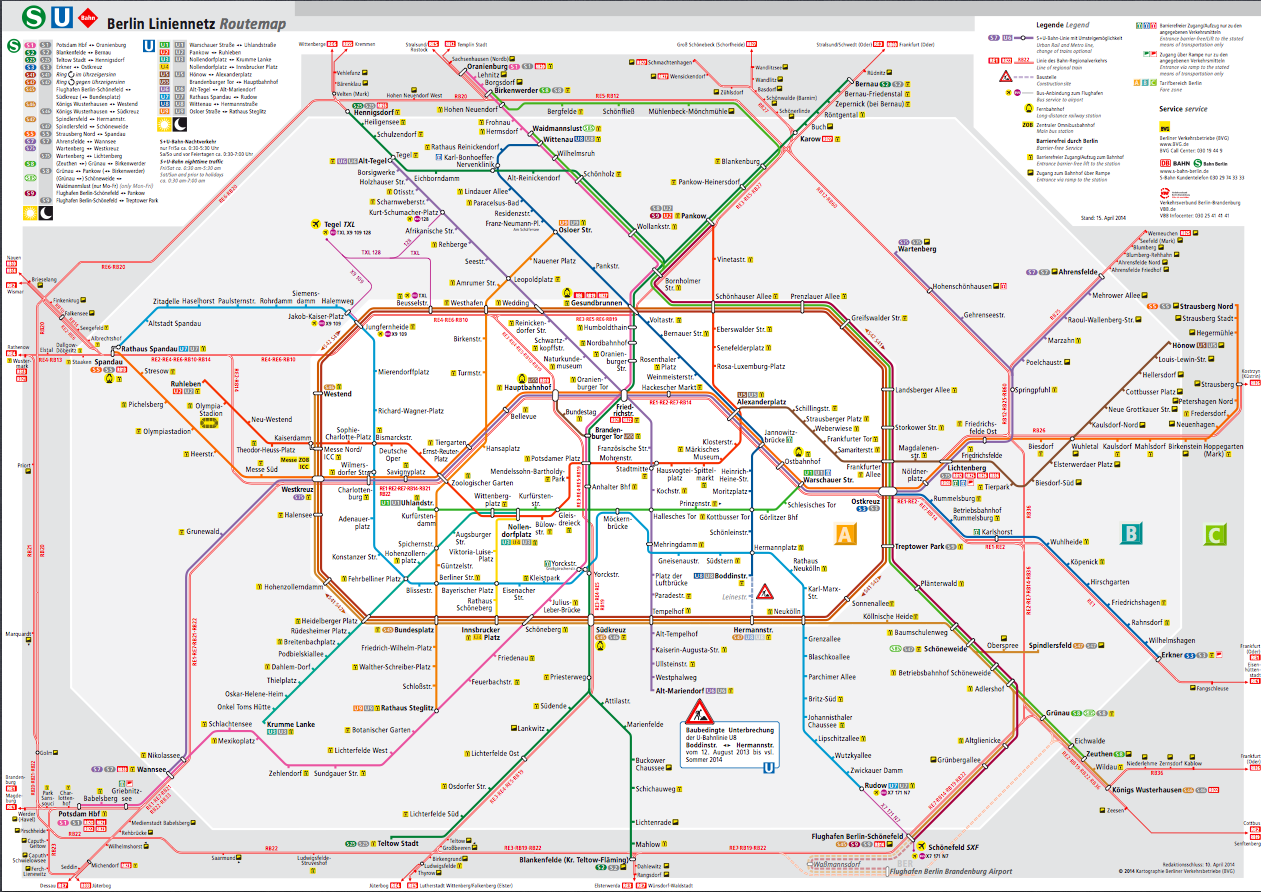 Note: The whole time I was in Berlin, noone checked for my ticket on any of these vehicles. You may be able to ride for free, but don't get caught.      
Did we miss any of your favorite things to do in Berlin? Please comment below!