Being the third largest city in the United States, there is no shortage of things to do in Chicago. From hosting the tallest building in the U.S. and having one of the most memorable skylines, to having some of the most tempting dishes, Chicago has something for everyone.  If you need a list of things to do in Chicago during your first trip, look no further.
Grab A Chicago Style Dog
When you think of Chicago, deep dish pizza is usually the first food that comes to mind. However, Chicago is also famous for their hot dogs. A classic Chicago hot dog is topped with mustard, white onions, pickle relish, a dill pickle spear, tomato slices, pickled peppers and a dash of celery salt. When it comes to toppings, I say the more the merrier.
Top picks include Portillos, Gene & Jude's, Fluky's, Superdawg Drive-in, Hot Doug's, Weiner's Circle, and Byrons (just to name a few).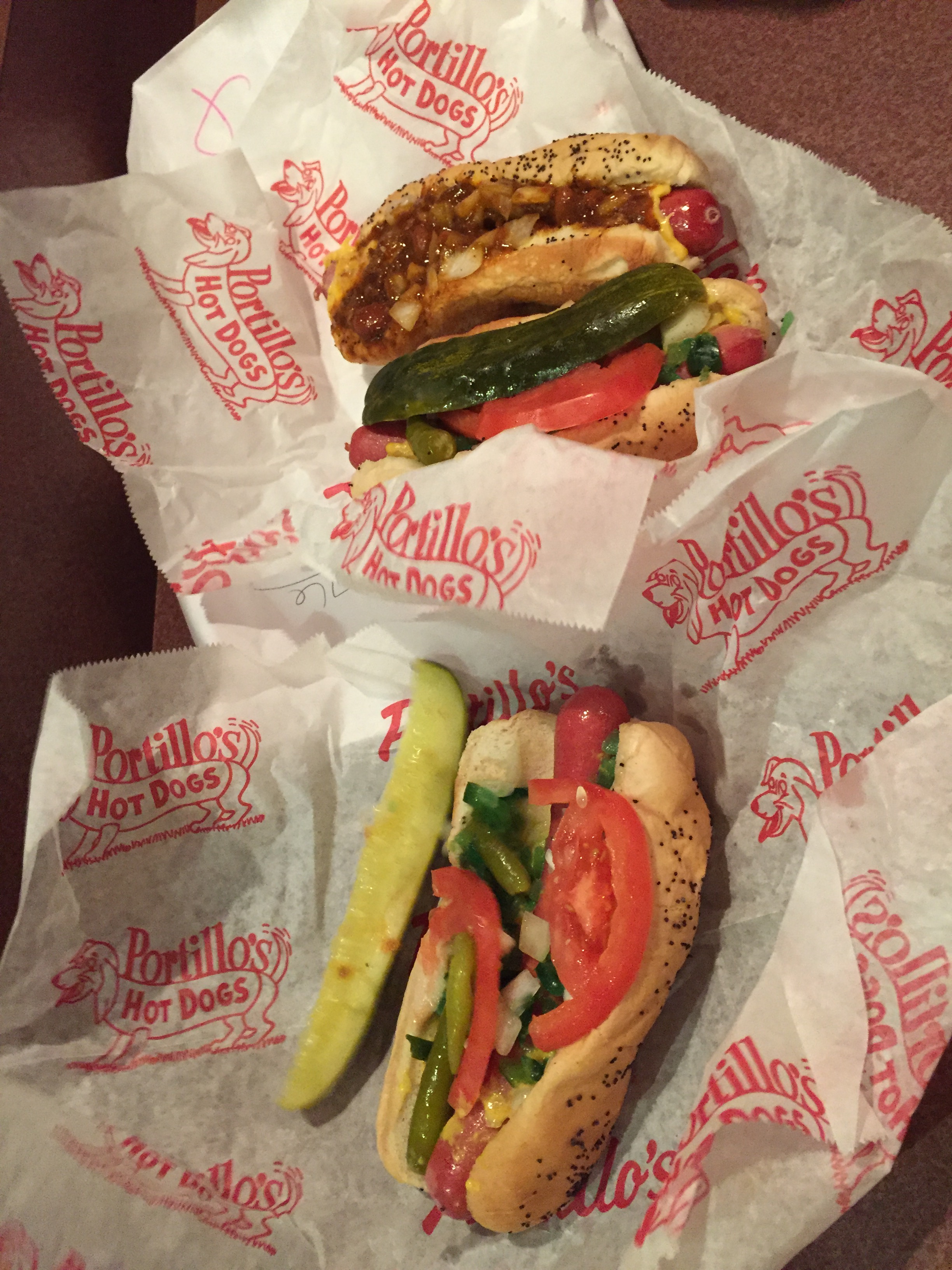 Cruise Down the River
One of my favorite things about Chicago is that it has a river running right through the center, separating some of the most architecturally sound buildings of the city. Hop on a ferry to get the best view over a few glasses of wine.  I took an architecture tour with Shoreline Sightseeing around sunset to get this picture below:
Deep dish pizza
Being a pizza connoisseur, eating pizza was #1 on my list of things to do in Chicago. I grew up on thin crust pizza, think New York style, so I was intrigued by the thought of Chicago's deep dish. Make sure to come with an appetite because this meal is anything but light. Deep dish has a thick and crumbly crust, topped with loads of mozzarella, chunky tomato sauce and additional toppings. A few of the most popular places to get it are Lou Malnati's, Unos, Pequod's, Pizano's and Gino's East. I grabbed the pie below at Pequod's and would highly recommend it. The caramelized crust was amazing *unbuttons pants*.
Cheer on the Cubs
I went to my first Cub's game last May, where they scored three home runs in a row while my ex boyfriend was getting us food. I became an instant Cubs fan. Not to mention, you would now be watching the team that won the most recent world series.
Laugh Until You Cry at Second City
This is one of my favorite things to do in Chicago. Tina Fey, Steve Carell, and Chris Farley have all took classes at Second City, a school in Chicago for comedians and improv. Second City performs weekly sketch shows and you have to attend at least one of them during your visit. Think Saturday Night Live with a smaller audience and a bartender.
The Bean
The Bean sits in Millennium Park and is the kind of tourist attraction that you find in every city that is completely overrated.. but that you still have to see in order to say you were there. Eh, you can get a couple cool photos of the reflections of sky scrapers for your Instagram.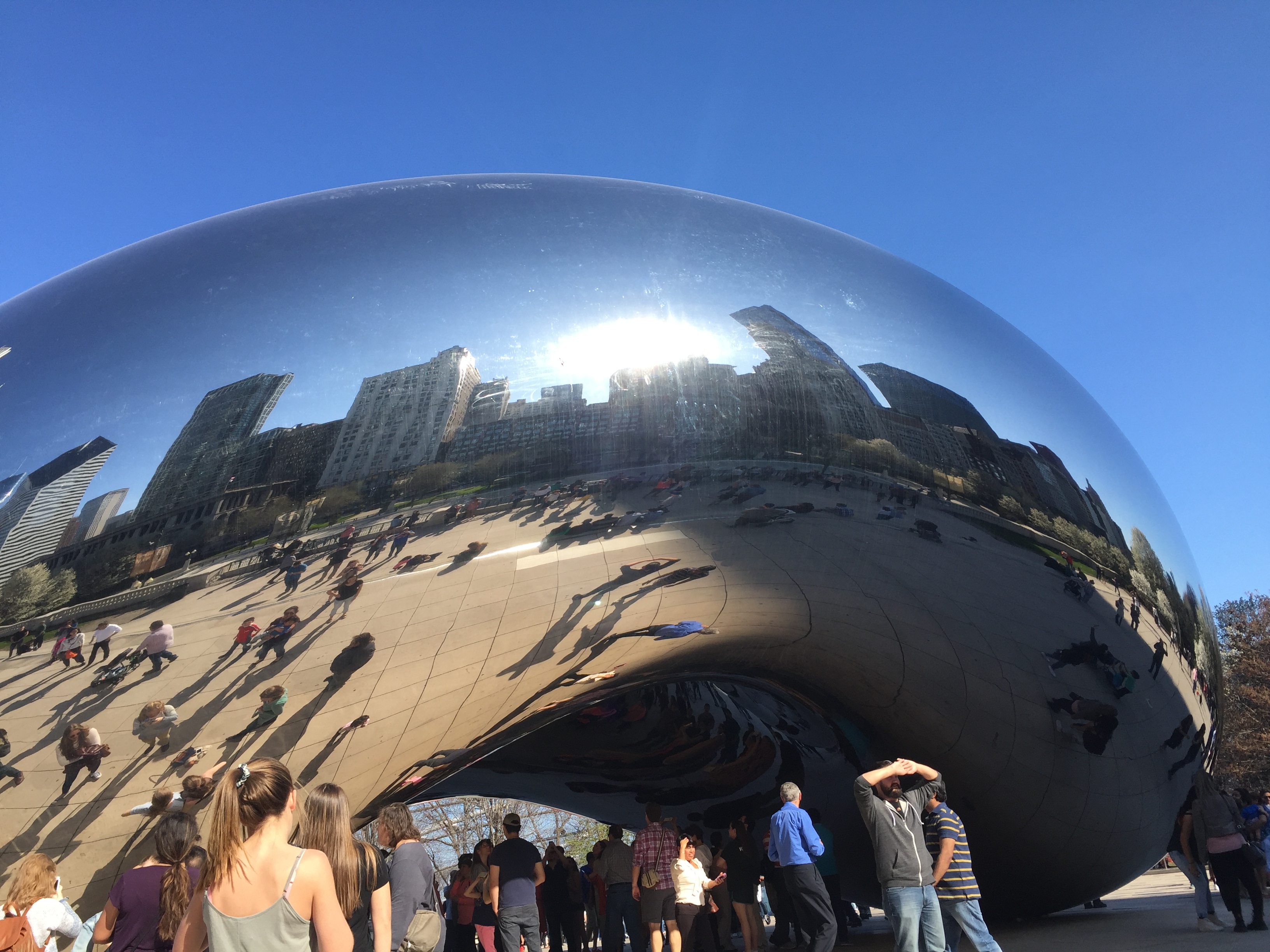 Navy Pier
Navy Pier is a year round carnival on the coast of Lake Michigan. Head here for a ferris wheel ride, a few drinks along the coast, or a great view of the Chicago sky line.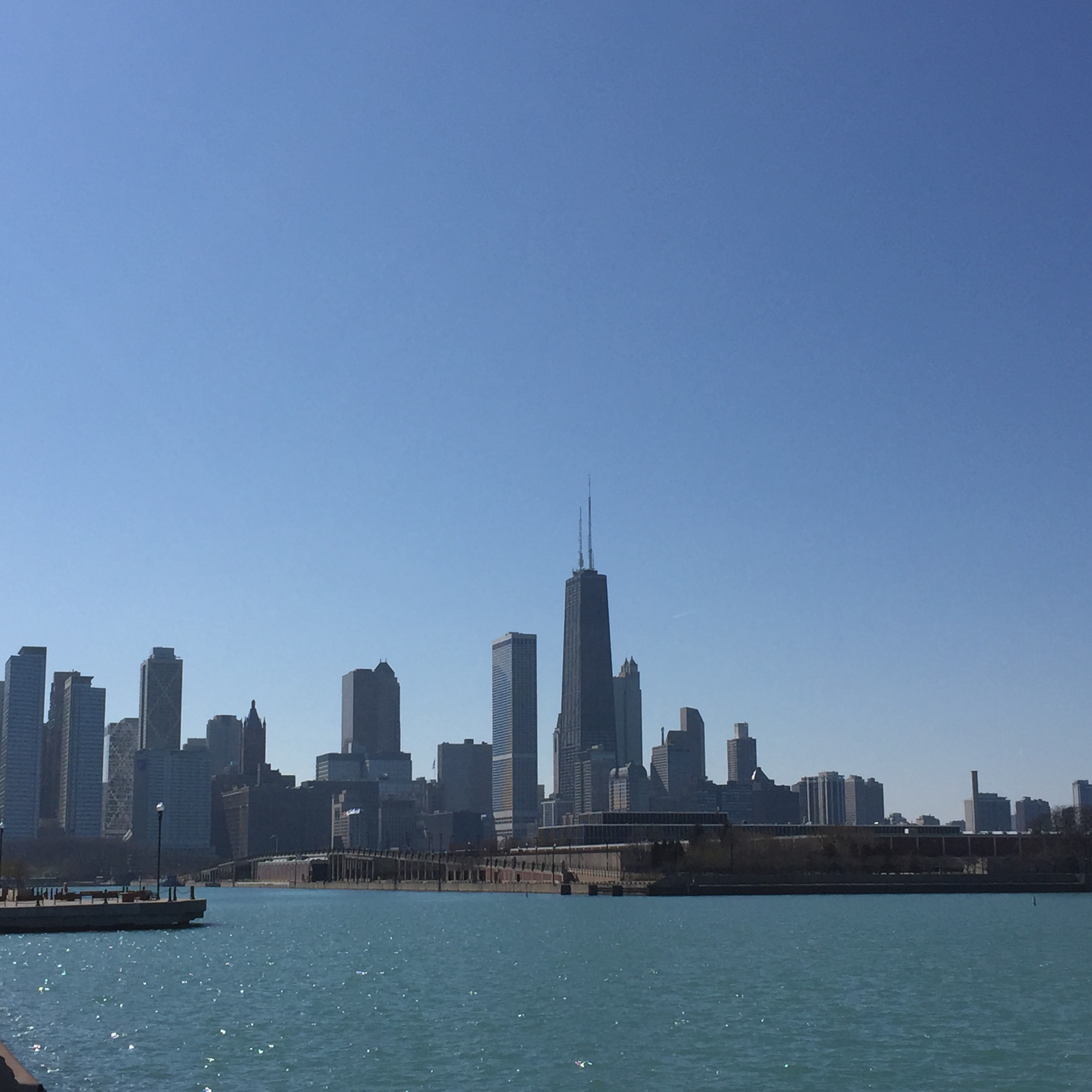 Bar at the Hancock
A lot of people like to go to the look out decks of skyscrapers, but why not go to the bar for the same price (with a cocktail included)? The look out deck costs ~$19, but the bar on the 96th floor of the Hancock is free and a cocktail will cost you around $15.
However, the Hancock did recently add the "Tilt" to their sky deck. It's basically a window that tilts you horizontally, 1,000 feet above the city. So, if you're an adrenaline junky, that may be for you.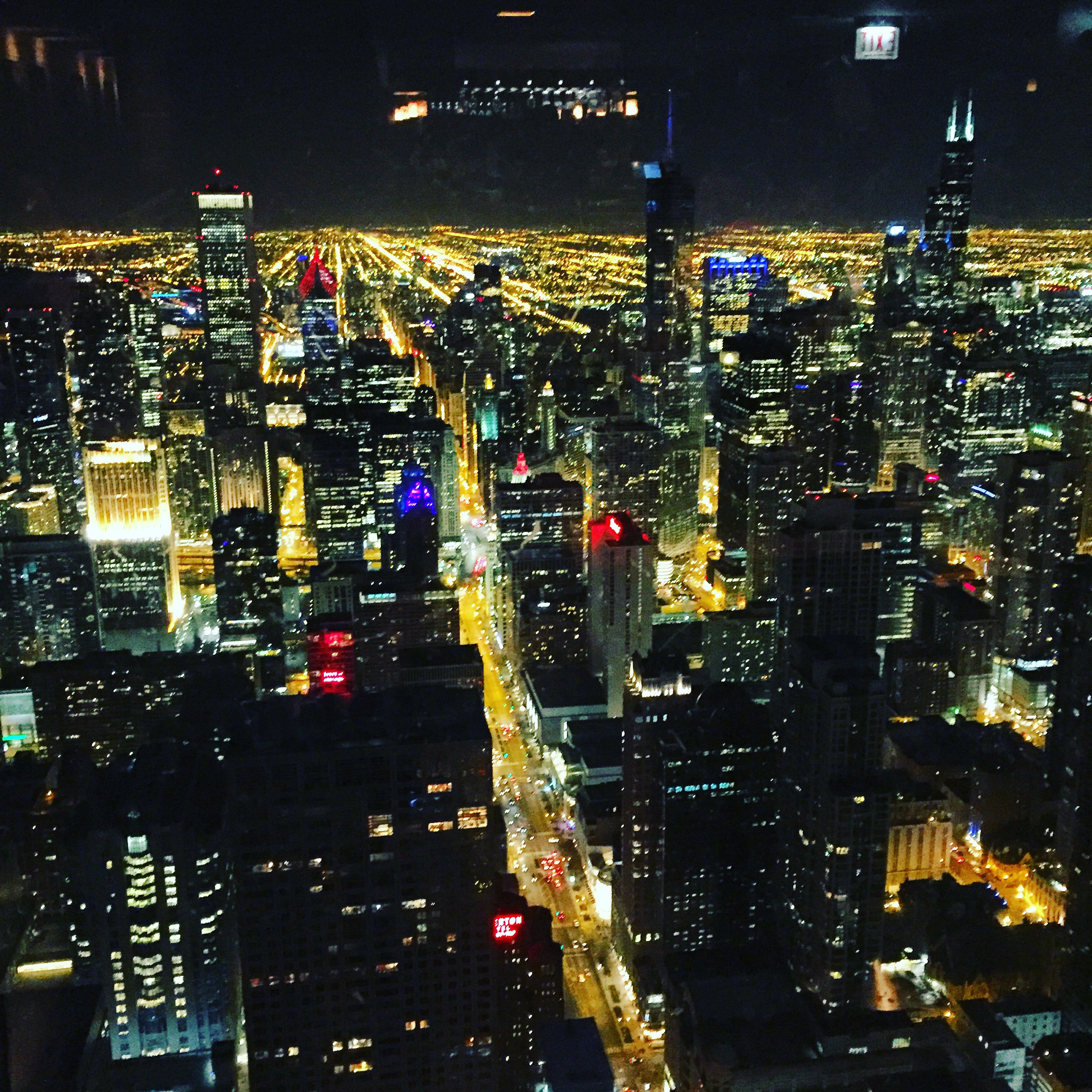 Sky deck at the Willis
Although I just spoke out against look out decks, I will say that the one at the Willis is worth going to. For one, it is the tallest building in the United States. Secondly, it allows you to stand in a glass box, 1,353 feet over the city of Chicago. Side note: excuse my outfit here… this was a few years back.. this must have been what all the kids were wearing..
Grab Dinner with a View
With all of the sky scrapers in Chicago, there are plenty of choices. I ate at Cite, a French influenced restaurant 70 floors above Chicago. The restaurant is round, so you are guaranteed a seat by the window with sweeping views of the city & Lake Michigan.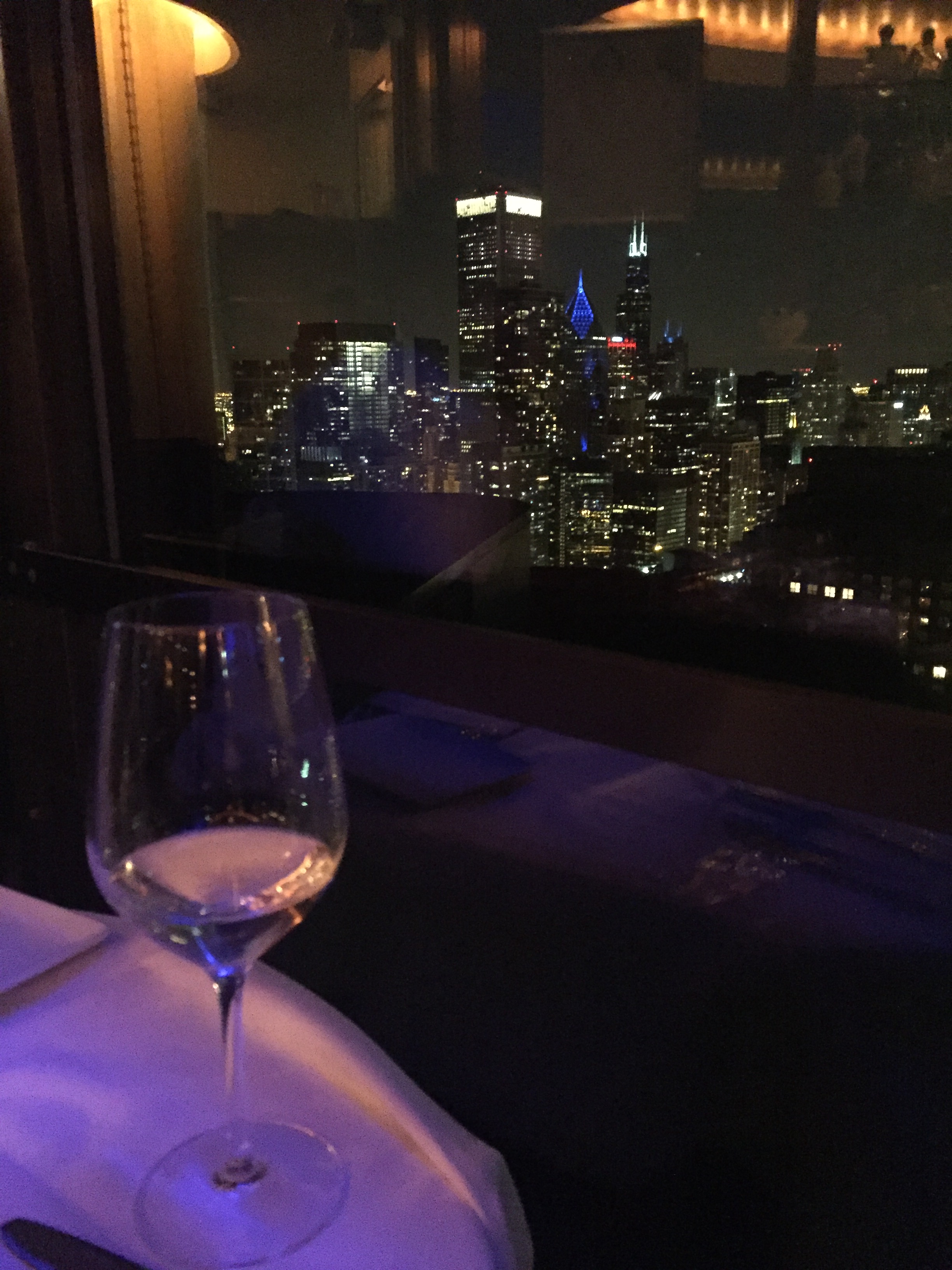 Have anything to add to my list of things to do in Chicago? Feel free to comment below 🙂