Chances are, you've heard about the infamous Yacht Week in Croatia by now.
Or at least you've seen the pictures. You know, the photos with a bunch of Yachts tied up in a circle in the middle of bright blue water, or the ones of a giant party on donut and flamingo-shaped rafts.
For those of you living in a hole, Yacht Week is one week of living on a boat, where you will sail from island to island, partake in some of the biggest raft parties, and drink more in a week than some people do in a year. It's also one week of making new life long friends, cruising from coast to coast on scooters, and dancing until the sun comes up.
Well, I've finally had a chance to experience the full on craziness of Yacht week this summer, and as usual, I made some mistakes so you don't have to 🙂 Here is everything that you need to know about Yacht Week Croatia:
Other Fun Things to Bring (Rafts, etc.)
The Day of Arrival (Grocery Shopping, etc.)
-Choosing the BOAT-
At first glance of the boat page, your initial instinct may be to choose the cheapest boat (well at least that was ours). We did end up with the best WiFi out of all yacht week, but looking back we may have splurged for a catamaran.
Things to consider when booking the smallest boat: small rooms, not a lot of common space for 10 people, and no AC..(think about your mornings with no AC for a second). The cabin rooms do allow a decent amount of hidden compartments to store your stuff, but you will most likely be sharing this space with one other person… and boy can things get messy. If you do decide to go with a smaller boat, spend time during the first day to organize your stuff. This will help a lot in the long run.
-Picking your CREW-
If you only have a certain number of people and want a bigger boat or to pay less, you can find people to join your crew on the Yacht Week Facebook group. The Facebook group for our year was "Yacht Week Croatia 2017 – Crew Finder" so adjust the year accordingly. You can also find people on the Yacht Week Croatia website crew finder. We had four girls so we found our other four guys using Facebook. Be careful picking your crew, you will be spending an entire week with these people on a boat.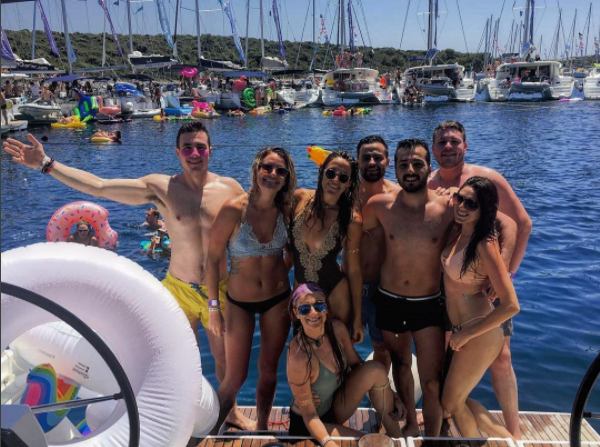 -What to PACK-
Depending on your route, there will most likely be a few themed parties along the way. Make sure to download the Yacht Week App ahead of time to view the schedule for your yacht week. Ours included a Tropical Retro party and a Riviera Chic Park aka. White Party as well as a Costume Regada. (Side note: the Yacht Week App also allows you to creep on other people attending your Yacht Week, as well as the skippers and hostesses, so yeah download it).
Of course you will also want a ton of bathing suits and light fabric clothes (dresses, shorts,etc.). I'd recommend bringing at least two pairs of sandals, since mine decided to jump ship the second day.
-Other FUN things to buy (let's address the raft situation)-
You can buy floats ahead of time on Amazon, or if you plan on arriving in Split early and having time, plenty of shops sell floats there. One thing I wish I had during yacht week- a sippy cup. During the float parties, it's hard to carry glassware into the water and a lot of water gets in a solo cup or anything else. I really wish I had a cup with a lid to put a cocktail into. I saw a few cute ones like these while I was there. Flash tats are fun to wear during the week, cute hats, funky jewelry.
Some of my favorite rafts:
You may want to consider buying a waterproof case for your phone, or a GoPro since there will be tons of float parties that you will want proof of.
Other things to consider: Sunscreen, bugspray, dry shampoo
 
-Beauty Preparation-
In preparation for yacht week, I recommend getting a bikini wax. The showers on the boat aren't great. Most of your showers will probably be at port or hosing off on the back of the boat. So, unless you're fine with taking care of your daily duties in front of the entire crew, get a bikini wax. I also recommend getting a manicure/pedicure if you don't want to be bothered with that during the trip. If you're into this sort of thing, eyelash extensions were super useful (I didn't have to do my makeup at all).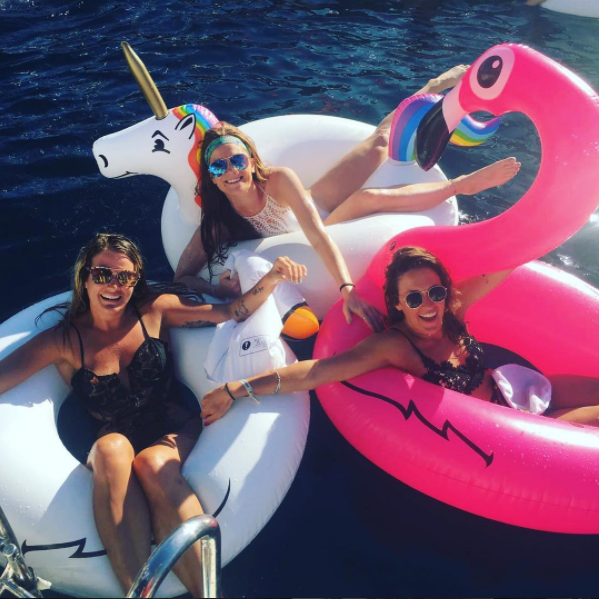 -Seasickness-
I grew up on a lake and I am pretty used to riding around in boats all day. However, for one week on a boat, even I got dizzy at times. When you leave the boat, sometimes you can get a feeling like you are still on it. These seasick patches should help with that. Other medications to bring along: caffeine pills or something similar (expect some long days and longer nights), Ibprofen for headaches, Airborne to keep your immune system strong, b12 for those hungover mornings.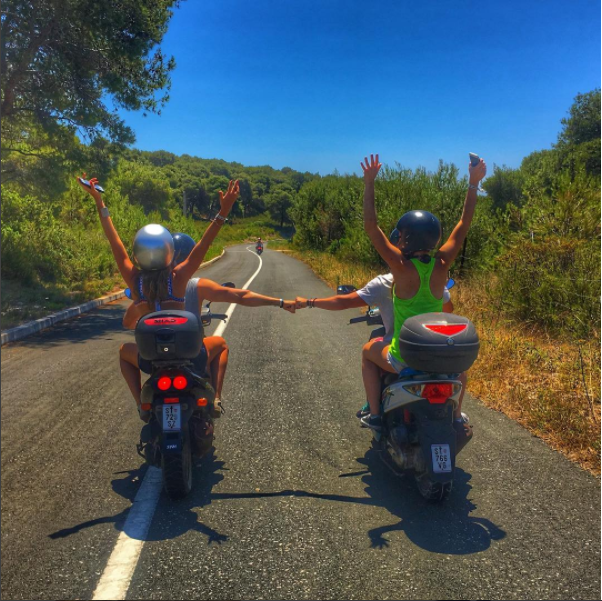 -Skipper/Hostess Info-
Each boat is assigned a skipper, the person who will be driving you around for a week and also partying with you. You can also decide to add a hostess who will cook for you (breakfast and lunch everyday) and clean. Before you decide you don't need a hostess, think about the cleaning. Unless your crew is going to be dedicated to taking care of dishes and cleaning the bathroom, you should probably hire a hostess. The crew is responsible for feeding the skipper and the hostess, so they will be eating your groceries and joining you for dinner.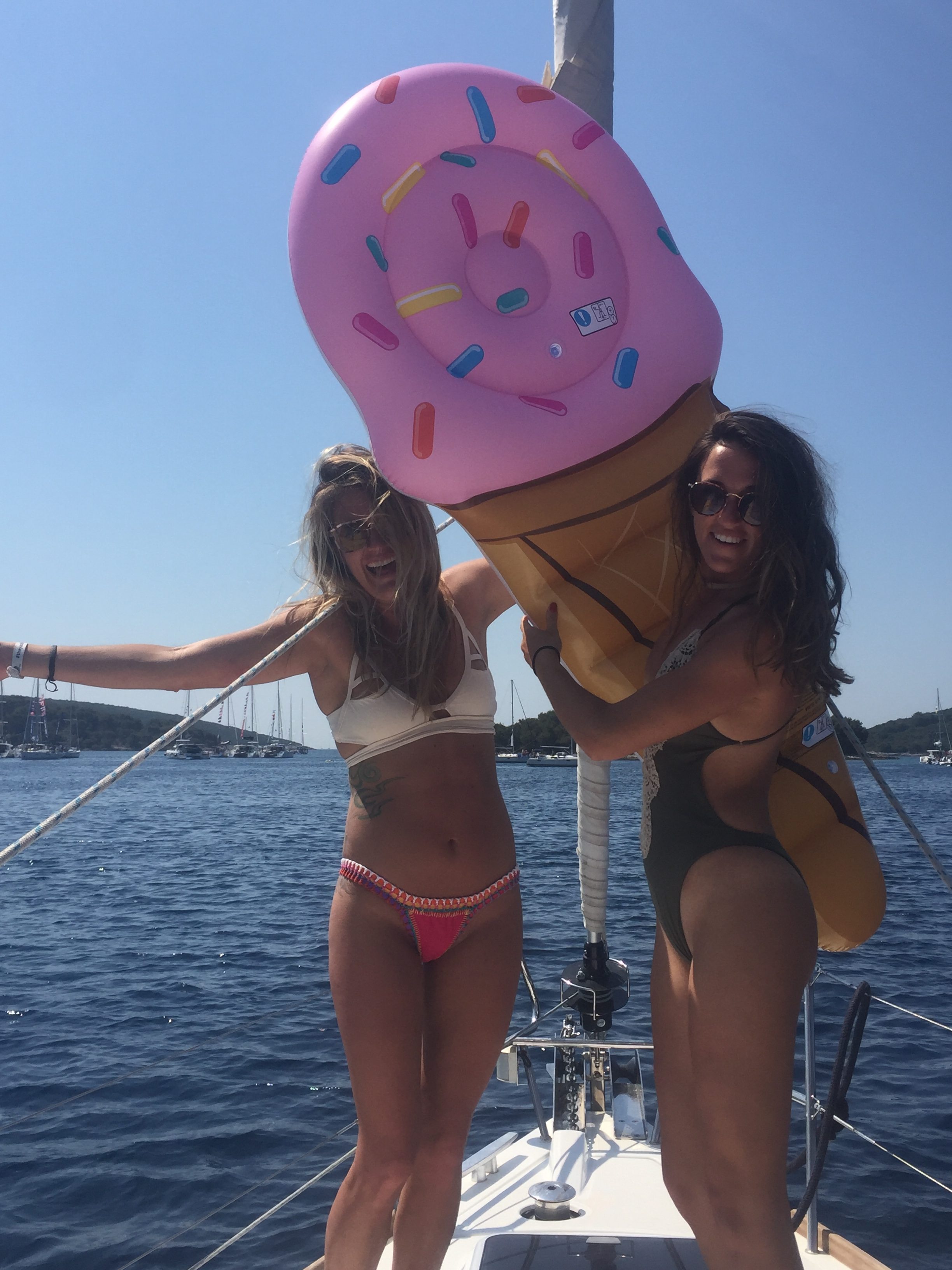 -The Day of ARRIVAL-
Figure out which harbor you will be taking off from (by logging into the Yacht Week website). Our boat was parked at the Seget Marina. See if there is a place to store your bags while you wait to board the boat and grocery shop. If you're at Seget Marina, there is baggage storage for a small fee. Your skipper and hostess will be in contact with you the day of arrival to set up a time to meet and grocery shop.
If you have a hostess, someone or multiple people will have to volunteer to grocery shop with her. I recommend not being this person, it takes about 2 hours. The store is packed with yacht weekers stocking up. If you don't have a hostess, I recommend grocery shopping at a different store than everyone else or a day earlier. Who wants to be the grocery store for hours?
Here's a picture of our grocery carts: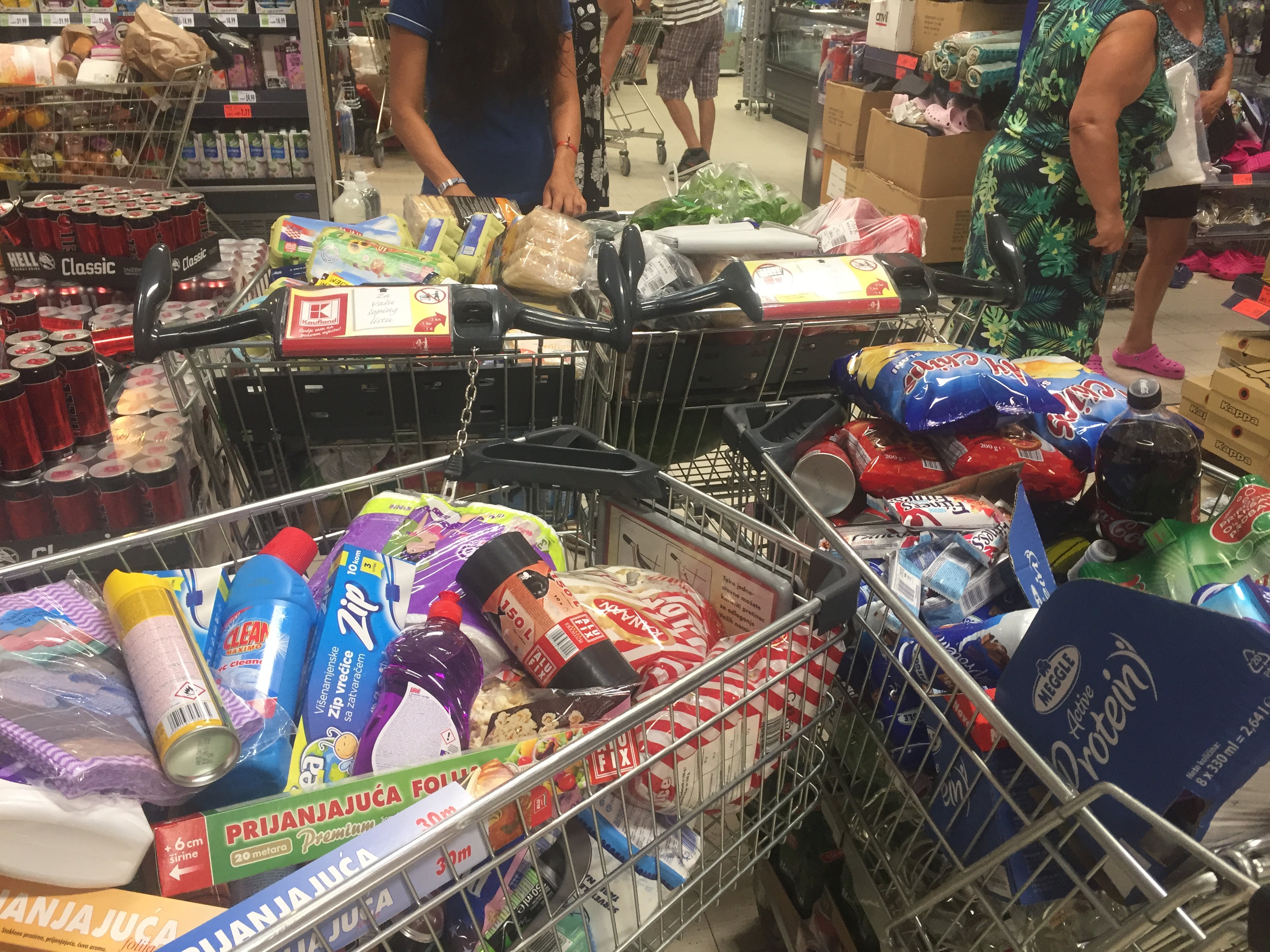 -Recognizing your YACHT-
There may be some mornings or nights where you wake up on another boat or somewhere unexpected and you need to find your way home. 😉 Make note of which flags your boat has and the boat name. This will make things a lot easier.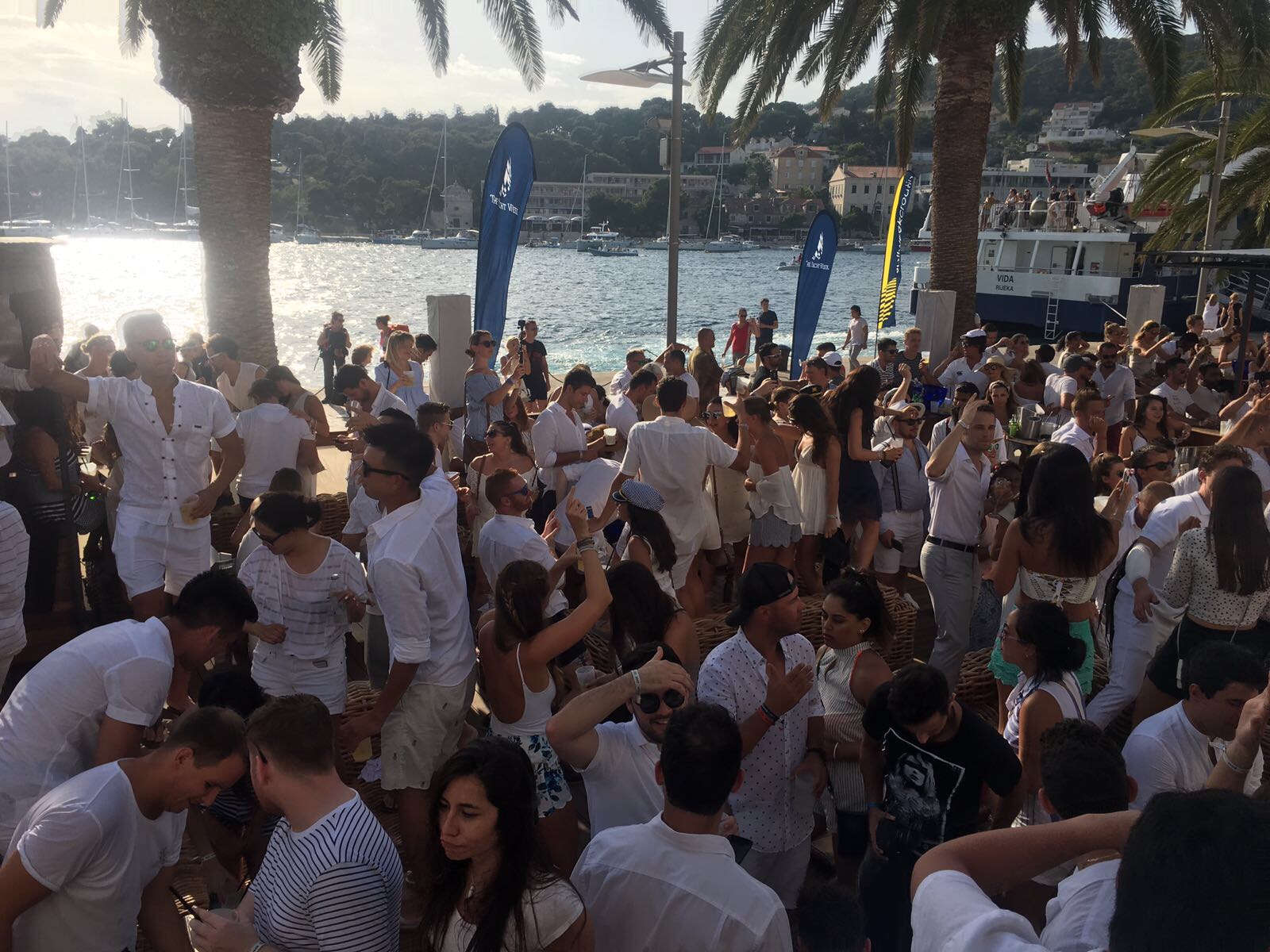 -Bottle SERVICE-
I'm not really someone who likes bottle service and most of the time I find it completely unnecessary. However, for the white party (Croatia Route), almost everyone gets a table so I would recommend getting one. Before the trip, ask your skipper if there are any places he or she recommends signing up for bottle service.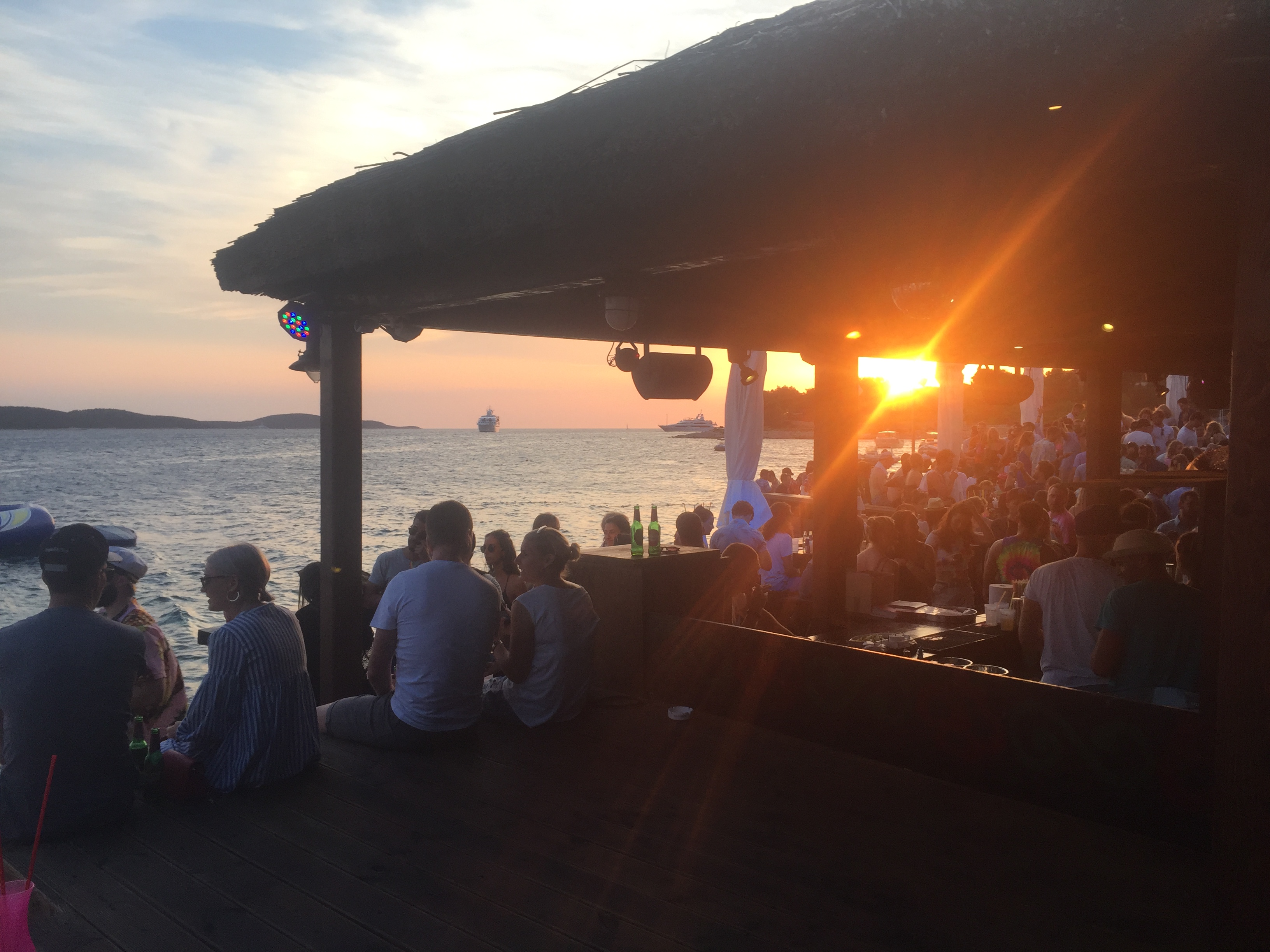 Have more questions about Yacht Week Croatia? Feel free to comment in the section below!