If you're still using Expedia or Travelocity to find the cheapest flights, you're doing it all wrong.
If I had a quarter for every time someone asked me how I afford to travel so much, I would be traveling instead of talking to them.
Finding the cheapest flight possible can be time consuming, but also rewarding if you are doing it the right way. When people ask me how much my flight tickets were to a certain destination, they are always surprised by the price. For some reason, a lot of people tend to think that traveling is a lot more expensive than it actually is. Booking a cheap trip begins with a cheap plane ticket. These are the tactics I use every time I book a trip, and they are a surefire way to book the cheapest flights possible.
1. Be Flexible
I consider this the number one rule in finding the cheapest flight. If you can, it is best to go blank slate. Don't decide where and when you want to go. First, do some research and fill in the details later. If you can't be flexible on where and when, at least be flexible about one or the other. We will show you which sites to use based on your plan below..
2. For The Absolute Best Deals (If You're Spontaneous): TheFlightDeal.com
TheFlightDeal.com finds mistake fares. With this in mind, be ready to be spontaneous and jump on a deal in a couple of hours before the airline realizes the error. Since some of these prices are a mistake, there's no better deal than this. Just look at the cheap flights we found below: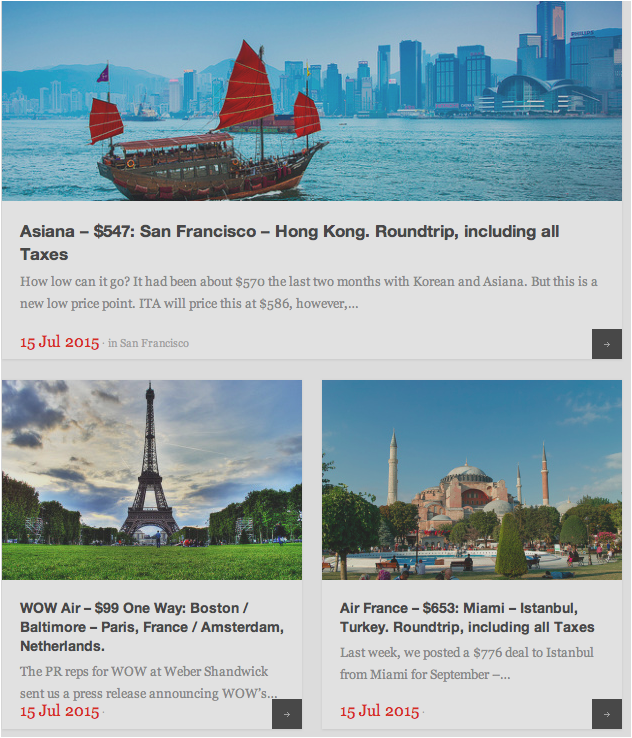 It's important to realize The Flight deal doesn't only list mistake fares. Most of these are just  decent prices for regular flights. However, when a mistake fare does pop up, they are almost always one of the first companies to know about it, and they'll post it to their site. Just ask these bloggers about their flight from the Newark airport to Italy for $125.
In the upper left hand corner, you can click on "Flight Deals" and the drop down menu allows you to choose your departure city to search for cheap flights in your area.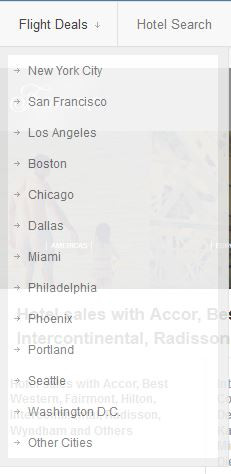 3. If You're Flying Into A Major City: Skiplagged.com
On Skiplagged.com, you can view cheaper flights to less traveled destinations with a layover in your desired city. During the layover, you will get off the plane in the city that you wish.
For example, below we are looking for a flight from Philadelphia to Miami. There is a cheap flight available from Philadelphia to Orlando with a layover in Miami that is only $71. Instead of paying more for a direct flight to Miami, we will just leave the airport at Miami during the layover and forget about the second leg of the flight.
Just remember two things: Don't book a round trip & don't check your bags.

4. If you know where you are going but aren't set on a date: ITA Matrix
ITA Matrix has a useful calendar set up where you can actually view which days and months it is cheaper to arrive and depart.  Make sure to click the option "See calendar of lowest fares" under the "Dates" category.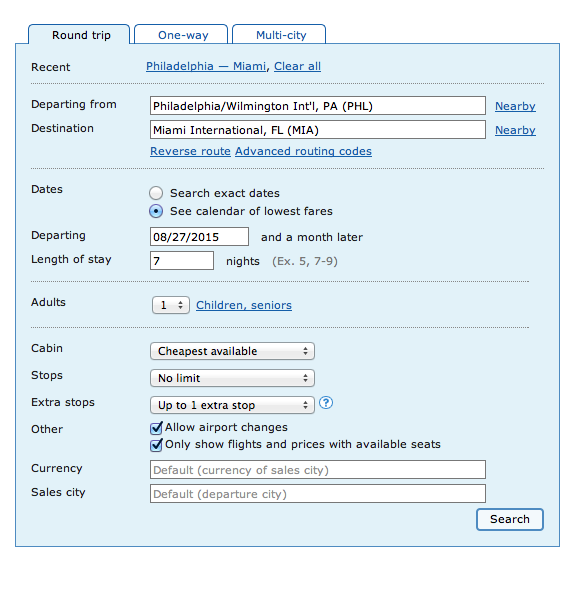 As you can see in the results below, departing on select days can save you a lot of money. You can pay more 2x the price for a ticket on certain days (usually mid week offers the cheapest flights).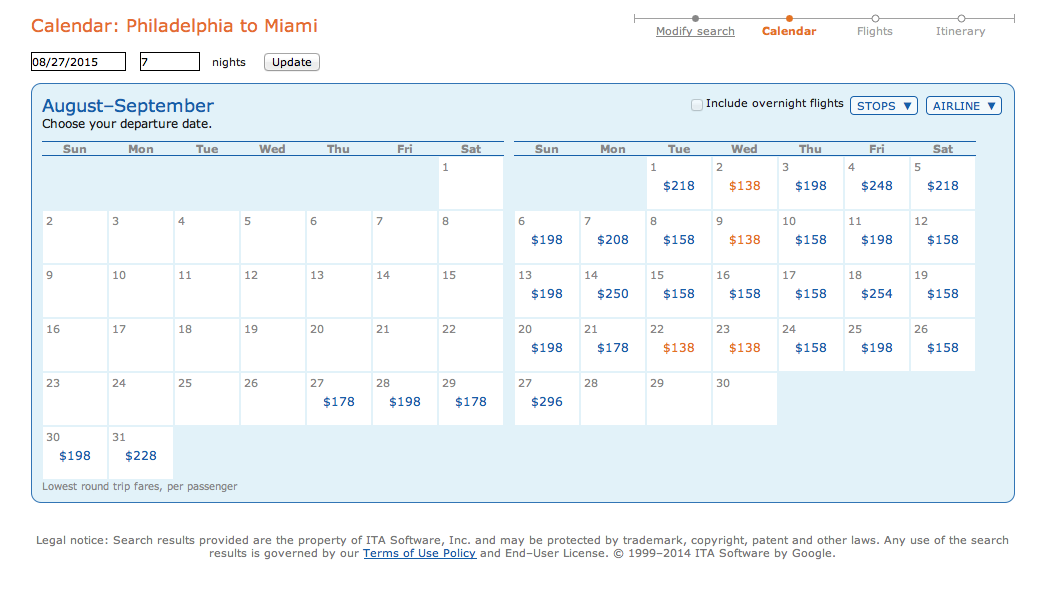 5. If you want an overview of the cheapest flights all around the world: Kayak.com
Kayak.com has the "explore" option which is one of my favorite things to browse in my spare time. On "explore", you can view an entire map of the world with little price tags on the cheapest destinations from your home airport. You can't put in exact dates, but you can search by month. I find most of my flight deals this way, and it's great for brainstorming ideas.  The good thing is these are the prices for a roundtrip. The bad thing is sometimes they aren't accurate by the time you click on them.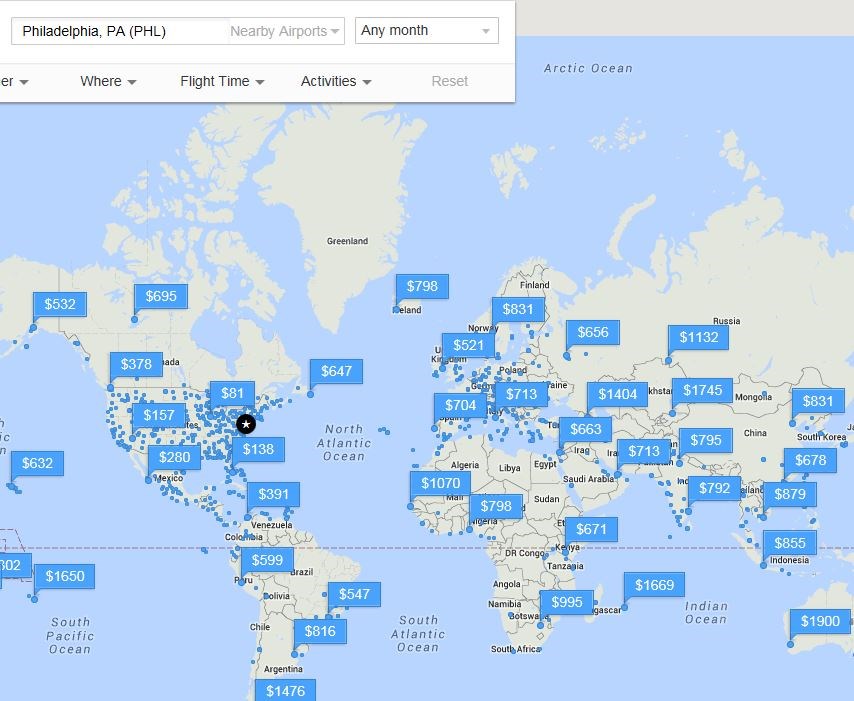 Zoom in to see more options:
If anyone wants to come to Vegas with me, that's the cheapest flight I've seen in a while.
To find the Kayak "explore option" which is sort of hidden, look at the upper right hand corner of kayak.com and find the white square next to "Login". Once you hover over this square, the explore option will come up.

6. If you have a set date range but you're not sure where to go: Skyscanner.com
On Skyscanner, you can put in your home airport and set your destination to "Everywhere" to view the cheapest flights available to you on a certain date.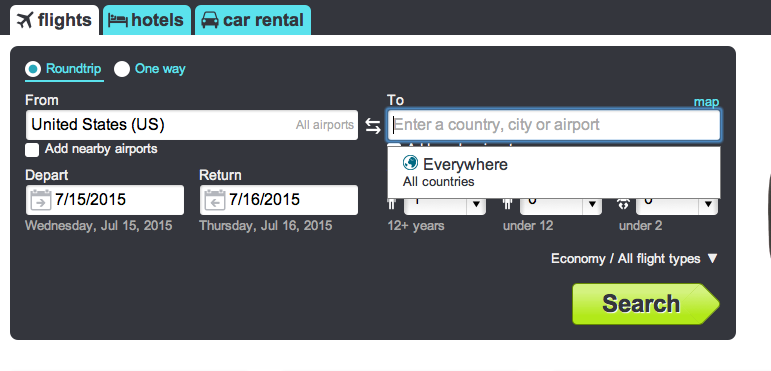 And up pops up the cheapest countries for you to visit in order. Once you click on a country, you can narrow it down to a city by price. Just note that these prices are for a one-way.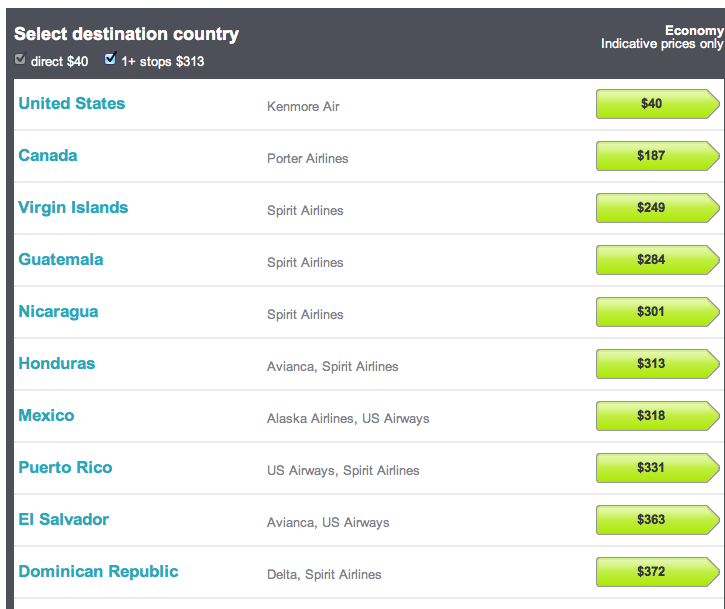 Skyscanner is also Thrifty Nomads favorite site to find the cheapest flights, and they know a thing or two about money saving travel tricks.
7. Use Long Layovers To Your Advantage
Try searching for the longest flight times, and you can find some pretty interesting layovers. 2 cities for the price of one! I've used this a couple times, one being the time I found a round trip to Venice, Italy with a 15 hour layover in Istanbul Turkey both ways ($491 roundtrip) and another to visit Bangkok Thailand, with a 12 hour layover in Dubai ($1100 roundtrip)..both from Philadelphia.
Where to start? Go to the Kayak Explore option mentioned above and make sure the "Flight Time" option is all the way to the right:

Now, find a deal to a city you would like to visit and click on it to view tickets. When viewing each flight, you can see the flight time to the far right. Choose one that looks oddly longer than the others and shows one layover.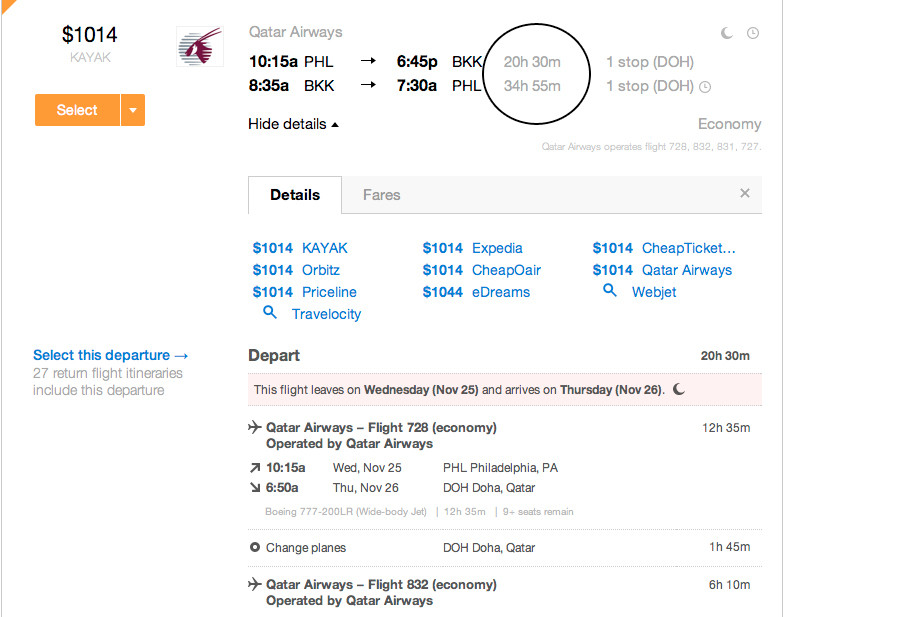 Then click "details", to view where the layover is at and how long it is. You want something long enough that you will be able to leave the airport.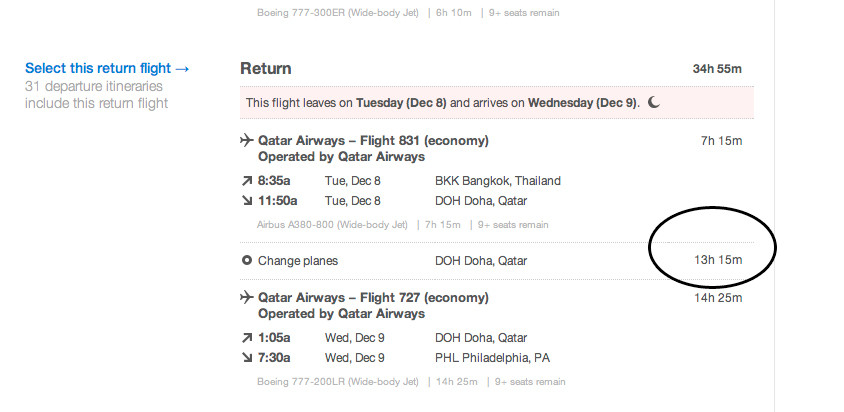 This flight here is actually a really good deal if anyone is looking to book a trip. I haven't been to Qatar yet but I've heard a lot of great things, AND you'll have the whole day there without having to pay for a hotel. Also, a flight this price from Philadelphia to Thailand is cheap (not to mention Thailand is my favorite destination).
8. Book at the right time
Mornings are said to be the best time to book the cheapest flights, as flight prices usually begin to rise in the afternoon.  Tuesday is known as the best day to book a flight for the same reasons. Travel data showed the best time to book your trip domestically is 21-35 days in advance.
However.. this information isn't always 100% true and you should use the websites above to browse before just assuming you found the cheapest flight.
9. Fly at the right time
Fly during the middle of the week – Since most people travel on the weekends, airlines hike their prices up from Friday-Sunday. It's always cheaper to fly during the middle of the week. Make sure you do some research on the sites mentioned above before you book a flight.  As previously proven, even the difference of one day can mean hundreds of dollars in savings. Prices are also a bit cheaper if you fly after or during a major holiday.
Book an early morning or late night flight – The cheapest flights are usually early morning or late night flights because fewer people want to travel then.
Know what months to travel –
Domestic travel in the US: September is the cheapest month to travel since everyone gets back from their summer vacations. By contrast, the most expensive airfares are in March and June.
European Travel: June and July are by far the most expensive months to fly, and November-March are the cheapest.
10. Airline Miles
If you collect airline miles, awardwallet.com is a great way to keep track of all of them. If you don't have airline miles, you can sign up for a credit card that will pretty much give you a free flight as soon as you spend so much money. If you put all of your usual expenses on it (groceries, bills, gas, etc.) then there really is no downside to doing this. You are basically getting a free flight for spending the same amount of money you already do.
Capital One Venture Card: One-time bonus of 40,000 miles—equal to $400 in travel—once you spend $3,000 on purchases within the first 3 months. This is the one I have.
Chase Sapphire Preferred® Card :  Earn 40,000 bonus points when you spend $4,000 on purchases in the first 3 months from account opening. That's $500 in travel when you redeem through Chase Ultimate Rewards
Citi® / AAdvantage® Platinum Select® MasterCard: Earn 30,000 American Airlines AAdvantage bonus miles after making $1,000 in purchases within the first 3 months of account opening
The only thing better than a cheap flight is a free one.
11. Use Twitter
Who knew how powerful of a tool Twitter would be when it first came out? You can talk to celebrities, get news updates every second, or get notified on the cheapest flight deals of the day. Airfare Watchdog (@airfarewatchdog) and The Flight Deal (@TheFlightDeal) constantly tweet their latest airfare finds.
12. CLEAR YOUR CACHE.
Ever notice that the more you search for the same flight, the more expensive it gets? Not a coincidence!  When the same route is constantly searched, flight prices do increase based on the cookies in your browser. Always clear your cache and search for flights using private browsing mode to see the lowest prices. You can turn on private browsing using the settings in the top of your browser.
How to turn on private browsing on Google Chrome or Safari:
Hit Command (or "Control" if using PC), Shift, "N".
How to turn on private browsing on Mozilla Firefox or Internet Explorer:
Hit Command (or "Control" if using a PC), Shift, "P".
A new browser window will then open where your information is not tracked.  Each time you search, make sure to X out of the old window and open a new private one.
Have we missed any of your favorite ways to find the cheapest flight?  Let us know about the best deals you've found below!