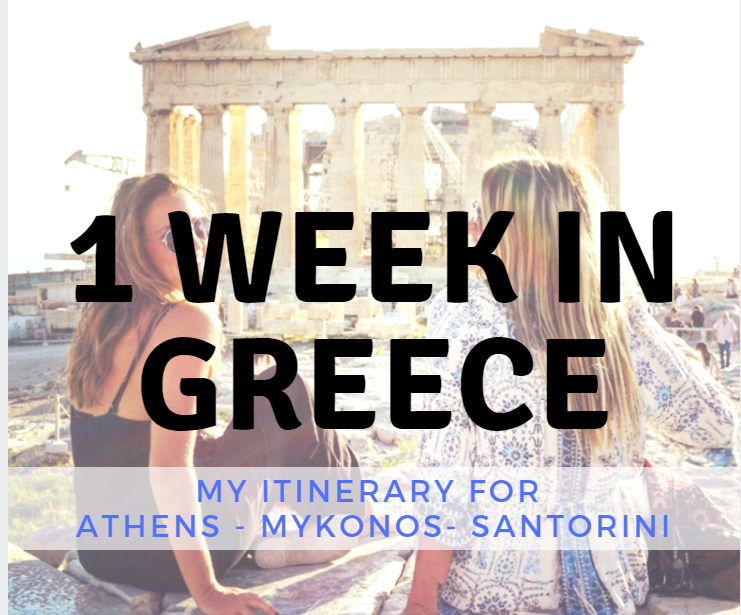 With only 1 week in Greece, where do you start?
When you think of Greece, you probably envision historical monuments like the Acropolis or Santorini's famous hillside sunsets. However, there is so much more to Greece than meets the eye: the incredible Mediterranean food, the sleepless party scene, and the rolling hillsides and crystal blue waters full of adventure.  So, if you only have 1 week in Greece, what should you do?
Here is my full itinerary for 1 week in Greece (and it went so well that I'm considering planning an annual trip!)
This Itinerary for 1 week in Greece includes: Athens – Mykonos – Santorini.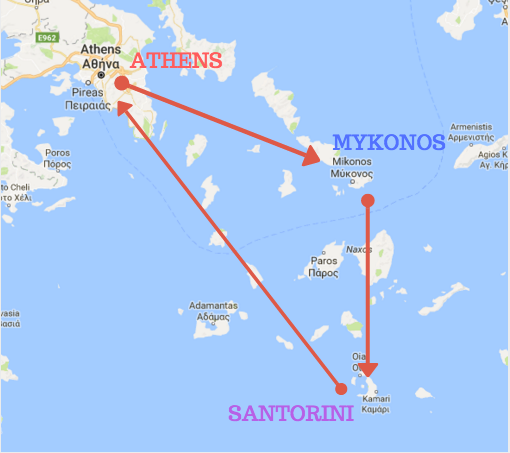 Day 1: Athens: THE ACROPOLIS
I started off my 1 week in Greece at the Pella Inn, which I would recommend because it had an awesome rooftop bar that overlooked the Acropolis. You can also find a lot of other great options on Airbnb.
Once you're all settled, grab some Greek food to fuel your walk up hill to the Acropolis. Even if you arn't into history, the view of Athens from the top of the Acropolis is worth the walk.
When you're done at the Acropolis, spend some time weaving through the streets of The Plaka district.  Plaka's narrow cobblestone roads will bring you to tiny shops full of jewelry, cloths and local ceramics. There are also plenty of sidewalk cafes and family run restaurants.
Spend your night at one of the many roof bars in the city, under the golden glow of the Acropolis.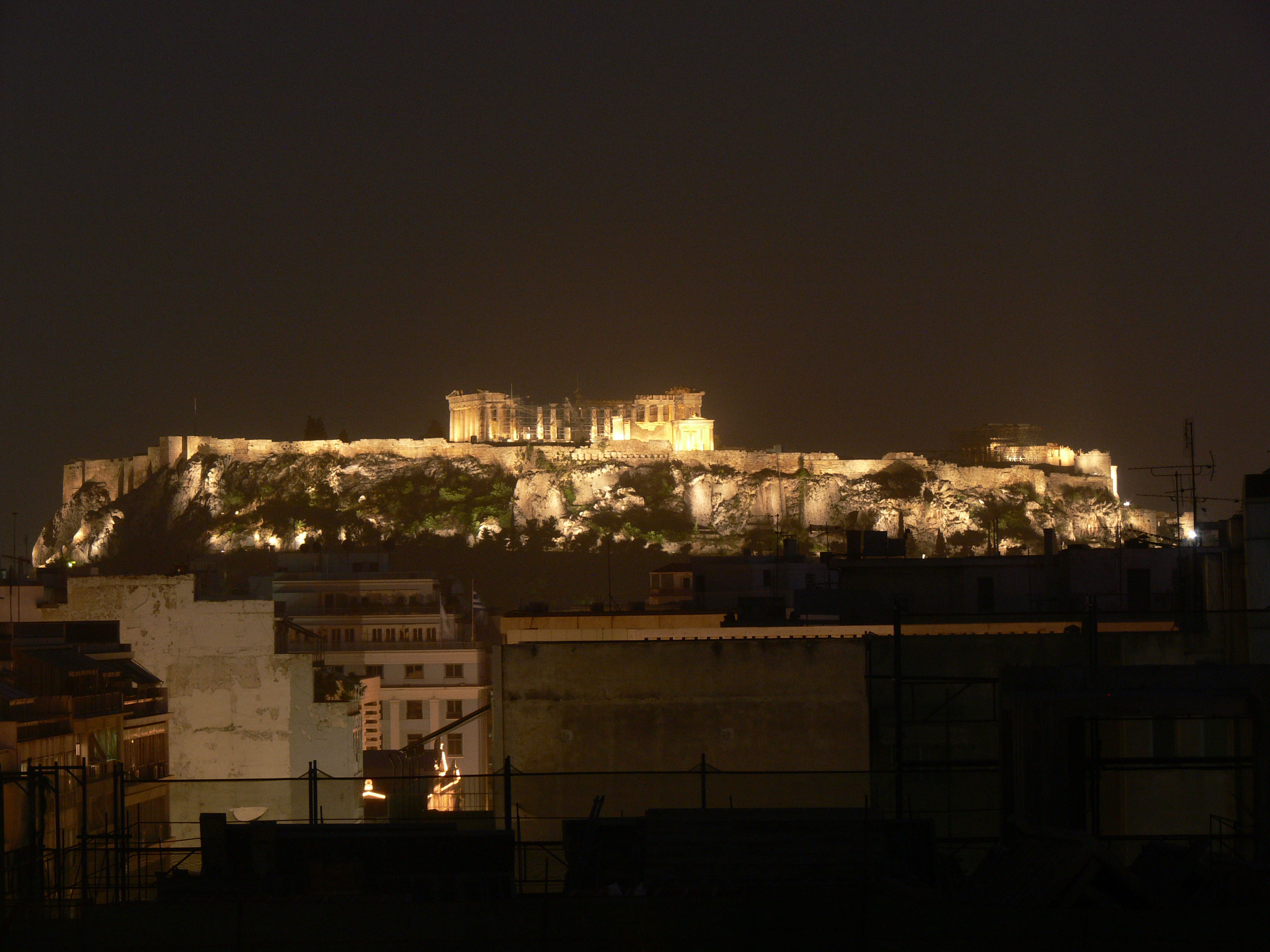 Day 2: Athens to Mykonos: FERRY, BEACH, PARTY
Take a ferry from Athens to Mykonos and prepare yourself for the time of your life. Mykonos is the center of Greece's younger party scene. Although it's been flying under the radar, it's becoming more popular as the years go by. I've already spoken to several people in the past couple months that were planning a trip.
A ferry to Mykonos runs daily and frequently, and departs from Piraeus. The ferry lasts from 3 to 6 hours, depending on the route and the boat. Check out ferries here.
We stayed at Paraga Beach Hostel, which has a pool and rooms right on Paraga Beach. If you're a little more high maintenance (we heard some travelers referring to their hut as a refugee camp), you can find really nice and affordable places on Airbnb.
Other beaches to look at include Paradise Beach and Super Paradise. You can also choose to stay in the city of Mykonos, but I prefer to be by the water.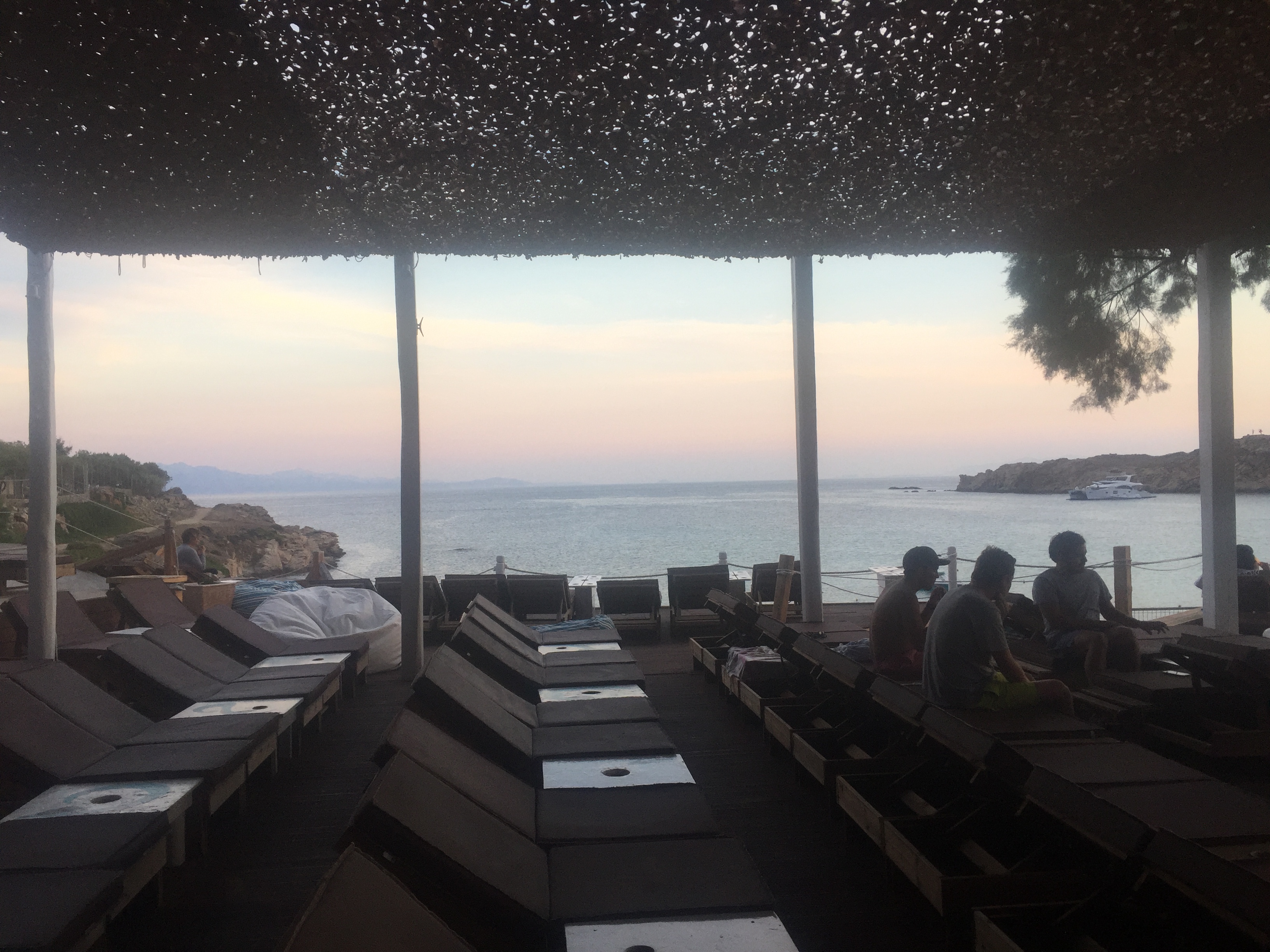 A note on Transportation: Getting around Mykonos is pretty easy. There are buses that can take you all over the island for around 1.50. You can also rent ATVs or motorbikes to ride around the island. Taxis are a little hard to find, unless you have someone call for them or  you are in town.
Once you check in, relax on the beach. There are some posh places to rent beach chairs and splurge on an elegant meal at Paraga.  If you're trying to save money, you can set up your own beach towel at Paraga, Paradise, or your hostel pool for free. Everything stays pretty mellow at Paraga until late afternoon, then you can start to hear Kalua Beach bar turning up.
Once night falls, Mykonos stays awake.  Start off your 1 week in Greece by heading to Paradise Beach to experience the party scene you've read about. At Tropicana Beach Bar, the party starts well before the sun sets.  Later at night, head to Paradise Club on the hill to party early into the morning. Paradise Club brings in some of the biggest DJs from all over the world.
Day 3: Mykonos: BEACH, MYKONOS TOWN
Wake up and jump in the ocean to cure your hangover. At Paraga beach, you can also find a ton of different water sports: tubing, wake boarding, etc. You will see the boats parked along the shoreline.
When the weather starts to cool, head to downtown Mykonos to get lost in the beautiful labyrinth of blue and white streets. Find your way to the old school treadmills on the hill (it's harder than it sounds).
Downtown Mykonos also has tons of shopping, bars and restaurants to enjoy. Once you've worked up an appetite, grab a cheap plate of kebabs at one of the many restaurants with outdoor seating.
At night, head to Scandinavian Bar which is probably the best place to party in downtown Mykonos. Scandinavian Bar overflows with dancing bodies, but also has a nice outside patio to enjoy when you've had enough.
Day 4: Mykonos: RELAX
After two nights in Mykonos' biggest party attractions, you may want (or need) a day to relax. Spend your last day recovering at one of Mykonos' many beaches.
Day 5: Mykonos to Santorini: COASTAL DINNER
Grab the Ferry from Mykonos to Santorini in the morning. Ferries from Mykonos to Santorini also run a few times a day, and are under 3 hours. Check out ferry tickets here.
Once you're in Santorini, check into your hotel or Airbnb (I recommend staying in Fira or Oia). Both Fira and Oia have white hillside buildings, but Oia is where the famous sunsets are watched. However, Fira is near more restaurants and nightlife so that's where we stayed. Once you arrive, grab dinner somewhere and enjoy this relaxed island after your soiree in Mykonos. I recommend one of the seaside restaurants. Order up some octopus if you're feeling adventurous (because Greece is the place to try it!)
Day 6: Santorini: ATVs AROUND THE ISLAND
Rent ATVs for the day and explore the entire island of Santorini. You can have you're very own for the small price of ~$20/day. Make sure to bring your license!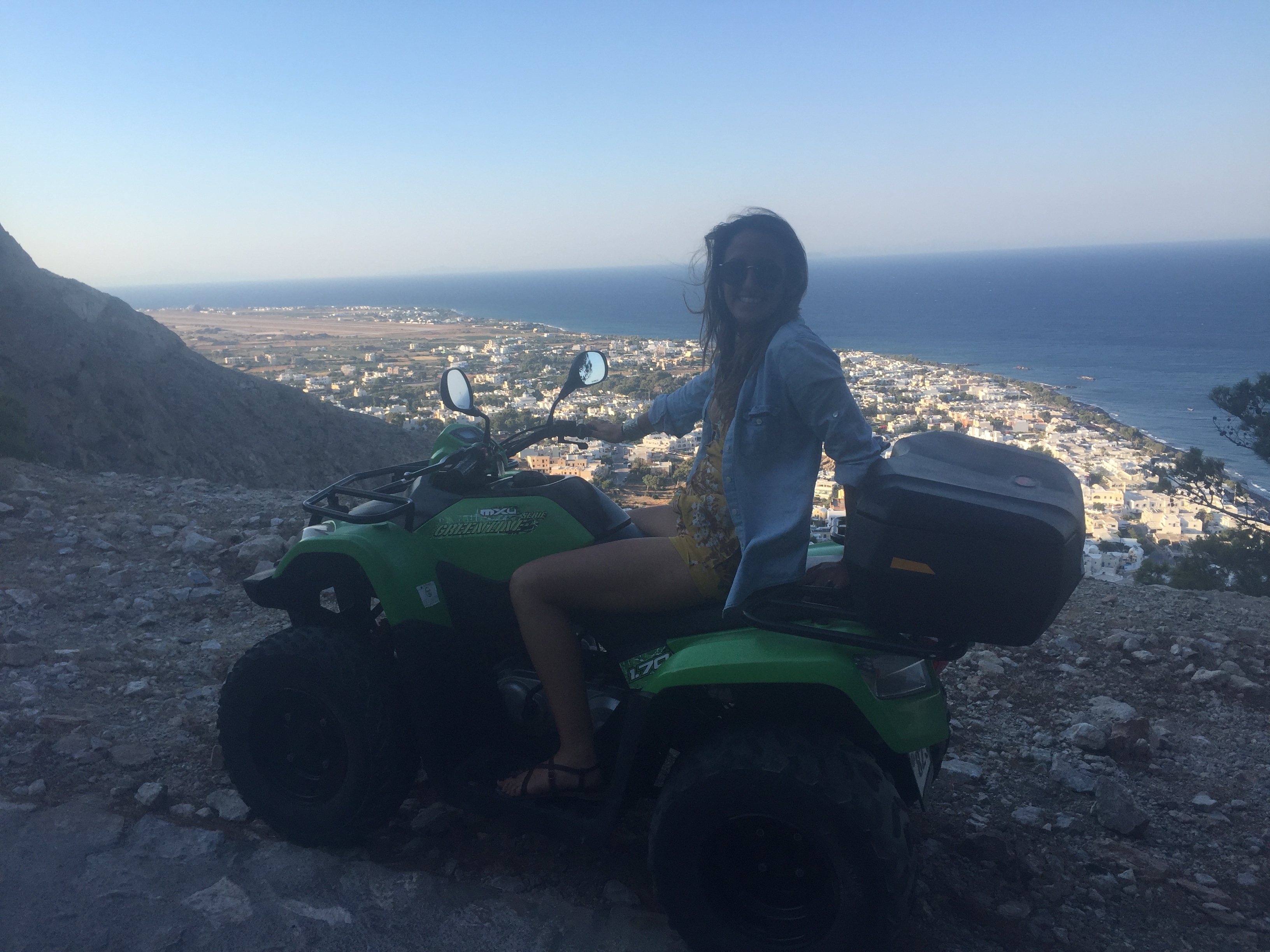 Here's a few key stops:
Fira: The main downtown area of Santorini, lots of restaurants and bars. Fira's cliff top location gives views of Nea Kameni, a still-active volcanic island to the west. Spend sometime winding between the white buildings on the cliffside for amazing views.
Oia: The most touristy part of Santorini and the famous spot for sunset.
Profitis Ilias: The highest mountain in Santorini. You can ride the ATV to the top for panoramic views.
Kamari: One of Santorini's famous black beaches, lined with bars and restaurants.
Perissa: Beach catering to the backpacker crowd and party scene.
Amoudi Bay: Near Oia and known for cliff jumping
Red Beach: There's not a lot here, but the bright red sand is stunning in photos.
Read more about the island of Santorini and my time there in this post: "Things to do in Santorini for the Younger Crowd".
Day 7: Santorini
Leave Santorini and head back to Athens for your flight out 🙁 Until next year!
Food to Try During Your 1 Week in Greece:
Moussaka: One of Greece's most famous dishes, made up of layers of fried aubergie, miched meat and potatoes (resembles a Greek version of lasagna).
Souvlake: Grilled meet skewers served with Tzatsiki
Dolmades: Stuffed grape leaves
Spanakopita: Pastry with feta cheese and spinach
And of course… gyros!
And Seafood! Being by the Mediterranean means some of the freshest seafood around. As I mentioned, try some octopus during your visit!
Have any questions about my itinerary for 1 week in Greece? Feel free to comment below!
Media Credits: Acropolis at night