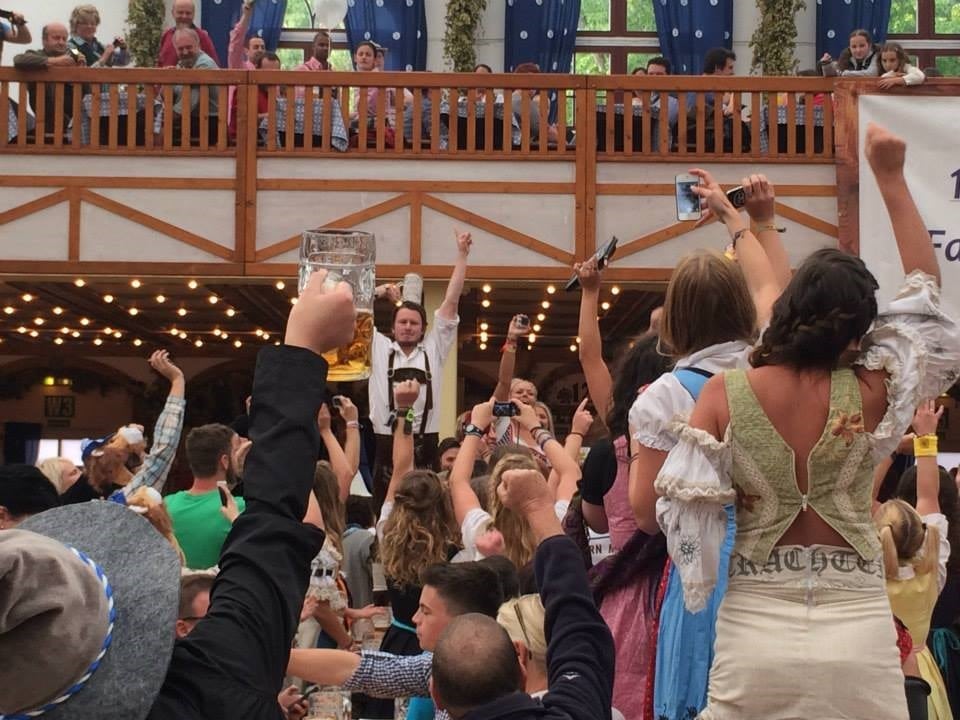 "Beer is proof that God loves us and wants us to be happy."
–Benjamin Franklin
Oktoberfest is the world's largest funfair, serving around 1.8 million gallons of beer a year. If you're attending this festival for your first time, read up on our top 10 tips below.
1. Bring cash.
Beers at Oktoberfest are usually around 10 euros each and the tents only accept cash. Make sure to have coins on you too because the waitresses are working for tips. You also may want to remove other currencies from your wallet (they weren't too happy to mistakenly receive a Hungarian Forint from me). It's hard to distinguish between currencies when your a drunk American.
2. Don't Wear a Leiderhosen (ladies).
For women, the traditional attire is called a dirndl. This consists of a blouse, skirt and apron. However, I thought "hey, I'm going to be different and wear a liederhosen instead".  It seemed like a great idea until I had to pee about 20 times/hour, undoing my overalls every two seconds after waiting in a long line.
Wear a dress to avoid peeing your pants.
 Also be aware that the bow to your apron could imply certain messages: Tying the bow to the left of center means that you are single, tying it on the right side means that you are in a relationship, if your bow is tied in the middle it means that you are unsure about your relationship status… as most twenty somethings are.
You can buy your outfit in Germany, or you can save some money and buy it on Amazon. A lot of foreign ladies wear the shorter costume-like outfits like one of these
, but you can also fit in with the Germans by purchasing a more traditional dress.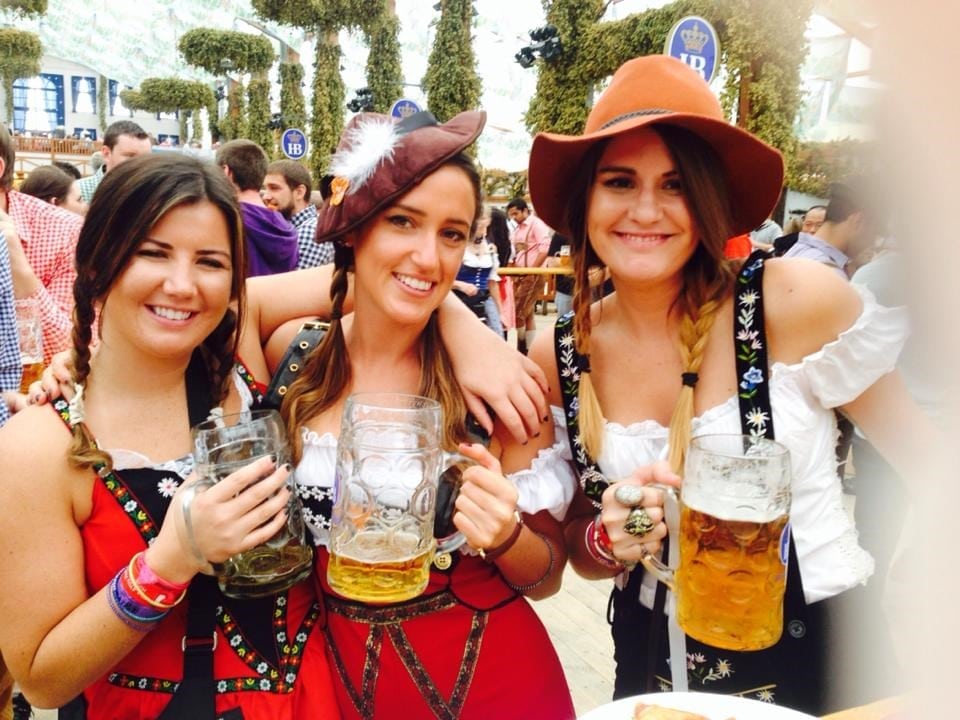 3. You Don't NEED to Reserve a Table.
There is one tent,
Hofbrau-Festzelt,
that has standing room available. However, you do need to be standing at a table to order a beer so you will still need to get there early. 8am early for the weekend, 10 am is fine for a week day. Don't worry about grabbing a table with strangers,
you'll be best friends after a few drinks
.  If you do want to book a table,
here is a good site
for deciding which tent is for you.
4. Handcuff Yourself To Your Friends.
It is so easy to lose eachother at Oktoberfest. Looking back, I wish I would have done this. When hundreds of people are wearing similar outfits in a very crowded place, it can be impossible to find eachother. Not to mention, it does get loud. I can't count the amount of times that I suddenly realized I was alone and spent the next hour trying to find everyone.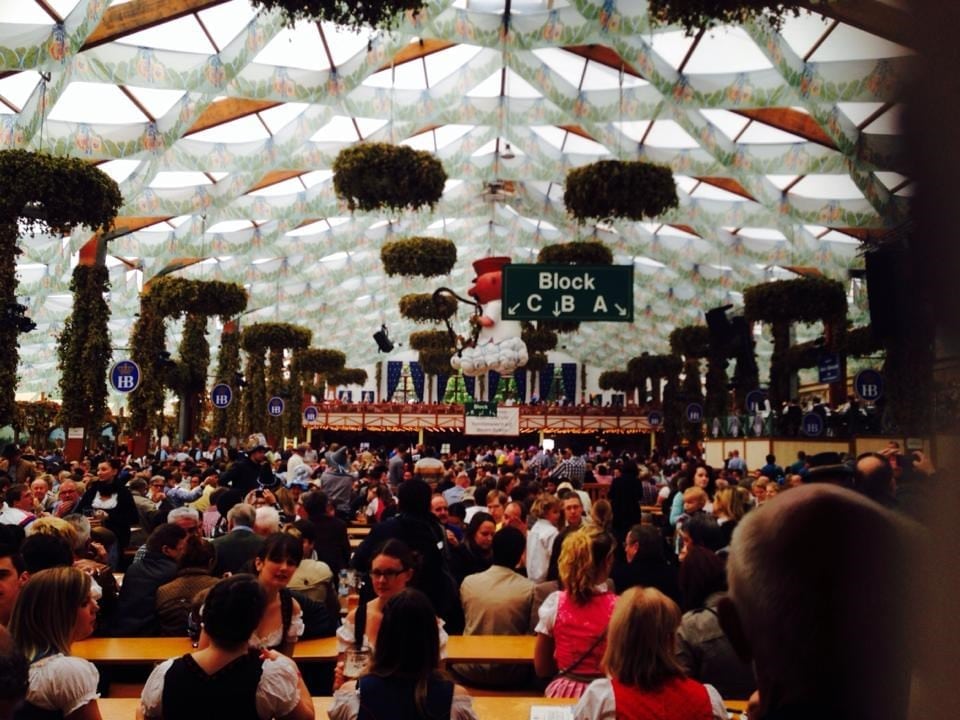 I love eating, I don't go 10 minutes about thinking about it. However, I was so excited at Oktoberfest, I somehow managed to only eat one roasted chicken the entire first day. Eat and pace yourself.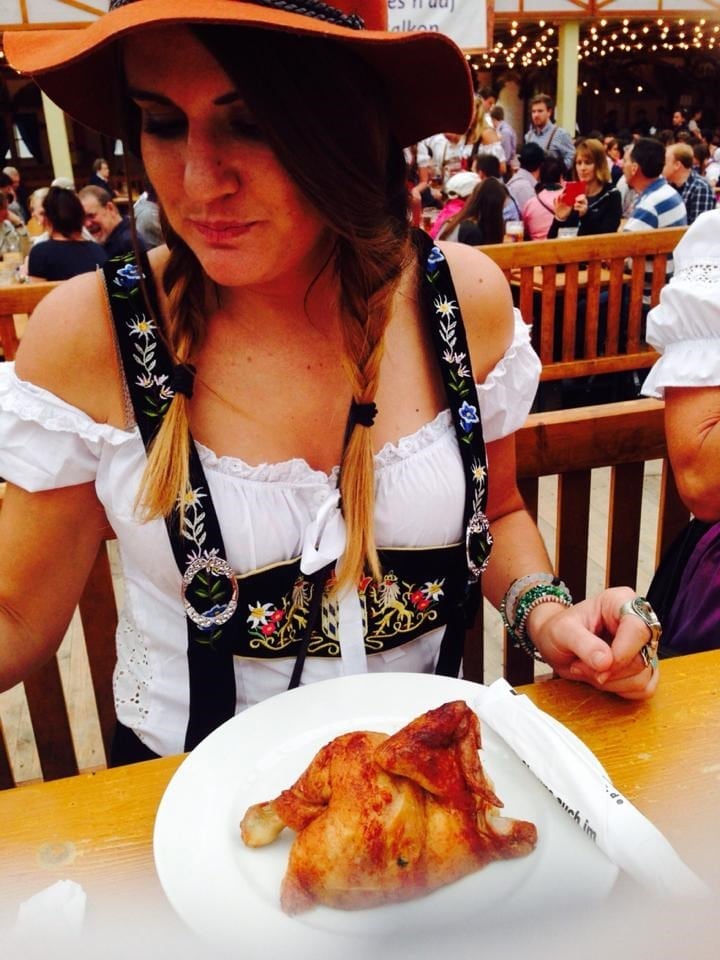 6. Take a Walk Before You Enter the Tent.
Once you enter the tent, you never know whats going to happen. We spent the entire first day in the tent without seeing any of the outdoor vendors/rides. It's not that we weren't allowed to leave, it's just that we didn't want to. So if you want to see other things besides the beer tent, do that first.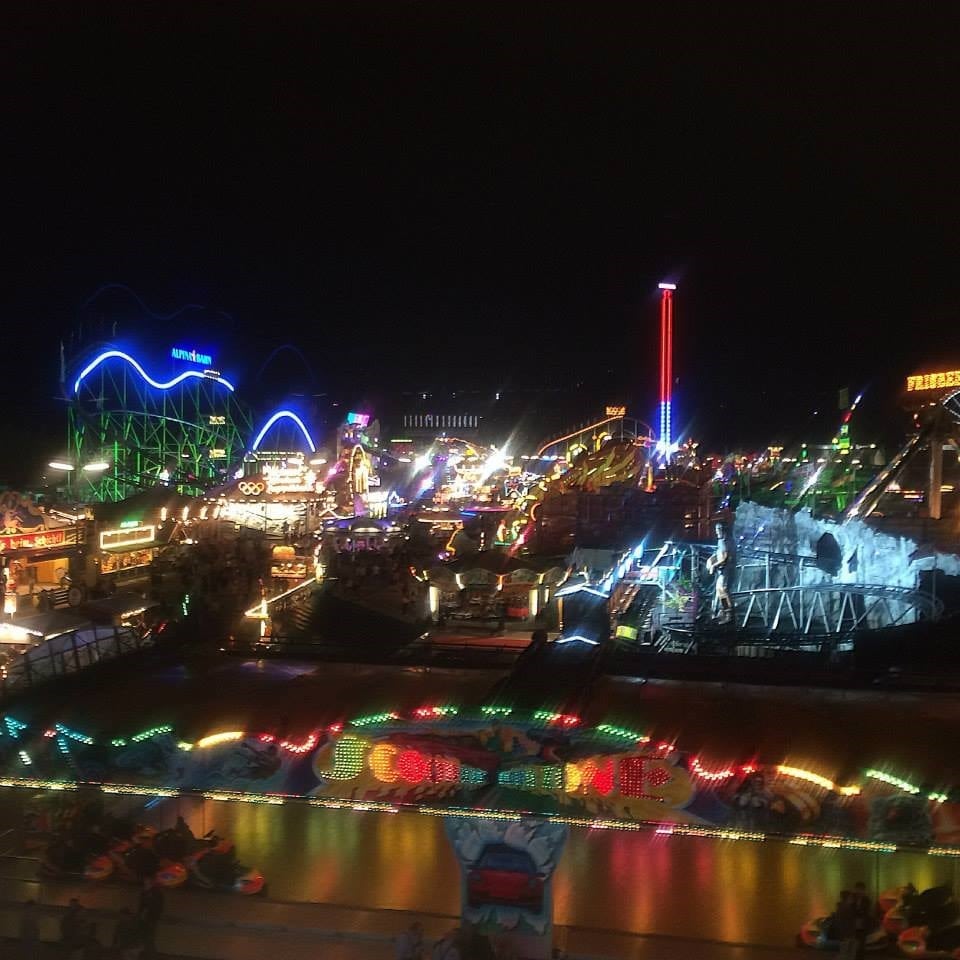 This is the song that will be drilled into your head by the end of the night, it is basically the anthem of Oktoberfest. Although, I'm pretty sure at the time I was pronouncing it "Harposi" and my friend was saying "Arposin". We were close.Years ago the brewery tents started playing it every 15 in an effort to sell more beer.. and it worked.
The rules: Cheers everyone around you and look them straight in the eyes and then take a big drink of your beer (Germans believe that if you don't make eye contact, you will have seven years of bad luck.. or bad sex, depending on who you ask). After, the band asks you if you are having fun with either "Zicke Zacke Zicke Zacke" or "Ticke Tacke Ticke Tacke" and you respond "Hoi Hoi Hoi."
I believe Ein Prosit was responsible for my poor performance the first day of Oktoberfest.
Sometimes it could be a little chilly in Munich during September, but don't bring a coat. The tents are crowded and get very warm so you will just end up losing it. On second thought, don't bring anything valuable, including a purse.
Side note: my friend got overheated at one point and went to the bathroom to wipe off her face, she came back with a  paper towel stuck to her forehead after walking through all of Oktoberfest.
9. Drinking and Eating Options.
Each tent has its own beer (and only in a liter mug), so you don't really need to decide what your drinking.
As far as food goes, these are the usual options:
Brezeln: Pretzel.
Hendl: Roasted chicken.
Schweinshaxe: Pork knuckle.
Weisswurst: White sausage, typically enjoyed in the morning.
Kartoffeln: Potatoes.
Spätzle: Egg noodles typically served with cheese (käse).
I ordered the roasted chicken the first day, and the weisswurst the second. They were both really good, but I guess everything tastes good after a couple liters of beer.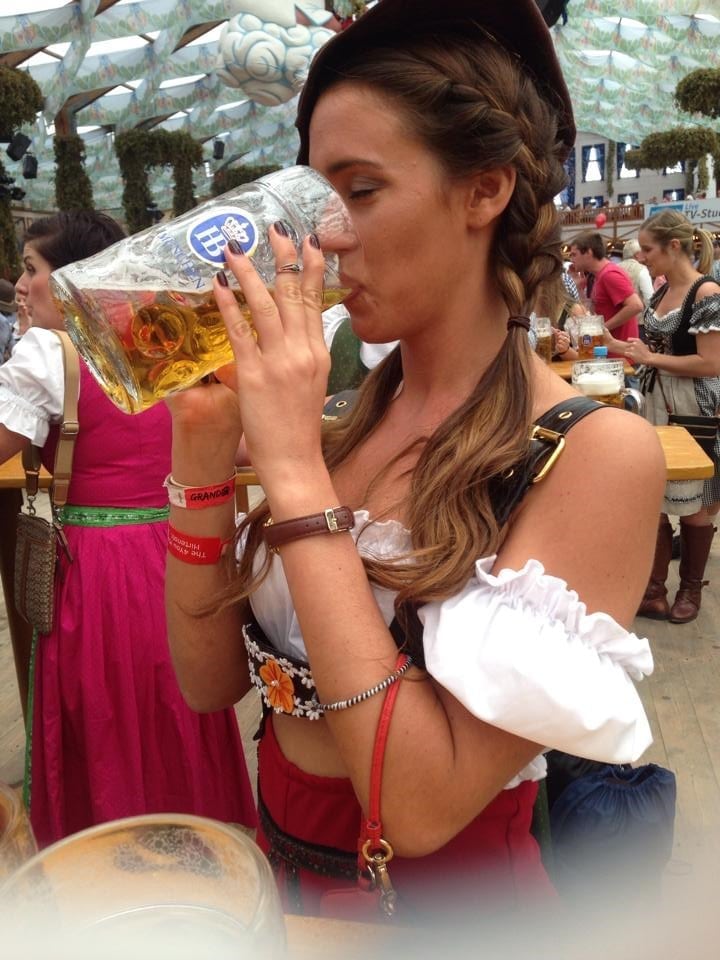 Only stand on the table if you are prepared to chug your entire stein. Backing out is not an option. If you're successful, you will be rewarded with the entire tent cheering for you. This will probably be the largest applause you ever get in your life so don't blow it.
Warning: if you fail, you will be booed by the same amount of spectators.
Have any of your own tips for Oktoberfest? Feel free to share below!