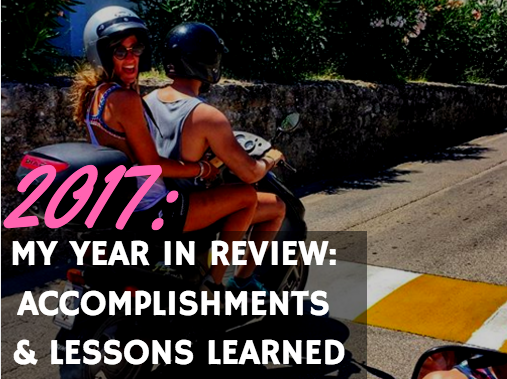 So I do this every year, and it's always been late (i.e. a week after New Years). Maybe this year will be different.  I also usually call this post "Accomplishments and Lessons Learned", but 2017 was a hard one for a lot of people…. so let's be real, this will mostly be lessons learned:
Lessons Learned
Bring American cash when visiting Cuba.. and a lot of it.. because you won't be getting any more out. This was the first mistake of my year and probably the biggest. Luckily I had my best friend with me and between the two of us we can (probably) handle anything…even 4 days in Cuba with 200 dollars. Yes, I will eventually write about it, but for now there's this video. And here's how to travel to Cuba the right way.
Make sure your car insurance covers everything when you get a rental car. I had the grand opportunity of getting in an accident in Costa Rica this year, which wasn't fun, and also wasn't written about on this blog yet. Long story short, my travel credit card (thank you American Airlines Mastercard) covered my rental car insurance expenses. However, I almost had to pay a lot of money for a damaged car, and also almost missed my flight back to the US. Yes, I will eventually write about this too.
If you go to Yacht Week, rent a catamaran
A long layover in Naples isn't the best idea, even if you really want pizza
Morocco has some of the best food I've ever had, with flavors that I never even knew existed
You can say no
Tamarindo during sunset may be one of my favorite places in the world. Or maybe I just really love jalapeno margaritas.
Doing things on your own is incredibly rewarding, and I will always get a special feeling when I step into a cab in an unknown city where I don't speak the language…alone.
No matter how bad you don't want those braids in your hair, that henna tattoo, or those bouquets of roses, after a few cocktails in Rosarito, you will want those braids in your hair, that henna tattoo, and those roses.
You will never regret putting yourself out there and meeting new people
The water slides in Baldi Hot Springs in Costa Rica can really hurt you. Seriously, don't go on them. Google it.
To be more understanding when people don't have the same opinions as me. Repeat: it's okay when people don't have the same opinions as me.
Switzerland will always be one of my favorite countries and sticking my head out of the window of the train while riding through the Alps has to feel similar to falling in love.
Hitch hiking isn't always a good idea, even if it's boat hitch hiking, and even if it's during Yacht Week.
Life isn't fair sometimes, and how you handle a messy situation can make all the difference. Some things are out of your hands, and you can't give up because bad things happen to good people. There is always someone somewhere dealing with something a lot worse than you are, we are all in this together.
Riding a camel is so unbelievably uncomfortable. Like I honestly can't even explain the feelings going through my butt.
That I can't be trusted in a pool alone with a large blow up swan.
It's worth it to go off the beaten path
Motorbikes can be dangerous….and so can leaving your only sandals on the deck of the boat and near the edge. My friends scratches from the motorbikes will heal, but I will never live down the ugly "Croatia" tourist sandals I had to wear for the rest of Yacht Week.
Not to jump to conclusions
Having a positive attitude can make all the difference.
I really like outdoor trips, with dirt roads, loud music, and good friends. Even if I end up sleeping in my car.
You really can get stuck in the middle of a zipline. It happens. Maybe not to most people, but it happens.
Instead of thinking about trying something, you should just fucking do it.
Accomplishments
Finally made it to Cuba (despite doing it completely wrong)
Went surfing in Costa Rica  (aka just got hit really hard in the head with a surf board)
Hiked the Caminito del Rey in Spain
Found my favorite tapas bar in Barcelona
Finally made it to Morocco!
Hiked the Dolomites solo
Made it to Zermatt to see Matterhorn and drink an irish coffee at 13,000 feet
Survived Yacht Week
And finally made it to a country that has been on my bucket list forever: Greece  (I don't know why it took so long, it was absolutely amazing).
Summited Half Dome (despite the last minute permit)
Made it up to Banff and completed an amazing trip that I'll never forget with my brother
Planned and executed an unforgettable solo trip to Seville and Granada (two places that I will 100% return to)
Stopped over for a quick Thanksgiving in Lisbon
Rode on a camel (even though it hurt)
Stayed in some of the coolest Airbnbs I've ever seen (more on this later)
Visited Joshua Tree twice
Attended Austin City Limits
Started painting again
Hiked around the Columbia River Gorge and finally got to see Multnomah Falls and Oneonta Gorge which I've been (kind of) obsessed with for a while.
Spent a few days roaming around Seattle and even went swimming in what I would call freezing water
Attended my first pool party ever in Vegas! I know, I was late to the party.
Made it to Lake Braies, a lake I've been stalking on Instagram for at least 5 years. It didn't disappoint, but it was more crowded than I expected (as are most things)
Dived the Christ de Abyss in Key Largo
Succeeded in finding my way to Goat Canyon Trestle!
Had a weird layover in Serbia where I just sunbathed for 6 hours on the side of a river (Serbia's new so I guess this is an accomplishment?).
Well, that's a wrap. On to the next one!