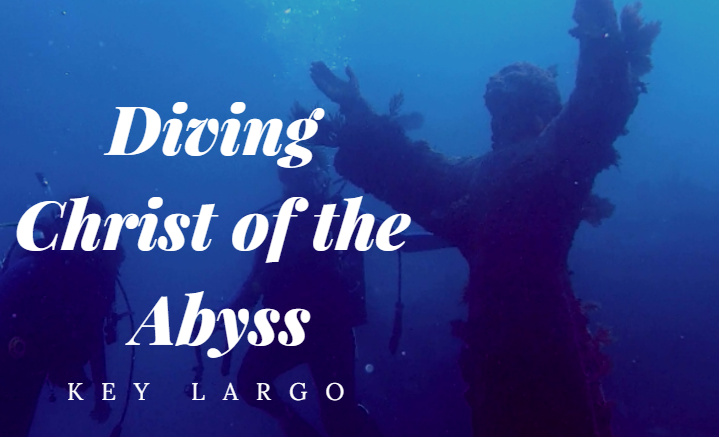 We had time for one day of diving during our time in Key Largo, and after seeing a picture of the Christ of the Abyss, our decision was made. The statue is one of the most famous diving sites in the world.  Prior to this dive, I hadn't dived since my trip to the Vandenberg Wreck, where I experienced a brief panic attack under water. This would be a true test to see if I could handle another dive.
Here's a little film from our trip:
The Christ of the Abyss dive isn't deep, it tops out at 25 ft., and is considered a more shallow reef dive. The statue itself is actually one of three bronze statues from the same mold. The original sculpture is sunken in the Mediterranean where Dario Gonzatti died (he was the first Italian to use scuba gear).
The sculpture is located in  John Pennekamp Coral Reef State Park, so there is also plenty of coral and underwater life to dive around after you're done with the statue. We spotted a reef shark, tons of tropical fish, and lobsters. However, this spot is also popular for large spotted eagle rays and southern stingrays.
All and all, the dive went smoothly and we got some great footage with our Go Pros (although next time I need to get a red filter). If you do plan on diving, I recommend Horizon Divers in Key Largo. They were able to accommodate us last minute and they accept requests for specific dive sites. Not to mention, our diving guide was awesome.
If you aren't scuba certified, you can still see the Christ of the Abyss by snorkeling. The hands of the statue are only 11 feet underwater, so you will still get some amazing pictures (with even more light than mine).
Have any questions about the Christ of the Abyss dive?  Feel free to comment below!